2017 "DOSE OF AWARENESS" 5K WALK AND HEALTH EXPO
Actions and Detail Panel
2017 "DOSE OF AWARENESS" 5K WALK AND HEALTH EXPO
Sun, March 26, 2017, 1:00 PM – 3:30 PM PDT
Description
Join us for the 3rd Annual "Dose of Awareness" 5K Walk and Health Expo where you'll walk in memory of thousands of Americans who have been lost to our national prescription drug abuse epidemic and support those who are in recovery from it. Mission: Educate and equip youth and adults of all ages with information and resources that can help keep them safe and provide support they need for recovery. Goal: Inspire and engage every Bay Area community member to join our fight to end prescription drug abuse and its potentially devastating consequences.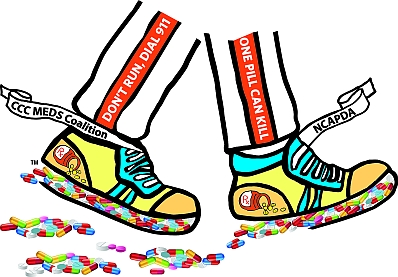 Schedule:
1:00 - 3:30 General Activities
Health Expo
Youth Activity Center
Overdose Rescue Training
Photo Booth
1:00 - 1:30 Registration Check In
1:30 - 1:45 Opening Remarks
Emcee: Cheryl Jennings, ABC7/KGO News
April Rovero, NCAPDA Executive Director
Timothy Grayson, California State Assemblymember
Karen Mitchoff, Contra Costa County Supervisor
Laura Hoffmeister, Concord Mayor
Also invited:
Mark DeSaulnier, U.S. Congressman

1:45 - 2:30 5K Walk
2:30 - 3:00 Guest Speakers
Dan Peddycord, Contra Costa County Public Health Director
Stephen Buzzeo, DEA Diversion Program Manager
Cassandra Hockenson, Medical Board of California
And more. . .
3:00 - 3:20 Loved Ones Tribute
3:20 - 3:30 Closing Remarks

Click here to make a donation in support of our prevention work. NCAPDA is a 501(c)(3) non-profit organization so all donations are tax-deductible to the extent allowed. Federal Tax I.D. 90-0769605.

Contra Costa County MEDS Coalition is a countywide initiative focused on preventing prescription drug related overdoses, addiction, crime and other negative impacts through community education and engagement, policy change and other actions. Join us on Facebook and for more information or to become a member of this community based coalition contact NCAPDA