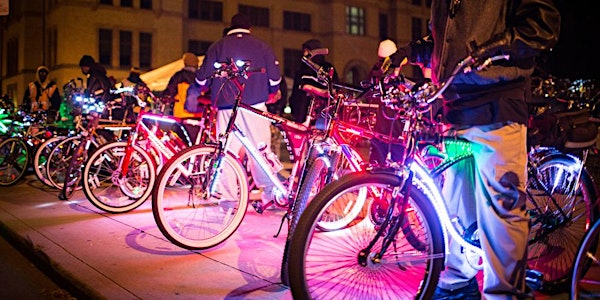 2017 DLECTRICITY Light Bike Parade "Rolling Light Exhibit"
When and where
Location
Midtown Detroit Detroit, MI
Description
The DLECTRICITY Light Bike Parade returns in 2017 as the "Rolling Light Exhibit"

As one of the DLECTRICITY's signature exhibitions, the Light Bike Parade allows the community to be in the show! The parade starts in the heart of Midtown on the campus of Wayne State University by the Fountain Mall and will wind its way through the area and end by a Bike Valet area in the midst of the displays!
It's time to start planning your bicycle light decorations and try to win one of the prizes. This year our judges will select the best decorations in these categories.
Most Creative Adult Bike Light Display

Most Artistic Bike Light Display

Most Creative Youth Bike Display (under 12)

Most Unique Bicycle Helmet Decoration

Best Team Themed Bike Exhibit (4-6 bikes)

Most Original Family Bike Exhibit (Adult/Kids)


This is not the typical Detroit-style bicycle ride, but a short parade of riders displaying their bike decorations and lights as they ride leisurely through the streets of Midtown. In 2014 we had over 1,500+ bikes participate in the parade. This year our goal is to LIGHT IT UP with everyone riding with their bikes decorated and glowing brightly. There will be a limited amount of decorations available on a first-come, first-served basis.
Please register online. The parade begins when it gets dark (about 8:00 PM )


The DLECTRICITY Light Bike Parade is sponsored by: Shinola Detroit and Wheelhouse Detroit.
Interested in volunteering? Contact the Midtown Detroit, Inc. office at (313) 420-6000 or email: info@dlectricity.com.
For more information about DLECTRICITY, please go to: DLECTRICITY.com.
Tweet using #DL3Bike