2017 Digital Marketing Analytics Summit & Student Competition, Portland, ME
Description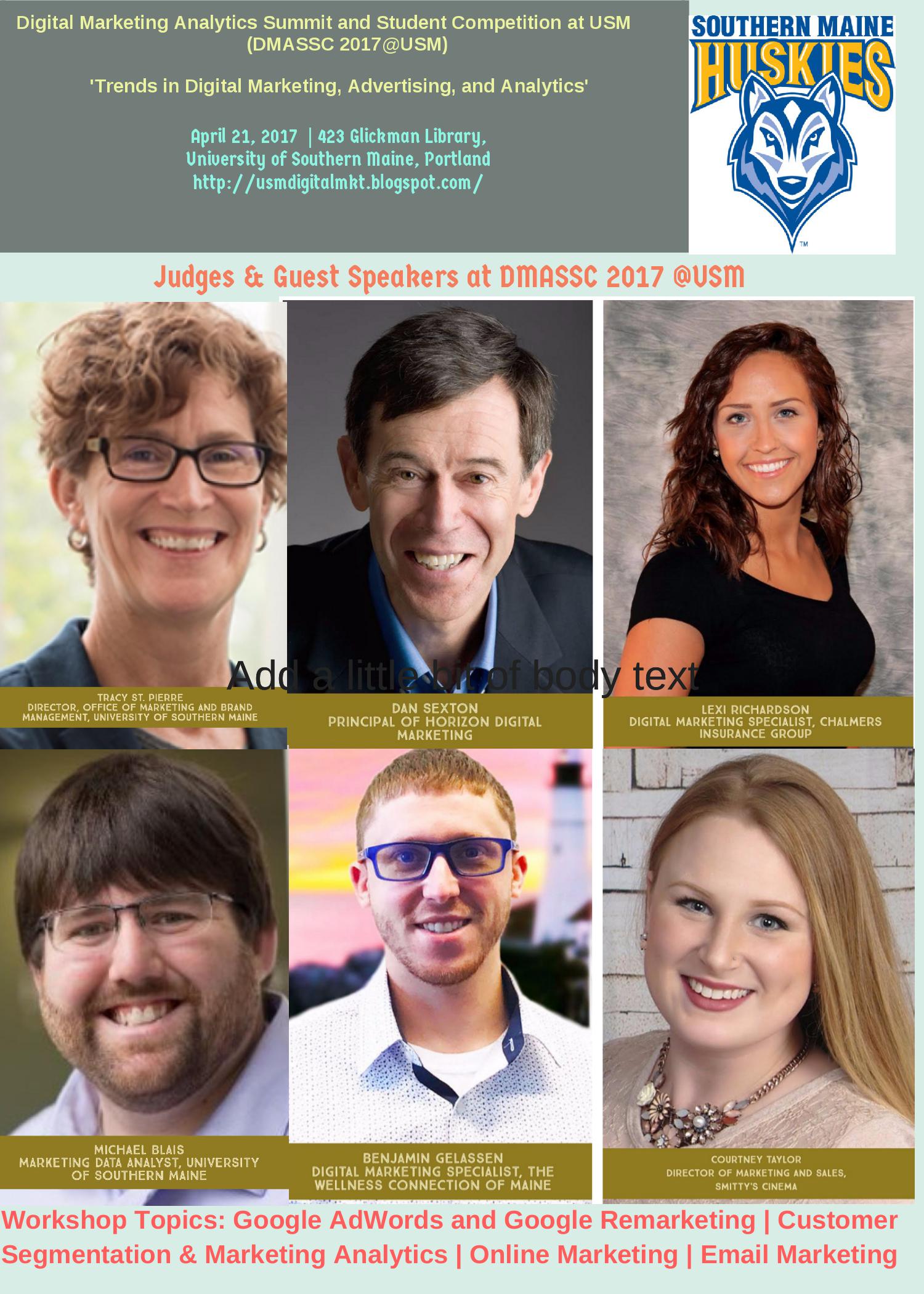 Collecting Online Traffic & Conversion can bring up a lot of questions, no matter where you are on your journey to being a data-driven organization. Join us for a half-day of digital marketing event featuring practical, in-demand digital marketing analytics skills to elevate effective uses of digital marketing technologies to inform the work of digital marketing.
While events are free, space is limited. Please register to hold your place.
Grab
a free TICKET (
before they
're
gone
)!
The theme of DMASSC2017@USM is 'Trends in Digital Marketing, Advertising, and Analytics.'
The event is for individuals who are passionate about:
Learning about new digital marketing applications.
Networking with local digital marketing professionals.
Creating a data-driven culture within an organization.
Building competitive advantages in digital marketing.
Call for sponsors is still open! As a sponsor, you will benefit by showcasing your company to one of the most influential and lucrative markets.
The list of speakers includes professionals with a background in digital marketing, Google Analytics, and Google AdWords.
Schedule
8:45-9:05 Student & Guest Registration
9:00-9:15 Judge & Workshop Presenter check-in
9:15-9:30 Introduction
9:30-9:45 Workshop1: Best Practices for Google AdWords and Google Remarketing
9:45-10:00 Student Session 1
10:00-10:15 Workshop 2: Online marketing
10:15-10:30 Student Session 2
10:30-10:45 Workshop 3: Customer segmentation analysis and data quality/data preparation
10:45-11:00 Student Session 3
11:00-11:15 Coffee Break
11:15-11:30 Workshop 4: Send me an email & I'll Ignore it Later: Text Vs. Email Marketing
11:30-11:45 Student Session 4
12:00-12:15 Student Session 5
12:15-1:00 Networking Lunch