2017 DFKDC SOCCER w/ D.C. UNITED

Sunday, September 10, 2017 from 1:00 PM to 3:30 PM (EDT)
Event Details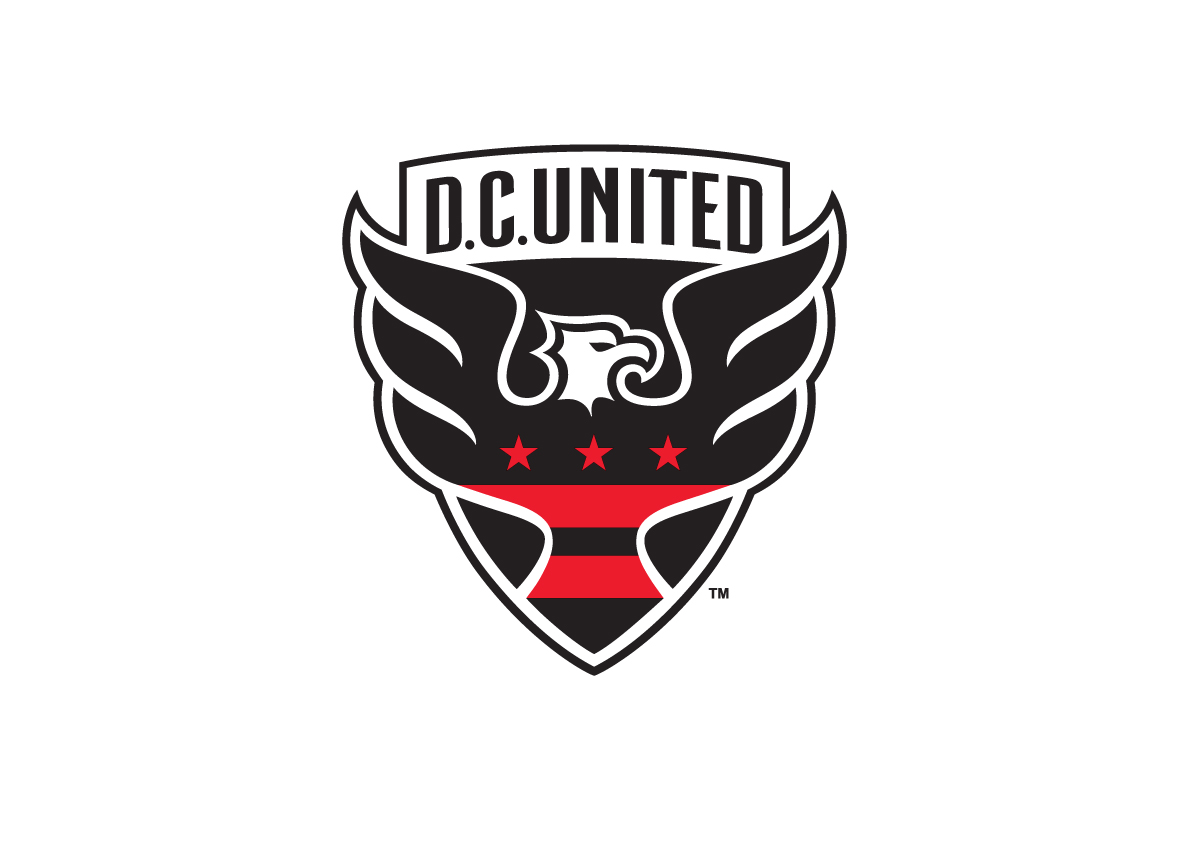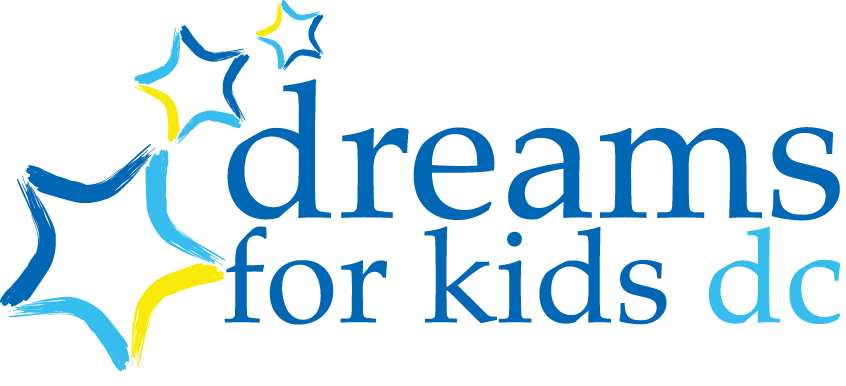 Present
2017 DFKDC Soccer with D.C. United
Dreams For Kids DC (DFKDC) is partnering with D.C. United to hold a special soccer clinic for children with disabilities. The event will feature D.C. United players, D.C. United's mascot Talon and awesome volunteers!
Sponsored by DARCARS and MAXIMUS Foundation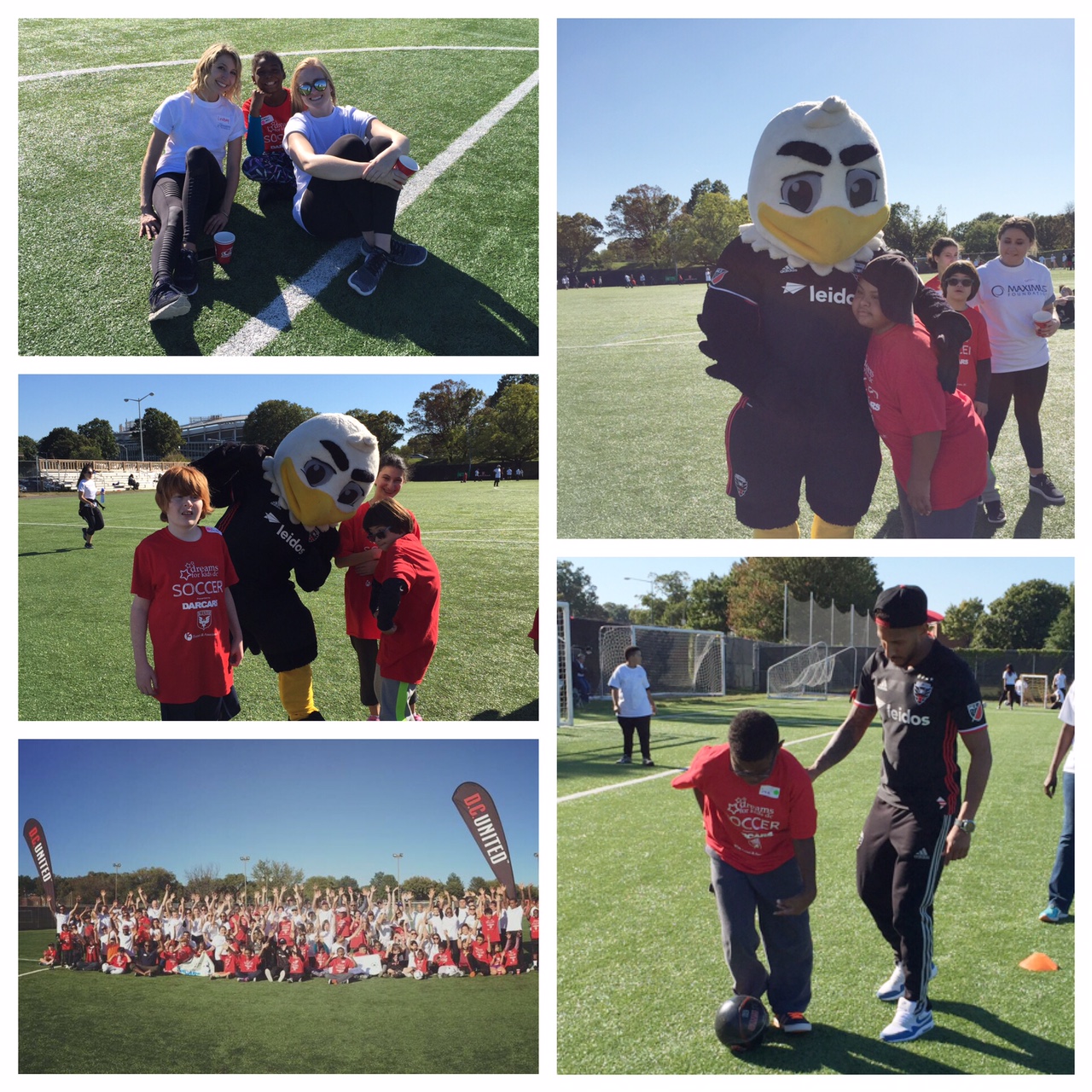 General Information:
Who: PARTICIPANTS: The clinic is open to children from 4 - 24 and of ALL ABILITIES (every child will be able to participate in specialized drills). No previous soccer experience is required. Instructors, coaches and equipment will be provided for all participants. You simply need to show up, DFKDC, D.C. United and our volunteers will take care of the rest.
VOLUNTEERS: Must be at least 15 years of age or older. We are looking for both skilled volunteers and general volunteers who do not need any prior experience.
PARENTS: Please sign up as a parent if you would like to sit and watch your children, if you would like to volunteer WITH your child - please sign up as a VOLUNTEER!
ORGANIZATIONS: Want to get your organization or company involved? Contact us at gfu@dreamsforkids.org
What: The event will take place from 1 - 3:30 PM and will consist of specialized drills for all participants. Children will be grouped and paired with trained volunteers and instructors who will guide them through a progression of drills and exercises. Food and beverage are provided for participants, volunteers and guardians. Participants will be able to meet the D.C. United players, as well as, receive goodies from D.C. United! 
When:  Sunday, September 10th from 1 - 3:30pm, we will provide an early dinner for all of our guests!
Where: The clinic will be held at the First Team Training Field located on Oklahoma Avenue near the RFK Stadium (D.C. United Practice Facility) 279 Oklahoma Ave NE, Washington, DC 20002. There is parking right next to the field. 

DETAILED DIRECTIONS:

DIRECTIONS TO TURF PRACTICE FIELD
This field can be a little confusing to find, here are the best directions, instead of using your GPS once you are close to the stadium:
Find your way to RFK Stadium.
From the Stadium Access Road (which circles RFK Stadium), stay to the left past the 295 bridge exit,
then fork right onto C Street NE (the fork is just before the Access Road passes Lot 4).
At the next intersection, turn right onto Oklahoma Avenue,
and another immediate right into the RFK Auxiliary Field parking lot.

From the Executive Director: I always try to find Oklahoma Avenue then take it all the way around as you should see the field when you hit Oklahoma. Try to use this address in your GPS if needed or lost: 281-359 Oklahoma Ave NE, Washington, DC 20002 (make a right onto that access road--you will see yellow signs marking DFKDC, follow that to find the parking lot). You want to get on Oklahoma Ave and take it all the way around the field, then you'll find parking and entrance. Take C St NE, make a left onto 21st NE, which will become Oklahoma Ave, please use this google map link if you need a visual from RFK Stadium: https://goo.gl/ROu3XY
Come join us for an afternoon full of soccer, food and fun!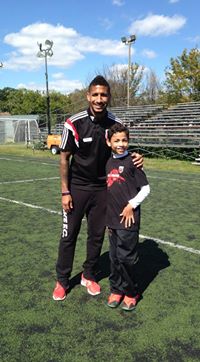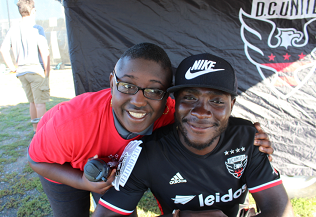 Thank you to our sponsors D.C. United,  MAXIMUS Foundation, and DARCARS, as well as our DFKDC athlete ambassadors Sean Franklin & Kofi Opare.  
By registering as a participant or volunteer ticket you are agreeing to the following waiver:
http://dreamsforkidsdc.org/wp-content/uploads/2017/03/Participant-Waiver-2017.pdf
Breakdown of the day
12:30- 1:00PM: CHECK IN
1:00 – 1:10 PM: Welcome and stretches [Intros]
1:10 – 1:30 PM: FIRST DRILL
1:30 – 1:50 PM: SECOND DRILL
1:50 – 1:55 PM: WATER BREAK
1:55 - 2:15PM: THIRD DRILL
2:15 – 2:35 PM: FOURTH DRILL
2:35 – 2:45 PM: Thank yous, autographs and group photo
2:45 – 3:30 PM: SNACK!
If you have any questions please feel free to contact us at GFU@dreamsforkids.org
When & Where

D.C. United First Team Training Field
279 Oklahoma Ave NE
Washington, DC 20002


Sunday, September 10, 2017 from 1:00 PM to 3:30 PM (EDT)
Add to my calendar
Organizer
Dreams For Kids DC provides free life-changing activities to empower children with physical and mental disabilities to unite with their peers and realize their potential. Dreams For Kids DC (DFKDC) provides adaptive sports clinics for children with disabilities between the ages of 4-24. Many of these children are bullied in schools and left out of activities with their able-bodied peers. DFKDC clinics empower this often isolated group to come off the sidelines and participate in activities such as waterskiing, dance, football and ice hockey, sometimes for the very first time. The self-confidence gained through these programs carries over from the field and rink to the home and classrom, allowing each participant to realize that theie disability will not prevent them from fulfilling their dreams.