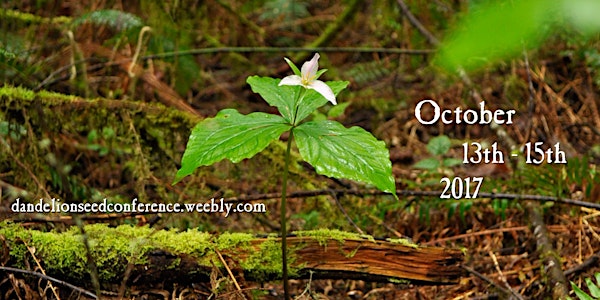 2017 Dandelion Seed Conference
When and where
Location
The Longhouse The Evergreen State College 2800 Dogtooth Ln NW Olympia, WA 98505
Refund Policy
Refunds up to 1 day before event
Description
Join us for the 6th annual DSC Oct 13 - 15, 2017




The Dandelion Seed Conference offers 3 days of workshops and classes for all levels of herbal enthusiasts, with a focus on accessible herbal medicine for social and community healing. This years keynote speakers will be Larken Bunce of the Vermont Center of Integrative Herbalism and T'uy'tanat Cease Wyss, Indigenous Plant Diva. It is an honor and joy to bring together such a vibrant and engaged community of herbalists and plant enthusiasts and we look forward to learning with you!
Learn more about the Dandelion Seed Conference.
View the full conference schedule.

Email questions about registration or vending at the conference to dandelionseedconference@gmail.com

We will also be hosting a pre-conference intensive with Larken Bunce on Friday the 13th. More information and registration available here.
Conference Pricing

In an effort to be accessible, we have some of the lowest registration fees for an herbal conference of this type nationwide.
Please support the DSC by giving generously with your registration contribution.
The true cost of the DSC is $150 per person. We will consider the registration amount you pay in excess of $150 help allow those who cannot pay the full cost of the conference to attend and any leftover funds will to go towards future community herbal projects.
We also offer a limited amount of worktrade which is a 4 hour labor exchange and a reduced admission of $50. If none of these options are accessible to you, please email the organizers and ask about a full scholarship.
Logistical Information

Directions
To get to Evergreen:
Take Interstate 5 to Olympia.
Turn onto Highway 101 at Exit 104.
Go west on 101 North for three miles.
Take The Evergreen State College exit.
Go two miles north on the Evergreen Parkway to the main campus entrance (at the roundabout).
Park in B or C Lot (see parking details below)

To get to the Longhouse
From the bus loop in front of the library at Evergreen, walk across Red Square to the library building and then turn left and walk all the way to the building at the end of the lane---the Longhouse.

Public Transport
Take the Intercity Transit bus 41 or 48 (the 41 runs all three days of the conference, the 48 does not run on Sunday) from downtown Olympia towards The Evergreen State College and get off at the Library Loop. The bus costs $1.25 one way or $2.50 for a day pass.

Parking
Parking at Evergreen is free after 5pm on Friday and all day on the weekend; if you arrive before 5pm it is $1 per hour or $3 for a day pass. Park in B or C lots near the main entrance.