2017 Contemporary Italian Film Series - Wondrous Boccaccio
Actions and Detail Panel
2017 Contemporary Italian Film Series - Wondrous Boccaccio
Wed, February 15, 2017, 7:15 PM – 9:30 PM CST
Description
2017 Contemporary Italian Film Series: "Maraviglioso Boccaccio" (Wondrous Boccaccio)
Join us at the ICCC for the second film of our 2017 Contemporary Italian Film Series, a monthly series of Italian movies projected in Italian with English subtitles. Come watch and enjoy Directors Paolo and Vittorio Taviani's historic comedy/drama "Wondrous Boccaccio" (Maraviglioso Boccaccio); starring Lello Arena, Paola Cortellesi, Carolina Crescentini, Flavio Parenti, and Vittoria Puccini. The 2015 release and 120 minute-long film, will be screened in Italian with English subtitles. No rating is provided, some material may be inappropriate due to profanity and sexual language; attend at your own discretion.
Wednesday, February 15, 2017 | film starts at 7:15 pm, doors open at 6:30pm
Previous registration not required, but suggested: suggested donation at the door - $5 for members, $10 for non-members
Reserve Today - Eventbrite, call 713-524-4222 ext. 7 or email ProgramEvents@iccchouston.com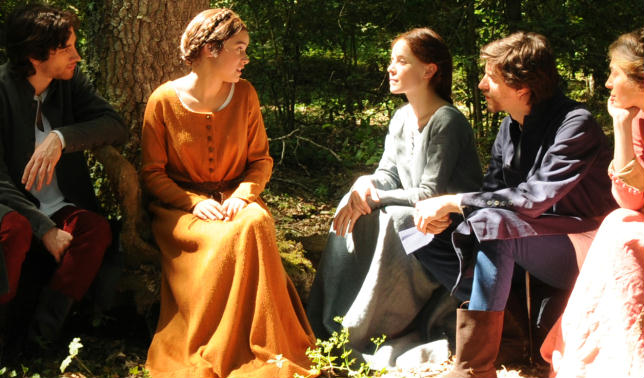 Plot: Florence, 13th century. The "Black Death" is spreading. Ten young men and women (three boys and seven girls) escape plague-stricken Florence for a countryside estate where they regale each other with bawdy tales of love, destiny and desire. This film offers a new evocative take on Boccaccio's classic work, "The Decameron."
Trama: Lo sfondo è quello della Firenze trecentesca colpita dalla peste, che spinge dieci giovani a rifugiarsi in campagna e a impiegare il tempo raccontandosi delle brevi storie. Drammatiche o argute, erotiche o grottesche, tutte le novelle hanno in realtà un unico, grande protagonista: l'amore, nelle sue innumerevoli sfumature. Sarà proprio l'amore a diventare per tutti il migliore antidoto contro le sofferenze e le incertezze di un'epoca.
Want more information? Click here to visit the ICCC website.