2017 Conference of the Mormon Transhumanist Association

Saturday, April 8, 2017 from 9:00 AM to 9:00 PM (MDT)
Who's Going

Loading your connections...
3 of your friends are going.
Share it to get more people on board!
Share

Sara Haughty
San Francisco, California

Luke Picard
London, United Kingdom

Rick Vespucio
Florence, Italy
Event Details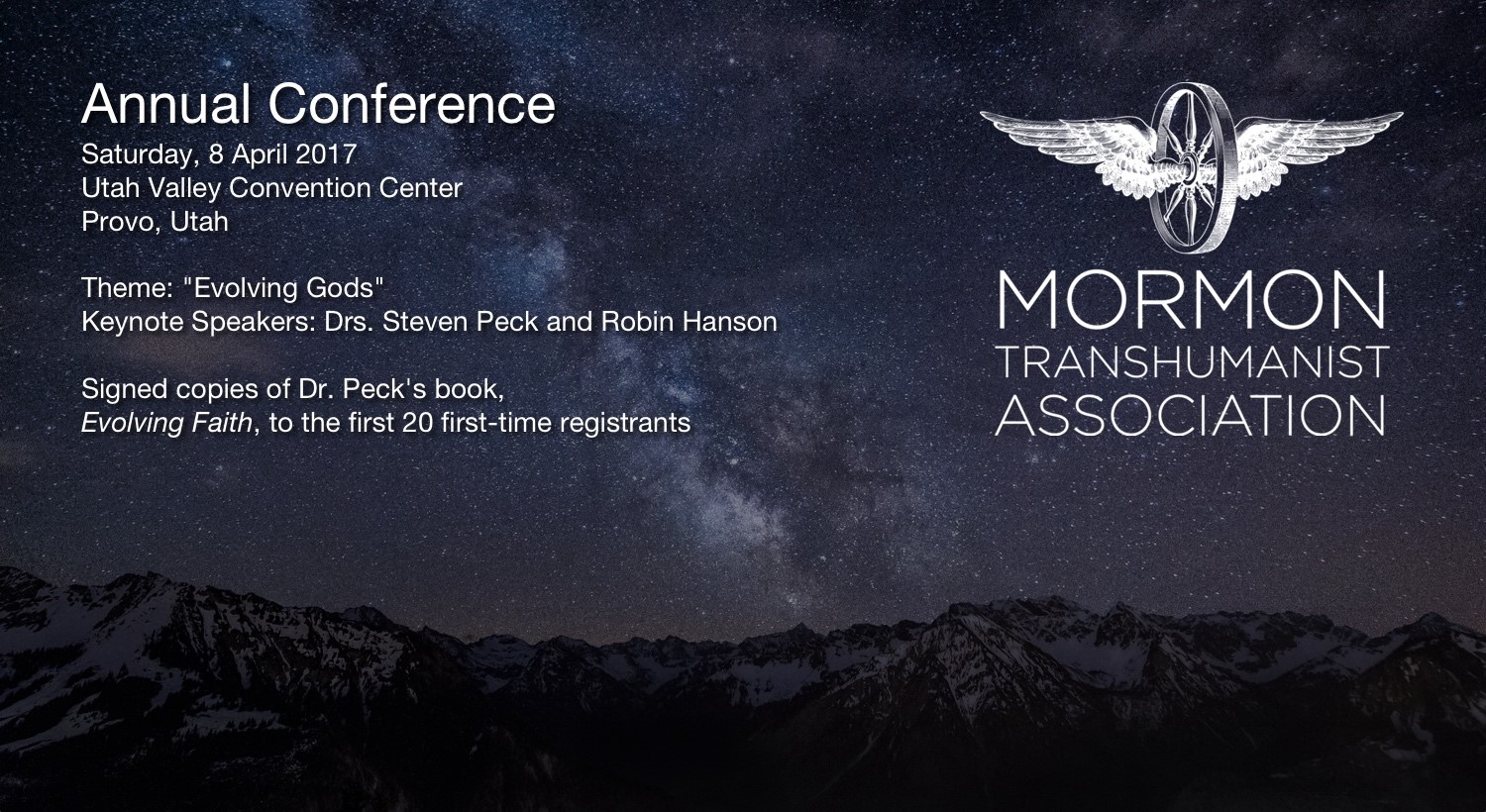 The first 20 first-time registrants will win a free signed copy of Steven Peck's book, Evolving Faith.* Register now!
The 2017 conference of the Mormon Transhumanist Association will be held on Saturday 8 April 2017 from 9:00am to 9:00pm in Provo, Utah, at the Utah Valley Convention Center. Previous conferences sponsored by the Mormon Transhumanist Association include the 2016, 2015, 2014, 2013, and 2012 conferences of the Mormon Transhumanist Association, the 2010 Transhumanism and Spirituality conference, and the 2009 Mormonism and Engineering conference. The conference is open to the public.
The theme of the conference is "Evolving Gods." From its earliest beginnings, humanity has looked beyond itself, seeing in various deities its characteristics embodied to a superlative degree. Human conceptions of the divine have undergone dramatic shifts, from polytheistic contention for dominance between tribal deities, to notions of a god more powerful than all these, and eventually to the consigning of these tribal deities to oblivion as monotheism became predominant. Early Christians, Eastern Orthodox, and subsequent restorationist movements, like Mormonism, emphasized human divine potential through the process of theosis, deification, or divinization. Eastern religions taught the possibility of achieving unity with the divine community of enlightened beings.
In our present era of rapidly accelerating technological advancement, we are achieving tremendous improvements in physical and mental health, rejuvenation, and communal well-being. We are seeing declines in violence and suffering that bring us closer to the just society envisioned by many religions. At the same time, many traditional religions are in decline, while fundamentalist and secularist movements gain momentum. We also face numerous existential risks, including environmental degradation, technological obsolescence and political upheaval.
This theme raises questions about how our conception of the divine and of morality has changed over time and how it continues to change in our transhuman age; about the function of religion and the new shapes it is taking; and about how we humans should approach our increasingly godlike powers, and what kinds of gods we will choose to resemble, for good or ill.
Paper Submissions
The deadline for paper submissions is 28 February 2016. Please submit your papers soon! More details can be found on our call for papers.
Keynote Speakers
Steven Peck is a professor of biology at Brigham Young University, where he teaches courses including "The History and Philosophy of Biology"and "Bioethics." His research in theoretical mathematical ecology and insect populations has been recognized by the National Academy of Sciences and the United Nations for helping to fight insect-borne illness. His published works include over forty scientific articles in prominent publications like American Naturalist, Newsweek, and Zygon; a volume of philosophical and religious essays titled Evolving Faith; fictional works like The Scholar of Moab and A Short Stay in Hell, which is being made into a feature film; and a number of poems and short stories. He blogs at sciencebysteve.net.
Robin Hanson is associate professor of economics at George Mason University, and research associate at the Future of Humanity Institute of Oxford University. Oxford University Press published his book The Age of Em: Work, Love and Life When Robots Rule the Earth in June 2016, and will publish The Elephant in the Brain, co-authored with Kevin Simler, in September 2017. He has pioneered prediction markets, also known as information markets and idea futures, since 1988. He was the first to write in detail about creating and subsidizing markets to gain better estimates on a wide variety of important topics. He was a principal architect of the first internal corporate markets, at Xanadu in 1990, of the first web markets, the Foresight Exchange since 1994, of DARPA's Policy Analysis Market, from 2001 to 2003, and of IARPA's combinatorial markets DAGGRE and SCICAST from 2010 to 2015. He developed new technologies for conditional, combinatorial, and intermediated trading, and studied insider trading, manipulation, and other foul play. He has written and spoken widely on the application of idea futures to business and policy, and has advised many ventures. Hanson has diverse research interests, with papers on spatial product competition, health incentive contracts, group insurance, product bans, evolutionary psychology and bioethics of health care, voter information incentives, incentives to fake expertise, Bayesian classification, agreeing to disagree, self-deception in disagreement, probability elicitation, wiretaps, image reconstruction, the history of science prizes, reversible computation, the origin of life, the survival of humanity, very long term economic growth, growth given machine intelligence, and interstellar colonization.
Other Speakers
Blaire Ostler is one of the leading voices on the intersections of Mormonism, feminism, and transhumanism. She presents and writes on many forums, and speaks at conferences promoting Mormon Transhumanist ideals. Blaire holds a BFA in Design from the International Academy of Design and Technology-Seattle. She is pursuing a second bachelor's degree in philosophy with an emphasis in gender studies. She is passionate about esthetics, religion, human sexuality, queer theory, social philosophy, and art. She and husband Drew reside in Utah with their three children.
Carl Youngblood has been an avid technology enthusiast since early childhood, and has been earning a living as a software engineer since 1997. He was a Mormon missionary for two years in Brazil, where his newfound aptitude for language led him to eventually get a degree in Portuguese from Brigham Young University, and later a masters in Computer Science from the University of Washington. Carl's struggle to apply his faith meaningfully in today's rapidly-changing world led him to co-found The Mormon Transhumanist Association in 2006. Carl is passionate about science, technology, religion, philosophy and the performing arts. Carl is Vice President, director, and co-founder of the Mormon Transhumanist Association.
Chris Bradford was born in Utah, but soon moved to Washington DC and then overseas for his father's employment. He has lived in Egypt, Germany, Jordan, Pakistan and Italy, where he served an LDS mission. A self-taught programmer, he manages social & mobile development at Ancestry.com. He has a degree from Brigham Young University in linguistics. Chris and wife Lucy have five sons and three daughters. Chris is passionate about science, technology, religion, philosophy, and the performing arts. Chris is President, director, and co-founder of the Mormon Transhumanist Association.
Lincoln Cannon is a technologist and philosopher, and a leading advocate of technological evolution and postsecular religion. He has two decades of professional experience in information technology, including leadership roles in software engineering and marketing technology. Lincoln holds degrees in business administration and philosophy. He is married with Dorothée Vankrieckenge, a French national, and they have three bilingual children. Lincoln is a director and co-founder of the Mormon Transhumanist Association.

More speakers will be announced later.
Registration Discount
If you are a voting member of the association, a speaker at the conference, or a sponsor of the conference, your registration is free and the association will give your guest a discount. Also, if you represent a media outlet and would like to report on the conference, your registration is free. If any of these cases apply to you, please contact an association officer or email admin@transfigurism.org for your access code before registering.
If you are a student, unemployed or resident of a less-developed country, discounts are available at registration time. Conference organizers will ask you to provide evidence of your student, unemployed or residency status when you check in at the conference.

Special Offer
The first 20 first-time conference registrants will win a free signed copy of Steven Peck's book, Evolving Faith. Additionally, there will be a raffle of five copies of the same book to voting members.
Travel Assistance
The association may cover up to 50% of your travel costs to attend the conference if you meet the following criteria:
1) You must be a voting member of the association.
2) You must present at the conference.
3) You must live at least 300 miles from Provo, UT.
If you meet the above criteria, you may request assistance by contacting an association officer or emailing admin@transfigurism.org. 
Food
Lunch on the day of the conference is included in the reservation price. A dinner will also be held at the conference venue. Please purchase tickets with the dinner option if you wish to stay for dinner.
Lodging
The association cannot directly cover lodging expenses. However, association members living in Provo and nearby areas may be able to help. We encourage members willing to provide lodging in their homes and members seeking lodging to communicate on the association Google group and Facebook group. 
After-Conference Activities
Our monthly Sunday evening meetup will be held the day after the conference. We invite conference attendees who are still in town to attend this event at 8pm the following day. If there is sufficient interest, we will also organize a day-time tour of the area that day. If you would like to participate, please indicate your interest during registration, so that we may make appropriate arrangements.
*Limit one signed copy of Evolving Faith per household
Save This Event
When & Where

Utah Valley Convention Center
220 Center St
Provo, UT 84601


Saturday, April 8, 2017 from 9:00 AM to 9:00 PM (MDT)
Add to my calendar
Organizer
Mormon Transhumanist Association
2017 Conference of the Mormon Transhumanist Association