Description

ONLINE TICKET SALES HAVE ENDED!
There will be a limited number of tickets available for purchase at the door. Please arrive early (5:00pm) to purchase yours!
Rub elbows with other politically interested Minnesotans, catch up with old friends, meet new and interesting people – and have a good time doing it – at our annual Civic Celebration!
Come for the social hour with complimentary bites, cash bar, and lively meet-and-greet, and stay for our program where we'll honor two civic trailblazers: Dr. Josie Johnson and Susan Kimberly. Our honorees this year have shown how an individual person can blaze a path that has ripple effects throughout the generations. We hope you can join us!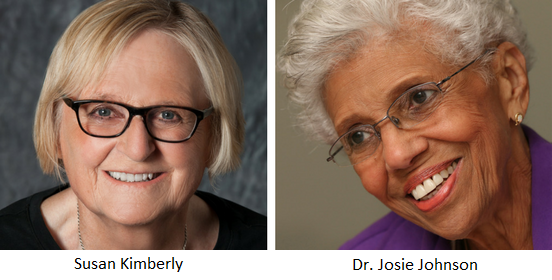 In 1964, Dr. Josie Johnson led a multiracial delegation of women from Minnesota to witness first-hand the civil rights struggle in Mississippi. She was chief of staff to the Lieutenant Governor George Brown of Colorado, the first African American lieutenant governor elected since Reconstruction. She served as acting director of the Minneapolis Urban League, as the first African American regent at the University of Minnesota and associate vice-president for academic affairs at the U. She lobbied for fair housing and employment opportunities and is a recognized leader in education and community involvement.
Susan Kimberly has decades of public service in Minnesota. As Bob Sylvester, she served on the St. Paul City Council in the 1970's and as head of the Housing and Redevelopment Authority. He later became an investment banker with Piper Jaffray. Following her transition, Susan was back at City Hall, working for Mayor George Latimer. She was selected by Mayor Norm Coleman as his deputy mayor, and later worked for him in his U.S. Senate office. She has led St. Paul's Planning and Economic Development department and served as interim president of the Saint Paul Area Chamber of Commerce. Susan's commitment to public service is legendary.
Join us as we honor these two civic leaders through the eyes of those inspired by their leadership.
Sponsorships and tables are available now! Click here to learn more about sponsor levels, or contact Jan Unstad at junstad@citizensleague.org.
---
Speakers Announced!
The Citizens League is excited to announce our line-up of speakers for the evening. Speakers will include Shawntera Hardy, Commissioner of Employment and Economic Development in Minnesota (DEED); John Harrington, Chief of Metro Transit Police, and former Chief of Police for the City of St. Paul and former State Senator; and Mike Veeck, president and part owner of the Saint Paul Saints, and five other successful minor-league teams.
As a part of the Civic Celebration program, Commissioner Hardy, Chief Harrington, and Veeck will not only speak specifically of the leadership of Dr. Johnson and Kimberly, but also how their civic lives serve as inspiration to a new generation of leaders.
Click here to read more about our speakers.
---