Description

It's Time To Get Spooky!
Party with Chicago Bars for Halloween Bar Crawl!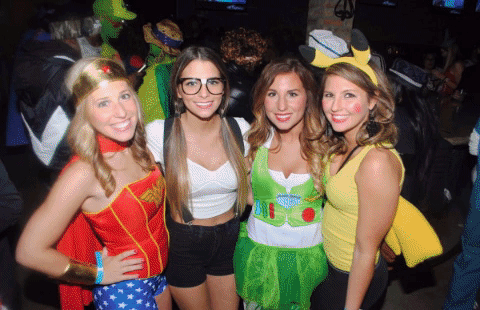 ***Pre Check Wednesday TROPHY ROOM 170 W ONTARIO (Pickup for ALL FRIENDS WITH THEIR TICKET)***

Some reminders for the event: http://bit.ly/2yREneS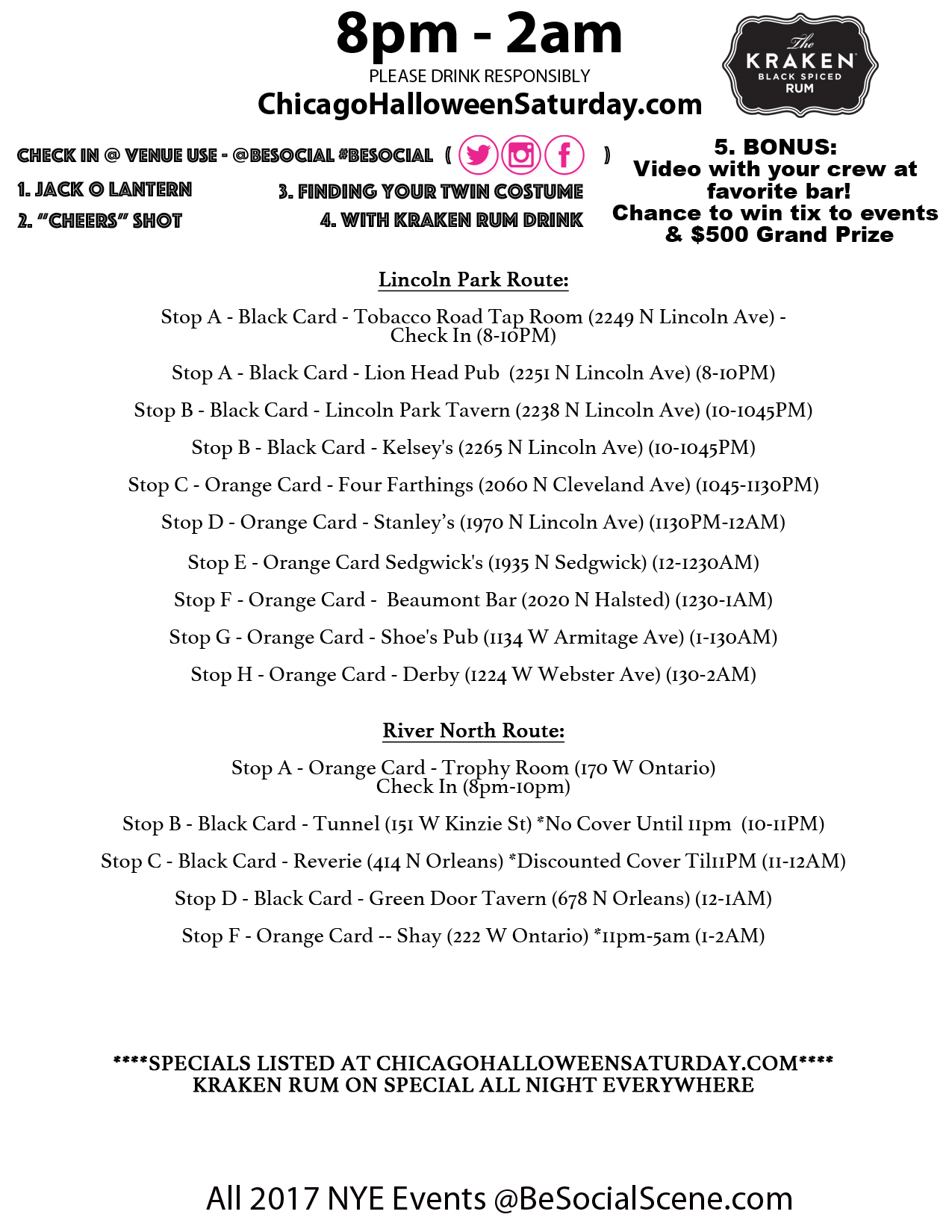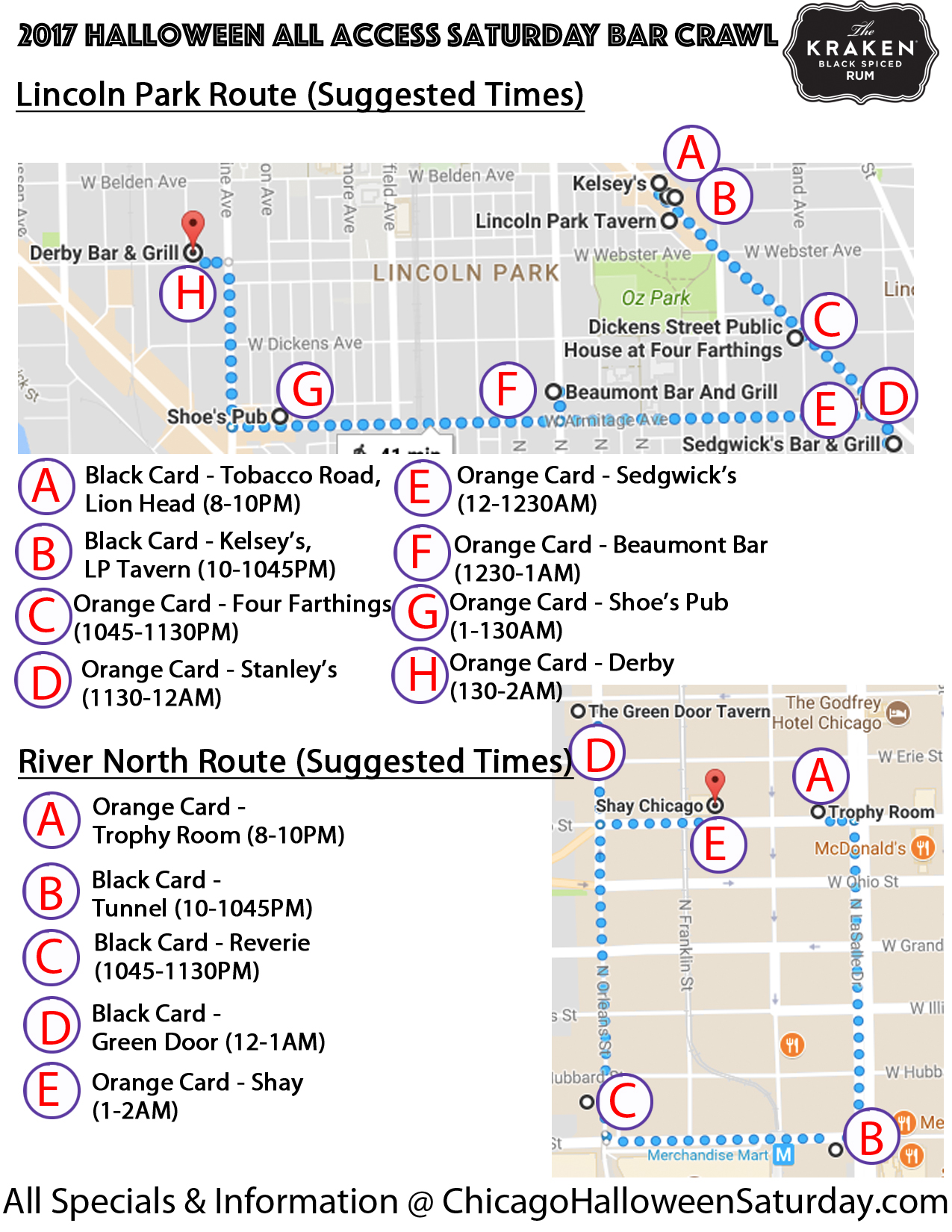 Check In Location
AT CHECK IN YOU CAN CHECK IN FOR ONLY YOURSELF - ONE PACKET PER PERSON. IF YOU ARE ARRIVING PAST 1030PM WE HAVE VERY LIMITED PACKETS LEFT AT THE BAR (FIRST COME) - PLEASE ARRIVE BEFORE 1030PM
**River North**
Trophy Room (170 W Ontario) (8-10pm)
Tunnel (151 W Kinzie St) *No Cover Until 11pm (discounted after 11pm with wristband) - $5 Kraken

Reverie (414 N Orleans) - $7 kraken cocktails and $5 Booooze Shots. Promo Cards Towards Purchase of Boooooze shots. *Discounted cover $10/person after 11pm pending capacity

Green Door Tavern (678 N Orleans)
Shay (222 W Ontario) *11pm-5am
**Lincoln Park**


Check In (8pm-10pm)
Tobacco Road Tap Room (2249 N Lincoln Ave) - $3 Miller High Life, $3 Tecate, $5 Kraken
Lincoln Park Tavern (2238 N Lincoln Ave)
Lion Head Pub (2251 N Lincoln Ave)
Kelsey's (2265 N Lincoln Ave) - $3 Domestic Bottles, $4 Lagunitas IPA and Blue Moon Drafts
Four Farthings (2060 N Cleveland Ave) - $3 Shots, $4 Domestics & $5 Well drinks (including Kraken Spiced Rum)

Sedgwick's (1935 N Sedgwick) - $3 Miller High Life, $5 Coors Light drafts, $5 Kraken Spiced Rum mixers & Free hors d'oeuvres @midnight *Promo Card Towards Kraken Mixers
Stanley's (1970 N Lincoln Ave)
Beaumont (2020 N Halsted) - $4.50 Black Widow, $4.50 Soul Taker and $6.00 Kraken Bomb shots. 50 cent wings and 1/2 price pizzas
Shoe's Pub (1134 W Armitage Ave) - $3.50 Can Anchor Golden Ale, $6 Dark & Stormy's & $6 Kraken
Derby (1224 W Webster) -$3 PBR Cans, $4 Founders Mosaic Promise Drafts & $5 Kraken Shots

***THIS EVENT IS ALL ACCESS!***

Q. What does that mean!?

A. We will work with several bar neighborhoods in your city and you can access them all (apologies transportation not incld.)!
Venues (More to be announced and subject to change!):

Check out who is signed up to go on Facebook
Package Includes *Additional Venues and Information will be added*:
(2) $5 Gift Cards (Food or Drink)

Drink Specials ($3, $4 & $5 Specials)

No Cover (You may still have to wait in line)

Costume Contest $500 Grand Prize through Social Media! See Below Details!

Registration 8-10pm (Please do not be late!)

First Time Lyft users, use code BeSocial for $5 in rides!

Have a large group or a ton of friends!? Get Paid to Party http://www.eventbrite.com/affiliate-register?eid=33682707886&affid=168886666

Portion of proceeds benefits local charity
$500 Costume Contest Details:
(Please use social media outlets Facebook, Instagram or Twitter to Enter to WIN! #BeSocial and #Chicago MUST BE USED)
Twitter or Instagram #BeSocial BEFORE and DURING the event with Halloween images, your costume selection or with fun Halloween Movie lines to increase your chance to win $500!
Compliant with all state liquor laws
Must be 21+ w/ State Issued ID
No Refunds
Please contact organizer directly with any questions.