Description
Friday, January 13, 2017 at the Charleston Area Convention Center in North Charleston. Check-in and Kid's Zone opens at 2pm. Run is at 3:30pm
The Charleston Youth Marathon Program was developed for the benefit of our community children in the Charleston area. The goal of our program is to:
Educate parents and children about the benefits of physical fitness
Encourage children to participate in a physical activity on a daily basis
Help children make smart choices to reap the benefits of a healthy lifestyle now and into adulthood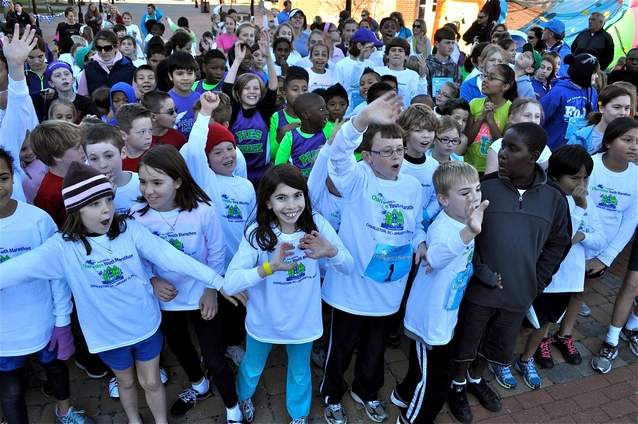 Facts
The Charleston Marathon Youth Marathon is open to all children ages 7-17 years old who are in good health.
The Youth Marathon is a modified marathon, which means your child can run or walk 25 miles prior to race day, and then complete the final 1.2 miles on January 13, 2017.
Once a child is registered they can log back into their online account to complete their training log each time they walk/run. You can also print out a copy of the 2017 Charleston Youth Marathon Log from our website and manually log miles. Each child must log 25 miles by race day in order to participate in the final 1.2 mile leg of the Charleston Youth Marathon.
The Youth Marathon is free and every participant will receive an official Charleston Youth Marathon Medal and Charleston Youth Marathon t-shirt when they turn in their logged miles. Every youth that registers online will have access to sponsor promotions and coupons.
Registration for the Youth Marathon program will close on December 16, 2016 to ensure that particpants receive a shirt and have enough time to log 25 miles.
If you are a school starting a Youth Marathon Training Program, please contact our Youth Marathon Director Mike Campbell at Mike@CharlstonMarathon.com before you register online, to ensure proper tracking and reporting of your group.