2017 Certified Instructor Class Graduation & General Meeting March 2017

Sunday, March 26, 2017 from 2:00 PM to 4:00 PM (PDT)
Event Details

Slow Food Preservers Los Angeles
March General Meeting
Come join us in Whittier for our General Meeting where Chef Ernest Miller will teach you:
Steam Canners - What brand is best?
Chamber Vacuum Sealer vs. FoodSaver

Cerfitied Instructor Program
2017 Gradudation Ceremony
After 8 weeks and 48 hours of instruction - Slow Food Preservers Instructor Candidates are now graduating! Please help us celebrate their well-earned acheivement!
Speaker - Chef Ernest Miller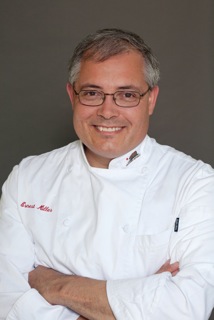 Ernest Miller is a chef, historian, educator, consultant and speaker who teaches classes in museums, schools and kitchens throughout Southern California.
Miller has been called the Huell Howser of California food.
Miller is the co-leader of Slow Food Los Angeles on the speakers' bureau for the Culinary Historians of Southern California, Lecturer for the National Food and Beverage Foundation, Chef Instructor at Le Cordon Bleu, Chairman of Slow Food Preservers of Los Angeles and founder of RLM Provisions LLC – manufacturer of the best fermentation kits on the market.
General Meeting Potluck
As always, bring something yummy to share at Potluck! ** POTLUCK THEME IS FAVORITE SPRING DISH! (THINK St. Patty's Day, Easter, Passover!)
SFPLA General Meeting Agenda For March 2017
2:00 pm Call to Order/Welcome Visitors/Guests (Ernest Miller)
2:05 pm Certified Instructor Program Graudation
2:35 pm Continuing Education:
Steam Canners - What brand is best?

Chamber Vacuum Sealer vs. FoodSaver
3:15 pm Break/Social Time/Potluck**
3:45 pm Adjournment 
Venue Partner-
The Whole Place at First Christian Church 
We want to thank our venue partner The Whole Place at First Christian Church in Whittier for allowing us to use their facilities. The Whole Place at First Christian Church.
The Whole Place at First Christian Church is a community possibility engine championing wholeness and social justice. It offers emerging nonprofits free event space, co-work space, and conference rooms, all with WiFi. Organizations using the space to collaborate and reciprocate include Catalyst Network of Communities, Whittier Free Store, Village Sudbury School, New Heart Community Church, The Just Love Coalition, Hilltoppers 4-H, Academy of Music for the Blind, Whittier Consortium on Homelessness, Whittier's First Day, Intercommunity Counseling Center, Whittier Area Literacy Council, CAPC, Inc., Global Spirit 21, AA, NA, CEA-HOW, local practitioners in Qi Gong, Reiki, and Pranic healing traditions, and founding member First Christian Church. Find us on Facebook!
MEETING AREA — FELLOWSHIP HALL:
The Fellowship Hall is located in the main church building at 6355 Greenleaf Avenue. Enter on Hadley. Park on street, or in church overflow parking lot northwest of Assistance League Bargain Bin Thrift Store, or across Hadley Street in Rite Aid parking lot (a City of Whittier owned lot). 
VISIT — WHITTIER FREE STORE!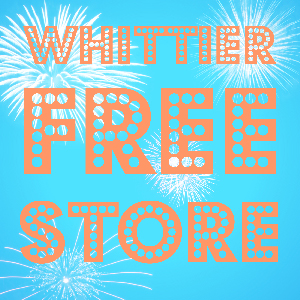 On Sunday October 16th - You can also visit, donate and shop for free at the Whittier Free Store! The store is located at The Whole Place at First Christian Church education buildings: 12907 Hadley Street (Cross street Comstock). Enter through the gate on Hadley and go up the stairs to find the store.
The Whittier Free Store - like a consignment shop, but the items are free - accepts donations of unused items in good condition and offer those items to the general public.
A free store looks like a thrift store, but the community-building nature of a free store leverages access to inventory and volunteers that are untapped by conventional thrift stores.
By sharing instead of shopping, we can increase our community connections and reduce our carbon footprint.
We invite neighbors to enroll as members, for free, to gain access to free goods in a retail location, and to share their unused goods with other neighbors, instead of throwing goods away or paying for storage.
SLOW FOOD PRESERVERS LOS ANGELES

Vist us at https://sfpla.org
Like our Facebook page! https://www.facebook.com/SFPLAB/
Follw us on Instagram! https://www.instagram.com/sfpla/

When & Where

First Christian Church of Whittier
6355 Greenleaf Avenue
Whittier, CA 90601


Sunday, March 26, 2017 from 2:00 PM to 4:00 PM (PDT)
Add to my calendar
Organizer
Slow Food Preservers Los Angeles
Our mission is simple. To celebrate good, clean, wholesome food. We are the food preservation specialists for Slow Food LA. Our volunteers, known as Slow Food Preservation Advisors, are a group of dedicated individuals who have received special training in food preservation techniques. These volunteers generously donate their time and talents, and teach food preservation techniqchef ernie miller teaching classues to many groups at at many venues all over Southern California.
Our volunteers teach classes at the special events, such as the Los Angeles County Fair and the Orange County Fair. We are currently teaching a series of classes at several locations in Los Angeles County, and we are available to conduct demonstrations for Farmer's Markets, festivals, churches and synagogues, libraries, schools, clubs, and special events.
If you would like to set up a food preservation demonstration for your organization or arrange for one of our Slow Food Preservation Advisor volunteers to teach a class for your event, please contact us at: preservers@slowfoodla.com
2017 Certified Instructor Class Graduation & General Meeting March 2017