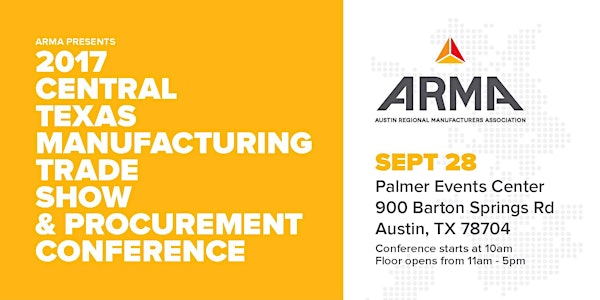 2017 Central Texas Manufacturing Trade Show & Procurement Conference
Location
Palmer Events Center
900 Barton Springs Road
Austin, TX 78704
Description
2017 Central Texas Manufacturing Tradeshow & Procurement Conference, sponsored by the Business Bank of Texas.
Join us for ARMA's first annual tradeshow, featuring over 75 vendors showcasing advanced products, capabilities, and services as well as top procurement executives from major OEMS. Adult beverages and door prizes included. Entrance is FREE! No registration required, trade show floor is open from 10AM-5PM. There are several free presentations including:
1:00PM to 2:00PM - The Value of Continuous Improvement- includes a demonstration, presented by TMAC.
2:00PM to 3:00PM - Logistics Essentials for the Non-logistics Professional- presented by APICS.
---
Procurement Conference (Exhibit Hall 2)
A full day of panels and presentations will explore opportunities in key sectors like semiconductor, life sciences, medical device, as well as other mid-size electronics OEMs, and the federal government. Learn from executives and supply chain managers about what they look for in companies and how you can be a supplier. Registration required. Member tickets are $25, Non-Member tickets are $50.
9:30AM to 10:00AM - Registration and Breakfast Tacos, sponsored by AFP
10:00AM to 11:30AM - Semiconductor: Samsung and Applied Materials discuss what they are looking for in suppliers and how to get qualified. Discussion will include: Troy Mills, Head of Global Procurement, Applied Materials. Greg Whitehorn, Global Procurement Manager, and Spencer Borschke, Senior Procurement Specialist, Samsung.
12:30PM to 1:30PM - Government: Accessing opportunities within the Federal Government. Presentor: Greg James, Director of the PTAC (Procurement Technical Assistance Center)
2:30PM to 3:30PM - Medical Device and Lifesciences: Luminex, and ICU Medical (formerly Hospira and Pfizer) provide suggestions on supplying FDA regulated facilites. Confirmed: Mark Hunter, Senior Director of Supply Chain, Luminex. Pablo Jiminez, Director of Material Management, ICU Medical.
3:30PM to 5:00PM - Happy Hour, sponsored by SkylesBayne
---
Exhibitor Information

Why Exhibit
The trade show and conference bring together the best suppliers and procurement executives in the area. Here are five reasons to exhibit:
-Generate quality leads
-Build your brand
-Make high level contacts
-Meet peers
-Be a part of the community
What's Included With a Booth
-Draped booth - 10x10 or 10x20
-Table (and table cloth)
-2 chairs
-Wastebasket
-Company signage
-2 company representatives per exhibit booth
-2 complimentary attendee registration for Procurement Conference
-Company listing in Official Show Guide
-Company recognition in electronic communication promoting trade show
-FREE LOCAL SHIPPING of booth to Palmer Events Center, provided by BTX Global Logistics
Trade Show Hours
Wednesday, September 27 1:00PM to 6:00PM - Exhibitor move-in and setup
Thursday, September 28 11:00AM to 5:00PM - Trade show open
---
Thank you to all our Sponsors!
Headline Sponsor: Business Bank of Texas
Sustaining Sponsors: Intelligent Logistics, Western Industries Corporation, Dynamic Manufacturing Solutions, Fastenal
Logistics Sponsor: BTX Global Logistics
Breakfast Sponsor: AFP
Happy Hour Sponsor: SkylesBayne
For questions on exhibitor registration or sponsorships, please contact Liz Gori at liz@arma-tx.org.