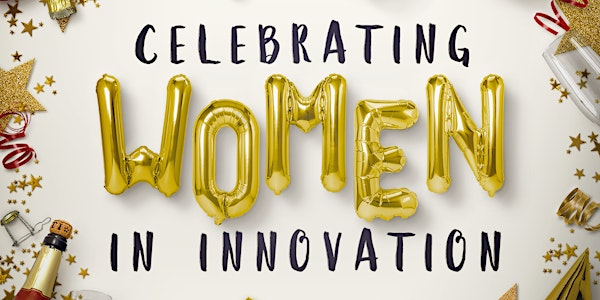 2017 Celebrating Women in Innovation
When and where
Location
Wintrust Grand Banking Hall 231 S. LaSalle St. Chicago, IL
Description





Due to growing interest, we've doubled the speaker sessions at this year's event!
First, discover how women are launching new start-ups and leading businesses that are disrupting industries. Then, hear from women who have ascended some of the highest positions in government. All these women will tell you how a focus on innovation, taking risks, and doing things differently can catapult careers, companies and communities.
Like past Chicago Innovation Awards events, we expect this event to sell out.
Please RSVP soon if you plan to attend.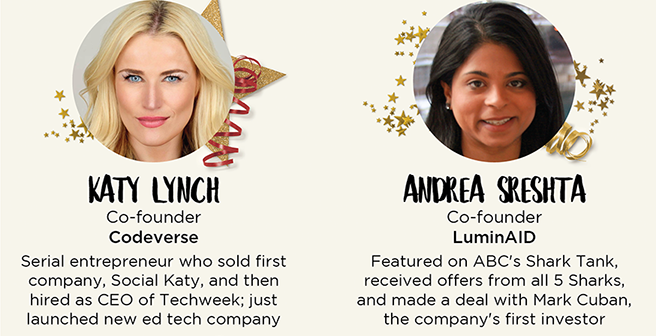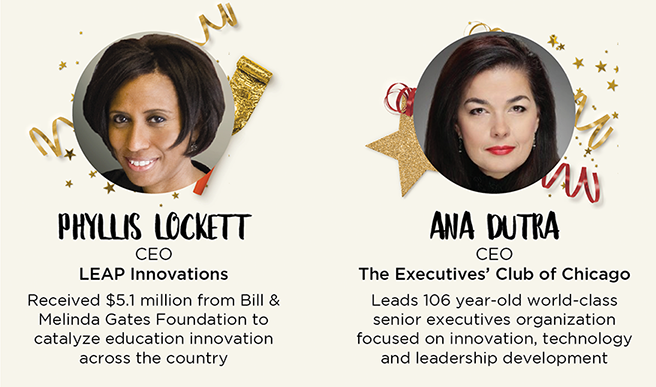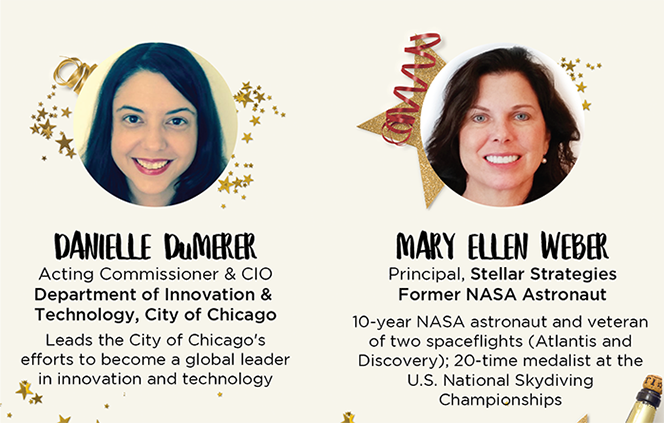 Speaker Bios
Katy Lynch
Katy Lynch is the Co-founder and CMO at Codeverse, the world's first full interactive coding school and educational tech platform for kids that was founded on the mission to teach one billion children to code.Prior to Codeverse, Katy was the CEO of Techweek, the nation's largest traveling technology festival, as well as the President and Co-founder of SocialKaty, a full service social media marketing agency. In 2014, SocialKaty was acquired by award-winning digital agency, Manifest. Katy has appeared on FOX, NBC, Inc, Huffington Post, and Today.com, amongst others. Follow her on Twitter @thekatylynch.
Andrea Sreshta
Andrea Sreshta is a co-founder of LuminAID, a company dedicated to innovative renewable energy solutions for humanitarian aid and outdoor recreation. The LuminAID light has been sold to individuals and organizations in more than 70 countries. Outreach projects with NGO partners have put more than 30,000 donated lights on-the-ground for use in charitable projects around the world and after disasters. Andrea and her business partner, Anna Stork, are the inventors of LuminAID's patented solar inflatable light technology. LuminAID was featured on ABC's Shark Tank in 2015, received offers from all 5 Sharks, and made a deal with Mark Cuban, the company's first investor.
Phyllis Lockett
Phyllis is CEO of LEAP Innovations, an education technology hub in Chicago connecting educators and tech companies from across the nation to research, pilot, and scale instructional technology solutions. Before starting LEAP, Phyllis was a driving force behind Chicago's charter movement. As founding president and CEO of New Schools for Chicago, she helped raise more than $70 million to support opening 80 new public schools.

Ana Dutra
Ana Dutra is the CEO of The Executives' Club of Chicago, a 106 year-old world-class senior executives organization focused on innovation, technology, Diversity & Inclusion and leadership development for current and future top leaders. A Brazilian native with over 28 years of experience in P&L management, technology, business growth and C-Level business consulting in over 30 countries, Dutra's expertise lies in helping Boards, CEOs and their teams to identify and execute growth strategies and turnarounds through innovation, acquisitions and new technologies.
Toni Preckwinkle
Cook County Board President Toni Preckwinkle has been a dedicated community leader for over two decades. She has worked with the Cook County Board of Commissioners, elected officials and county employees to implement major reform and reshape county government through fiscal responsibility, innovative leadership, transparency & accountability, and improved services. President Preckwinkle has developed a broad policy agenda – focusing on critical public safety reform, working to strengthen the county's health care system, and increasing the capacity and capability of our economic development efforts.Before being elected Cook County Board President, Preckwinkle served 19 years as Alderman of the 4th Ward, and, prior to holding elected office, taught high school history for ten years.
Andrea Zopp
Andrea Zopp is the Deputy Mayor and Chief Neighborhood Officer for the City of Chicago. Earlier this year, Andrea ran for the U.S. Senate and has previously served as president and CEO of the Chicago Urban League, which supports and advocates for economic, educational, and social progress for African Americans. Prior to this, Andrea was executive vice president and general counsel at the Exelon Corporation. Andrea also previously held roles as senior vice president, general counsel and corporate secretary of Sears Holdings Corporation, and vice president, deputy general counsel in the law department at Sara Lee Corporation.
Brenna Berman
Brenna is CIO and Commissioner of the Department of Innovation and Technology for the City of Chicago, where she focuses on integrating advanced analytics and data-driven decision-making, and setting a new standard for government IT and connectivity. Prior to government, Brenna spent 10 years at IBM, where she worked closely with government agencies across the world to leverage technology and analytics to improve the services they provide to their residents.
Dr. Mary Ellen Weber
Dr. Mary Ellen Weber is a strategy consultant in research, communications, and high-risk operations through her company, Stellar Strategies, LLC. She also serves on the NASA Advisory Council Committee on Technology, Innovation, and Engineering, and on the boards of Texas Health Presbyterian Hospital, Uplift Education, and Stellar Generation, Inc. She was a NASA Astronaut for ten years and is a veteran of two Space Shuttle missions, including one to construct the International Space Station, and she also served as vice president for a world-class medical school and research center for nine years. In aviation, she is an instrument rated pilot, and an active competitive skydiver, with nearly 6,000 jumps, 20 medals to date at the U.S. National Skydiving Championships, and a world record.
Danielle DuMerer
Danielle is acting CIO and Commissioner of the Department of Innovation and Technology at the City of Chicago. Most recently Danielle was the City's Chief Technology Officer, leading efforts to leverage data and technology to make government more effective, efficient, and innovative. During her tenure at the City, she directed many of the City's digital transformation initiatives, established the City's internationally-recognized open data program, and led digital inclusion efforts to expand access to technology resources and digital skills training. Before joining the City of Chicago, Danielle developed K-12 educational technology products at the McGraw-Hill Companies. She also worked in the Library and Archives field, serving a variety of educational and non-profit organizations to promote equitable access to and preservation of information resources.