2017 BUSINESS EXPO - FREE FOR VENDORS & THE PUBLIC
Description
The GAHCCI Business Expo is a FREE business-to-business and business-to-consumer networking event for the Small Business Community. It's a Mega Mixer and conference for business owners, entrepreneurs, start-ups and decision-makers from around the world. It is the beginning of the fulfillment of the Chamber's vision to be the catalyst for:
Consumers connected to local businesses, and
Small businesses doing business with each other, forming micro supply chains, and teaming up to buy from and serve new and larger corporate vendors/clients.
WHY SHOULD YOU ATTEND?
Free Business Legal Advice
Free Business Workshops
Free Marketing
Learn from Business Millionaires
Free Networking
Meet Lots of New Clients
LOTS OF GIVEAWAYS, FREE PARKING, FOOD & REFRESHMENTS AVAILABLE FOR $5
THE DAY AT A GLANCE: (Scroll down for Vendor Information)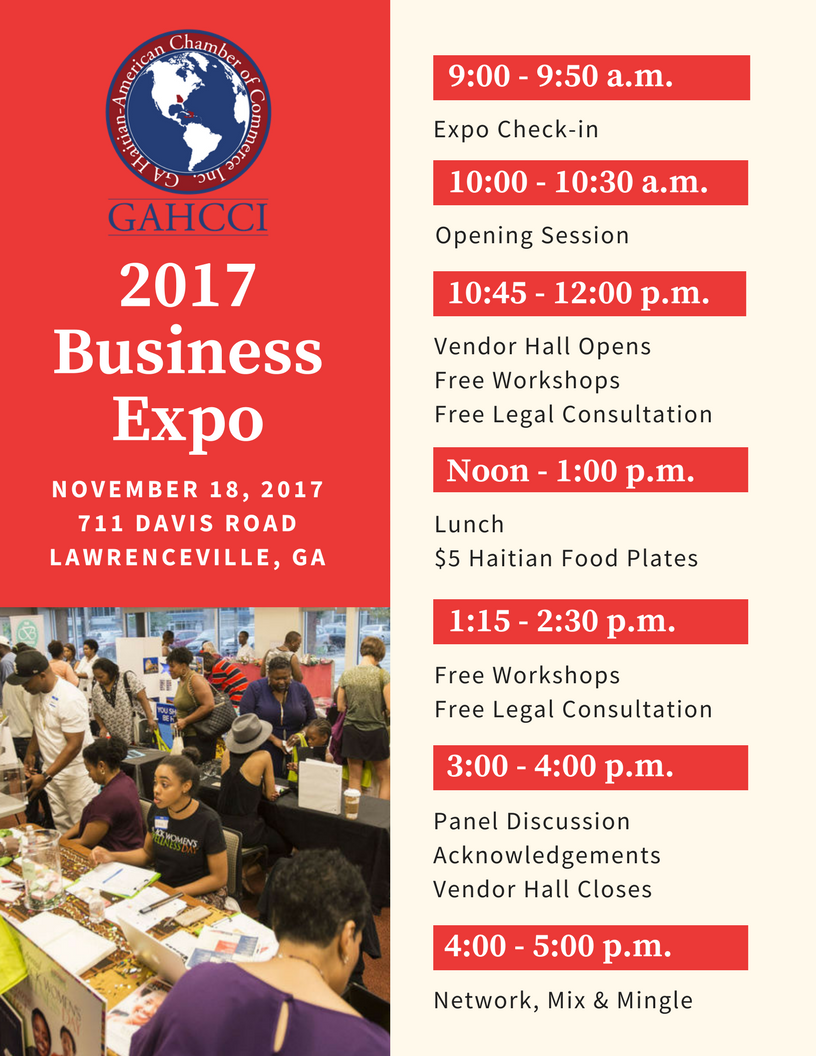 VENDOR INFORMATION:
Thank you for signing up to be a Vendor at our 2017 Business Expo. You play an important role in fulfilling the Chamber's mission to connect businesses to consumers and facilitate trade and commerce. We are looking forward to your participation.
Frequently Asked Questions:
What will the Chamber provide for me at the Expo?
Space (8ft by 6ft) for a table and two chairs.

Two chairs

Free access to low-speed WIFI

Phone/Laptop charging stations
What are vendors required to bring to the Expo?
Six-foot table and table cover

Products to sell

Marketing collateral including flyers, banners, etc.

Business cards

One item or more to give away delivered to the Chamber staff at the beginning of the day
In addition to registering via Eventbrite, what else do vendors need to provide to the Chamber?
Legal company name

Product/Service Description

High-resolution of company logo as a transparent file (.png)

Contact Name

Business phone number

Valid business email address

Physical address

Mailing address
Will there be food and refreshments at the Expo?
Yes, Haitian Food Vendors will be selling small plates for $5, and bottled water and sodas for $1.
Can we sell products at the Expo?
Vendors may sell their products at the Expo.
Do vendors have to pay?
Vendors do not have to pay.

The suggested donation amount is 15% of sales paid at the end of the event (honor system).
How is booth space assigned?
First-come first-serve basis

There is enough space for 35 vendors. We may be able to squeeze 40.
When is setup time?
Vendors may setup the night before, Friday, November 17, 2017 from 6:30 p.m. to 9:00 p.m.

Vendors are required to arrive at 8:00 a.m. on Expo day, Saturday, November 18, 2017. Setup time on Saturday, November 18th is from 8:00 a.m. to 10:00 a.m.
Will I be the only vendor in my category?
No, there may be other vendors with similar products and services.
Business Expo Rules and Conditions
The GAHCCI Business Expo is an opportunity for local businesses to promote their products and services to the community. Each vendor agrees to abide by all regulations and rules adopted by the Georgia Haitian-American Chamber of Commerce in the best interest of the Business Expo and agrees that the Georgia Haitian-American Chamber of Commerce shall have the final decision in adopting any rule or regulation deemed necessary prior to, during, and after the event.
One company per booth, one booth per company.

Limit distribution of promotional coupons/material and taking orders to your booth.

You may sell your goods and services, and money can exchange hands. Vendors agree to indemnify the Chamber and exclude the Chamber from such transactions. GAHCCI is not responsible for refunds and will not get involved in the resolution of any disputes between vendors and consumers.

GAHCCI reserves the right to prohibit and remove displays and handouts which in the opinion of the Chamber are offensive, or detract from the showcase's general purpose of promoting legitimate businesses.

Pictures, videos, and audio recordings taken during the Expo are the property of GAHCCI, and the Chamber reserves the right to publish pictures, videos and audio recordings of vendors and their products at its discretion. This includes live streaming via social media and other publications via the web, television, radio, and newspapers throughout the world.

For the 2017 Business Expo, booths are assigned on a first come, first serve basis.

Vendors must have registered via Eventbrite to be assigned a booth space.

Please make checks payable to: Georgia Haitian-American Chamber of Commerce, Inc., or stop by the Chamber's booth to make credit card payment (processing fee applies).

Booths must be completely set up and ready for the event by 10:00 am. All material and supplies must be removed by 6:00 pm. Teardown cannot begin before 5:00pm.