Description
Online Workouts: September 11, 2017 to October 31, 2017
Onsite Workouts: Saturday, November 11, 2017 at SentryWorld in Stevens Point, WI
Format: Team Competition comprised of 4-6 individuals and teams must have at least 1 of each gender
Workouts: 7 total ( 3 online / 4 on site)
Divisions: Rx and Scaled
Difficulty: ALL LEVELS (Beginner to Advanced)
Event Description
The Faction Games is a first of its kind team competition for our area. Teams will compete online and onsite in a series of 7 workouts. These workouts will test every facet of fitness and force the teams to strategize on who on the team will perform each of the workouts. Team make up will vary as teams can have anywhere from 4 to 6 members and the only requirement is that each team have at least 1 of each gender. Teams will have 2 months to complete the 3 online workouts and will be validated by their gyms. They are allowed to repeat the online workouts as many times as they desire to maximize their scores in the online portion. All teams will then advance to the onsite portion of the competition which will be hosted at beautiful SentryWorld in Stevens Point where they will compete in 4 more workouts. All workouts will count towards the final leaderboards in this winner take all, no holds barred competition.
Team Makeup
Team is required to have a minimum of 4 athletes and must have at least 1 of each gender. Teams may add up to 2 additional members. Think of these as both substitutes and athletes who specialize. This allows teams to sub in someone that might be stronger on certain events (a specialist of sorts) and also provides built in subs in case of injury. This brings a real element of strategy and allows the teams to really maximize their scores on certain workouts. Be advised the programming will reward BALANCE, meaning it is not advised to only have 1 of a gender. While you can compete with this makeup be sure that if this is the make up of your team that the person is prepared to shoulder that load as they will most likely require them to participate in all events.
Online Competition Segment
The online portion of the competition will contain 3 workouts. These will all be announced the week of September 11th. Just like the Bullet Point Open, workouts will be completed at, judged by and validated by their affiliate/gym. Independent teams may register as such and submit video for validation. Video is required by ALL teams, however, in addition to the gym validation. The teams will then have until October 29th at 11:59 PM CST to submit their scores. Affiliates/Gyms will then have until October 31st at 11:59 PM CST to validate scores.
Teams may perform, submit and validate the workouts as many time as they want to during this time for the online segment of this competition.
Videos can be submitted via YouTube, Vimeo or Google Drive.
Onsite Competition Segment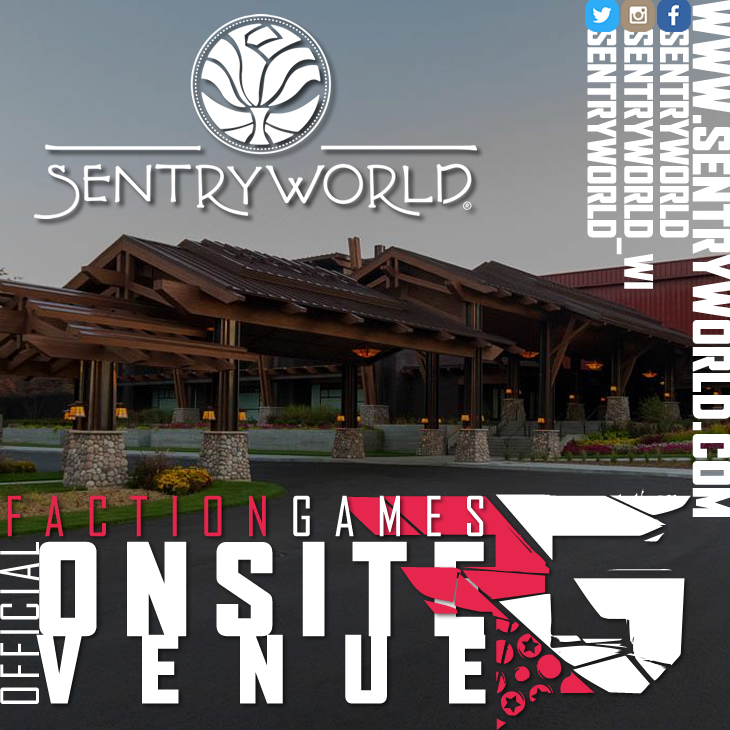 All team will advance to the Onsite portion will consist of 4 workouts and will be held at beautiful SentryWorld in Stevens Point, WI. Athletes will be required to provide photo id at check in on the day of the competition Saturday, November 11, 2017. The onsite segment is an extension of the online segment and final rankings will be determined by the team that performed the best across all 7 workouts.
7 Workout Types
The Faction Games will be comprised of seven events that will test every facet of the athletes fitness level. The events can happen in any order. Information about the workouts, name and definition, will be announced in advance to the competition with the exception of the Hopper event.
THE SPRINT
This workout will test the athletes fitness in a short time domain, the workout will be quick (less that 5 minutes) and can involve conditioning, body weight or light to moderate weighted movements. The score will be recorded in either time it took to finish or reps completed within the time domain.
THE STRENGTH
This workout will test the athletes strength with weighted movements in a potentially nontraditional way. In the allotted time an athlete will perform strength movements where the score will be based on the amount of weight lifted.
THE ENDURANCE
This workout will test the athletes fitness in a longer time domain, the workout can involve conditioning, body weight or light to moderate weighted movements. The score will be recorded in either time it took to finish or reps completed within the time domain.
THE IRON
All barbell all the time. The Barbell is the great equalizer especially when programmed from a metcon scenario. This will test the athletes ability to manage and cycle a barbell. While the workout may not be 100% barbell movements we can guarantee that those proficient in the art of the barbell will come out on top in this one. Heavy Hard and Fast. Time domains and movements will vary.
THE COMBINE
The Combine is a test of skill, a series of physical test of the individual and/or team. Athletes can expect things like throwing, jumping, gymnastics, holds, grip, agility tests.
THE NASTY
Gymnasty to be precise. The Nasty will be a purely body weight workout that only body weight movements. Time domains and movements will vary.
THE HOPPER
The final workout type we affectionately call "The Hopper". This event is just what the name implies, completely random. Time domain, rep scheme, format, movements and weights will all variable.
Division Standards & Movement Standards
Athletes will find the standards fall in line with all of our other events with a few more
See Division & Movement Standards Page
Changes to Registration Information
Changes to team names and/or affiliates names will be accepted via email at info@bulletpointcompetition.com and we will update that information in our system. Changes to team members will NOT be allowed after September 10th at 11:59 pm. The members you register are set in stone at that time and cannot be replaced. If someone is unable to compete you may register additional members up to the full team of 6. Remember you only need 4 people to compete. You can register additional members after you register your team up to November 8th. All registered athletes will receive an athlete bag and shirt regardless if they compete. Photo ID will be required at check in to take part in the onsite event to confirm your identity and that you are a member of the registered team.
Refunds
All payments are final. No refunds will be issued regardless of reason. This includes but is not limited to injury, illness, change in work schedule, deployment, pregnancy, family emergencies, changes in relationship status, severe hiccups, zombie attack, allergic reactions to burpees, beard phobias, etc.
More Information
Follow Our Website at http://www.bulletpointcompetition.com/
Follow the Event Page at http://faction.bulletpointcompetition.com/
Follow Us on Facebook at http://www.facebook.com/bulletpointcompetitionseries
Join the Facebook Event for up to the minute information at https://www.facebook.com/events/480333118972472/
Follow Us on Instagram at http://www.instagram.com/bulletpointcompetitionseries
Accommodations