Description
~*~A classy AF cocktail fest~*~


From the people who created the Buffalo Bloody Mary Fest comes the second annual Buffalo Cocktail Classic presented by Compeer! Hosted by StepOutBuffalo.com and Presented by Compeer, 10 of the best local cocktail bars and restaurants will come together under one roof on Sunday, November 5, 2017 for a friendly competition to see who makes the best craft cocktails in Western New York.Attendees are invited to taste each establishment's unique craft cocktails and vote on their favorites while enjoying a live DJ and other entertainment as well as food vendors and a cash bar with additional libations. The coveted "Buffalo's Best Cocktail" award will be up for grabs along with other awards and bragging rights - all taste tested and voted on by you!
This year's Buffalo Cocktail Classic presented by Compeer will celebrate both classic and creative cocktails, with bars having the option to use Tommyrotter Distillery's award winning gin, vodka, and whiskey products. The event will take place at The Foundry Suites on Elmwood Avenue from 5-8pm at which time attendees will taste cocktails crafted by the talented masterminds of Western New Yorks best cocktails.

*NEW THIS YEAR*:
Voting - We're switching from digital voting to old-fashioned voting. Meaning we will have a voting table where attendees will vote and we will hand count the votes at the end of the note to crown "Buffalo's Best Craft Cocktail".

Spirits - This year we are giving every bar the option to choose from Tommyrotter whiskey, vodka, AND gin, so you can expect more of a variety of cocktails this time around.


PARTICIPATING BARS:
100 Acres: The Kitchens at Hotel Henry
Ballyhoo
Billy Club
Casa Azul
Lloyd Taco Factory
Més Que
Panorama on Seven
Pasión
The Dapper Goose
Winfields Pub

SPECIAL APPEARANCES:
Compeer of Greater Buffalo, Inc.
Tommyrotter Distillery
Orangetheory Fitness Amherst - The Boulevard Hydration Station
Elle Aire Buffalo Pop-Up Dry Bar
Matcha Muscle
StudioHue Craft Parties
Buffalo Cigars
The KegWorks Store
Midgard Winery
Feel Rite Fresh Markets
Choco-Logo Confectionery Design
Food x Ms. Judi's Food Truck
Complimentary Crudite Table x Foundry Suites Hotel
Food x The Foundry Suites Hotel
Yelp Buffalo
DJ Christian Martinez
TICKETS:

Both general admission and a limited amount of VIP tickets are on sale now, with a limited amount of discounted Early Bird tickets also available.
General admission tickets include admission to the event, and craft cocktail tastes from each of the handpicked bars and restaurants.
VIP tickets include all of the above plus access to the exclusive VIP lounge, VIP entry, a private cash bar, and a VIP only food buffet.

Round Up for Compeer - Want to donate to a good cause? Select the "Round Up for Compeer" ticket option at checkout and the difference goes to Compeer!
Trust us, don't wait to get your tickets or they just might sell out!


2017 Buffalo Cocktail Classic presented by Compeer Details:
Date: Sunday, November 5, 2017
Time: 5-8pm
Place: The Foundry Inn & Suites / 1738 Elmwood Ave, Buffalo NY
Tickets:
$40 Early Bird General Admission (limited amount)

$45 General Admission

$60 VIP
Hosted By: StepOutBuffalo.com
Tickets are non-refundable but are transferable. Must be 21+ to enter. IDs are required at check-in. Duh.
THANK YOU TO OUR SPONSORS & PARTNERS!
Compeer of Greater Buffalo, Inc.
Tommyrotter Distillery
Cushman & Wakefield United States
Orangetheory Fitness Amherst - Transit Road / Orangetheory Fitness Amherst - Transit Road
Buffalo Cigars
Yelp Buffalo

ABOUT OUR PRESENTING SPONSOR: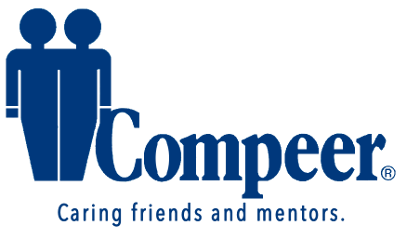 Compeer recruits, screens, and matches trained volunteers and mentors in one-to-one supportive friendship relationships with children, adults, military veterans and seniors, who are striving for good mental health. Compeer believes that the healing power of friendship helps to change lives. Compeer volunteer friends and mentors become positive role models, help raise self-esteem, increase social and communication skills, and encourage independence for their Compeer friends. Compeer provides a fun, and flexible volunteer opportunity that fits into anyone's lifestyle, as we only ask for a minimum of one hour per week. There are endless rewards and opportunities for personal growth and satisfaction when you join the Compeer family.
BECOME A SPONSOR:
For more info on sponsorships visit buffalococktailclassic.com and click on "Become a Sponsor"!
*By purchasing a ticket to the Buffalo Cocktail Classic you will be signed up to receive emails from StepOutBuffalo.com. That's like, the best 2-4-1 deal ever. Two for you Glen Coco, you go Glen Coco!