2017 Breakout: Operation Cobra Reenactment in Chesterfield, MI (July 8-9)

Friday, July 7, 2017 at 1:00 PM

-

Sunday, July 9, 2017 at 4:00 PM (EDT)
Event Details
5th Annual
Breakout: Operation Cobra
July 8-9, 2017
The Michigan Military Technical and Historical Society and the Chesterfield Historical Society are proud to once again present Breakout! Operation Cobra. An event now in its fifth year, Breakout features Axis and Allied encampments, a recreation of the front lines, and reenactments of skirmishes between the two forces. Please be sure to read through the following event rules. By registering to participate in this event, you are agreeing to follow them.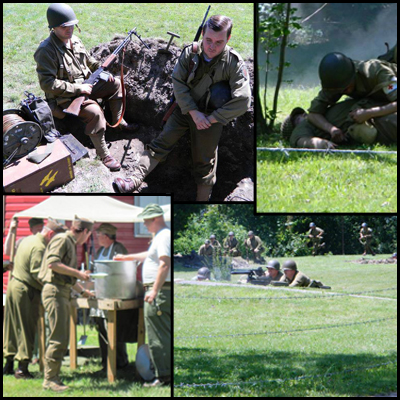 Ticket Information
This ticket system through Eventbrite is for the reenactors and military vehicle displays only. The general public does not need to register or purchase advance tickets. Please only register once and each individual in a unit must register for themselves. Minors age 16 or 17 may participate in the battles with parental permission. Minors between the ages of 12 and 15 must have parental permission and may not handle firearms. The parental permission form will need to be signed during check in at the event. Please print and bring your Eventbrite ticket to the event. It will make check in smoother and quicker.
Please review our event waiver. On the order screen you will need to acknowledge that you have read and agree to the terms and conditions. You will need to sign a copy of the waiver in order to participate. You can fill it out in advance or fill one out onsite when you register. 
For our event waiver PDF, Click Here
Event Schedule

Friday, July 7
1300 Setup Begins
Saturday, July 8
0900 Safety and Authenticity inspections and battle briefing conducted in camps.
1000 Encampment open to public.
1045 Take positions for first battle.
1100 Battle followed by demo of uniforms and weapons.
1200 Lunch.
1345 Take positions for second battle.
1400 Battle followed by demo of uniforms and weapons.
1700 Closed to public.
Sunday, July 9
1000 Encampment open to public.
1100 Lunch.
1245 Take positions for battle.
1300 Battle followed by demo of uniforms and weapons.
1500 Closed to public.
Camping Guidelines
Reenactors and military vehicle owners/crew will be allowed to stay overnight in the encampment. You may begin setting up campsite as early as 1300 on Friday, July 7. Please check with the event staff before beginning camp setup. Please be sure to return the site as close to the condition you found it in prior to setting up as possible.
Clean drinking water and rest facilities will be provided for participants. Small cooking fires, solid fuel, propane and white gas grills are allowed, but no charcoal grills please. Please be sure to keep a fire extinguisher or bucket of water on hand.
Phil Naud's field kitchen will provide lunch both days for registered participants. Please be sure to indicate during registration if you plan on partaking in the field kitchen lunch.
During the hours that the event is open to the public, we ask that you keep all modern items not dating to 1944 or earlier hidden from view. We also ask that there is no consumption of alcohol during public hours.
After hours, please be responsible. Underage drinking or operating of motor vehicles while under the influence will not be tolerated.
Once again, fox holes will be permitted in the "front line" area. Please retain the grass as best as possible for when you refill the hole after the event.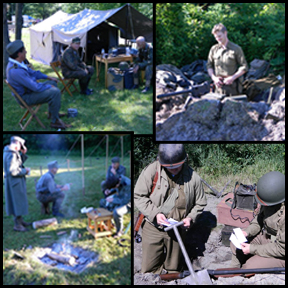 Authenticity Guidelines
Any authentic impression and display dating to the Second World War is permitted in the encampment area of the event. While in the encampment area, we ask that all military reenactors maintain a proper military bearing during public hours. This includes such details as wearing the uniform correctly (shirts buttoned and tucked in, correct headwear, etc.) and observance of military courtesy.
Reenactors may also spend the day (and night!) on the front lines in fox holes they've dug. While "manning the line" we ask that soldiers keep their helmets on and their weapons within arm's reach at all times. Frontline participants must also follow the battle uniform guidelines.
Reenactors wishing to participate in the battles must undergo a safety and authenticity inspection prior to participation and adhere to the following uniform guidelines.
Battle Authenticity Guidelines for U.S. Infantry
Uniform: OD wool service uniform preferred. OD & camouflage HBT uniforms with wool shirt acceptable if appropriate to impression. Field jacket optional. Please, no summer khaki uniforms, M-1943 uniforms or M-1942 paratrooper uniforms.
Headgear: M1 helmet with optional net.
Footwear: Type II & reverse upper service shoes with leggings and limited paratrooper boots only. No buckle combat boots. 
Field Gear: As appropriate to your weapon and role. Packs will be left in camp or fox holes during the battle.
Weapon: M1 rifle preferred. B.A.R., M1919, M1903, M1 carbine, Thompson, M3 Grease Gun, etc. as appropriate to your impression. Please limit side arms to weapon crews and officers.
Battle Authenticity Guidelines for German Infantry
Uniform: Uniform as appropriate to units in France during the summer of 1944. Standard Heer and SS wool uniforms, HBTs and camouflage, Luftwaffe field uniforms and Fallschirmjager. Please, no tropical uniforms and limited Italian camouflage uniforms.
Headgear: M35, 40, 42 or Fallshcirmjager helmet.
Footwear: Low boots preferred, jackboots in limited numbers. 
Field Gear: As appropriate to your weapon and role.
Weapons: 98k preferred. G41, G43, MP40, MG34, MG42, etc. as appropriate to your impression. Please limit side arms to weapon crews and officers. No MP43/StG44s. 
Please note that these regulations are ONLY for the battles. Any authentic display and impression dating to the Second World War from any branch of service, nation and theater of war is welcome in the encampment area.
The event staff reserves the right to reject anyone from participating in the event who fails to comply with these guidelines.

Safety Guidelines
During the battle reenactments, please keep safety in mind. We want everyone to have fun, but we also want you to be able to go back home on Monday, not to the Emergency Room.
Weapons used in the battle are to be in serviceable, well maintained condition. Blank adapters, when needed, are to be properly adjusted and tightened to the weapon. Absolutely NO live ammunition is to be brought to this event. Dummy ammunition is permissible in displays as long as it is clear that it is deactivated (ie: holes drilled in the case, no primer, crimped training rounds, etc.).
During the battles, be aware of where your muzzle is. Do not fire your weapon directly at people who are at close range. Blanks can cause hearing loss as well as serious injury.
Hand to hand combat is only permitted if planned prior to the battle and the coordinators are made aware.
Please keep in mind that the venue is in a residential neighborhood. We ask that there be no weapons fire outside of the pre-planned battle/demonstration times. If you need to "dial in" a blank adapter, please let the coordinators know and we will try to set aside a time prior to the battle for everyone to do so.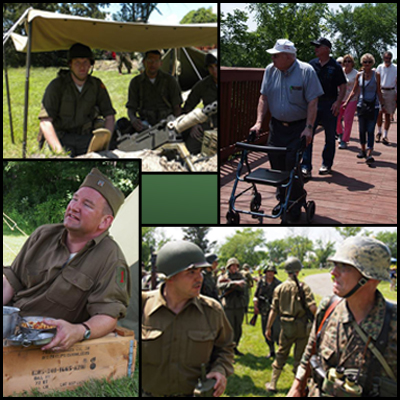 Historic Note of Interest
American units that took part in Operation Cobra: 1st Infantry Division, 4th Infantry Division, 8th Infantry Division, 9th Infantry Division, 29th Infantry Division, 30th Infantry Division, 35th Infantry Division, 90th Infantry Division, 2nd Armored Division, 3rd Armored Division, 4th Armored Division.
German units involved in Operation Cobra: 152nd Infantry Division, 153rd Infantry Division, 2nd Parachute Corps, 5th Fallschirmjager, 116th Panzer Division, 2nd SS Panzer Division, 17th SS Panzer Division, Panzer Leer.
FAQ
Are there ID requirements or an age limit to enter the event?
Please bring your Driver License or State ID. Minors age 16 or 17 may participate in the battles with parental permission and have signed consent form. Minors between the ages of 12 and 15 must have parental permission and may not handle firearms. The parental permission form will need to be signed during check in at the event.
Why do I have to register for the event?

Registration for the event greatly helps our small staff plan for the event. For example, this means making sure the camp layout allows for units and spectators to move with ease, there is enough food for meals, battles can be scripted to make use of everyone. To help our staff, make sure to register so we can get an accurate head count of those wishing to attend. We understand that life can change plans. If you are registered, but unable to attend, please make the changes in Eventbrite or email one of the coordinators. 

Do I have to bring my printed ticket to the event?
To make it easier for event staff, please bring your printed ticket to the event so it can speed up check in. If you forget, staff will have a master list to check your name off. Just make sure to register to get event imformation and meal tickets.
What are my transport/parking options getting to the event?
Parking is very close to the encampment. Friday and Saturday morning will allow for reenactors and vehicle owners to drive their personal vehicle into the camp to transport or drop off suppliers. At least 20 minutes before the events starts, ALL personal vehicles MUST be removed from the encampment.
What can/can't I bring to the event?
For the most part, anything that you need in order to camp overnight is welcome. If it is not an original or accurately reproduced item dating to or before summer 1944, it should be kept out of sight during the public hours. Absolutely no live ammunition is to be brought to the event. If you are worried about an item, contact one the organizers and we will let you know if it is appropriate for the event. 
Where can I contact the organizer with any questions?
Feel free to send any questions to Joshua Kuligowski at joshuakul@yahoo.com or Joe Coppens at joecoppens@me.com, or hit us up on Facebook.
Can I update my registration information or make changes?
You can update information until Friday June 23. At that time, registration will close so we are able to take a final tally for the event and the field kitchen. If anything comes up please email event staff. 
Is food provided?
Lunch on Saturday and Sunday are provided only to those who registered and selected that they would like to receive a meal voucher. There are many restaurants and stores (like Walmart, Meijer) that are within a few minutes of the event if you need to leave to get something.
More event info and current details are available at:
https://www.facebook.com/BreakoutChesterfield
Attendee List
Sort by:

Date

|

First Name

|

Last Name
When & Where

Chesterfield Historical Village
47275 Sugarbush Road
New Baltimore, MI 48047


Friday, July 7, 2017 at 1:00 PM

-

Sunday, July 9, 2017 at 4:00 PM (EDT)
Add to my calendar
Organizer
Michigan Military Technical & Historical Society and Chesterfield Historical Society
2017 Breakout: Operation Cobra Reenactment in Chesterfield, MI (July 8-9)