Event Information
Location
Sheraton LaGuardia East Hotel
135-20 39th Avenue
Queens, NY 11354
Description
Are you looking for jobs? Do not miss the opportunity to get your dream job !!
World Journal strives to provide a win-win solution for both employers and qualified candidates. Employers will find a diverse pool of qualified candidates to select from, including candidates with bilingual backgrounds. We hope that the qualified candidates can also find high-quality career opportunities. On site, there willbe corporate recruiting booths, face to face employer/interviewee interaction, and career expert advice in one single event.
Over 30 different companies and over 200 opening job positions from different field are open for the employee on May 13. This is your chance to start your career or to change your future.
The 2017 World Journal Bilingual Career Fair is going to be held on May13 (Saturday) from 10:00 AM to 04:00 PM at Second Floor, Sheraton LaGuardia East Hotel, Queens.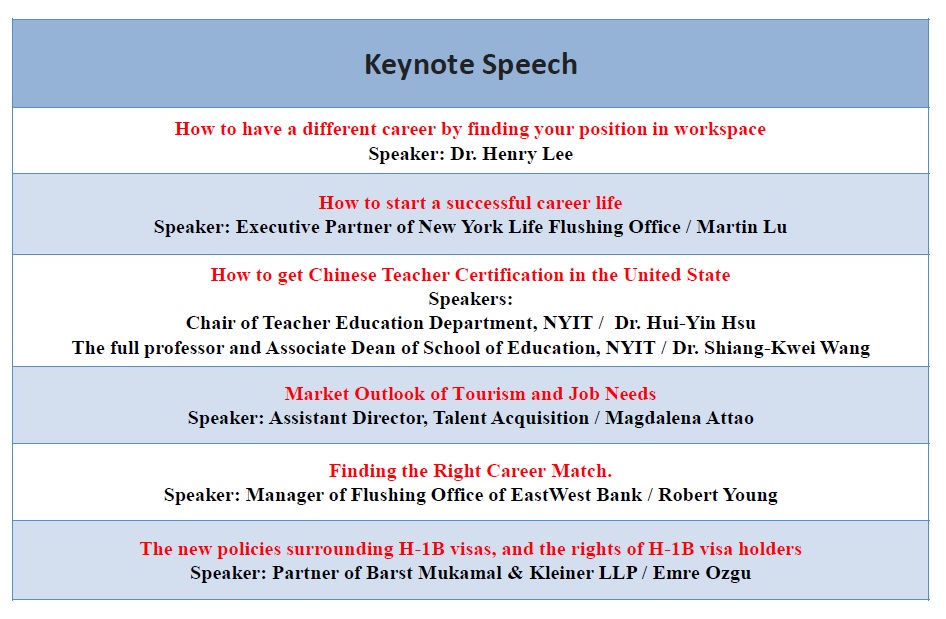 On-site Organizations include:
1. New York Life Insurance Company
2. East West Bank
3. Imperial Pacific International Holdings Ltd.
4. Traveler Enterprise
5. Ibenzer, Inc.
6. Chinese Investors.com Inc.
7. MassMutual Financial Group Greater Hudson
8. My Job Tank Inc.
9. Charles B Wang Community Health Center
10. United HealthCare
11. X-Treme Care
12. TLA Law, Attorneys at Law PLLC
13. Affinity Health Plan
14. NYC Department of Citywide Administrative Services
15. Kenvic Professional Training
16. New York State Department Of Health
17. MassMutual
18. Chinese American Academic & Professional Society
19. World Journal
20. AlphaCare by Magellan Health
21. The Prudential Insurance Company of America
22. Simpon Inc.
23. Board Of Elections In The City Of New York
24. Empire BCBS
25.I Fresh
26. ML and CHEN, P.C. Attorney at Law
27.New York City Department of Correction
29. Emblem Health
30.Kings Cournty District Attorney's Office
31.New York City Fire Department
32.New York City Commission on Human Rights
33. Nontraditional Employment for Women
34. Contact Taiwan
35.New York State Department of Civil Service
36. U.S Army
37. America's Navy Career Center
There will be over 200 opening job positions !!!!!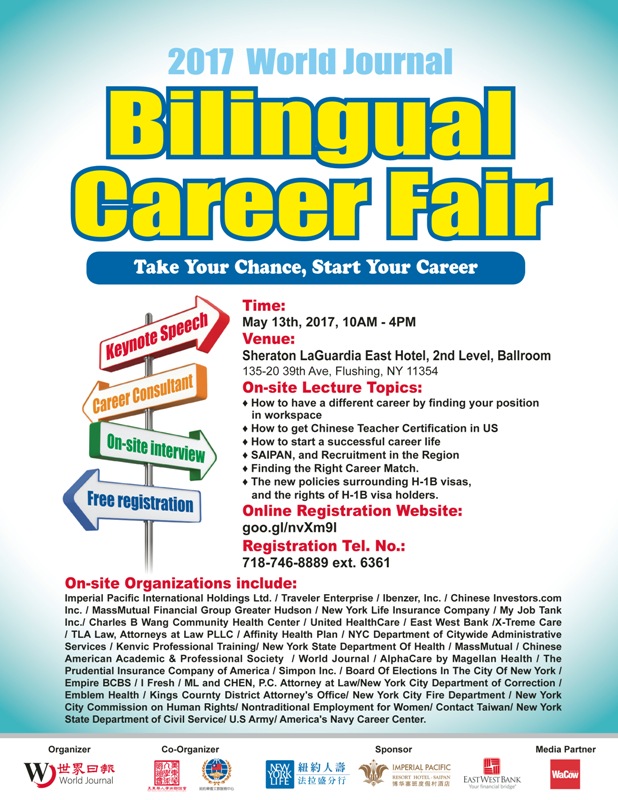 Date and Time
Location
Sheraton LaGuardia East Hotel
135-20 39th Avenue
Queens, NY 11354