Description
Thank you for your interest in volunteering for the 2017 Baker Hughes, a GE company Gran Fondo on Sunday, September 17, 2017! Volunteers are an essential part of any great event and a key element in the success of the 2017 Baker Hughes, a GE company Gran Fondo. We would love to have you as part of our team!
Whether you are able to volunteer for two hours or a full day, you can make your mark on this event by sharing your talents and giving your time.
All net proceeds from hosting this event will go directly to support Two Wheel View www.twowheelview.org.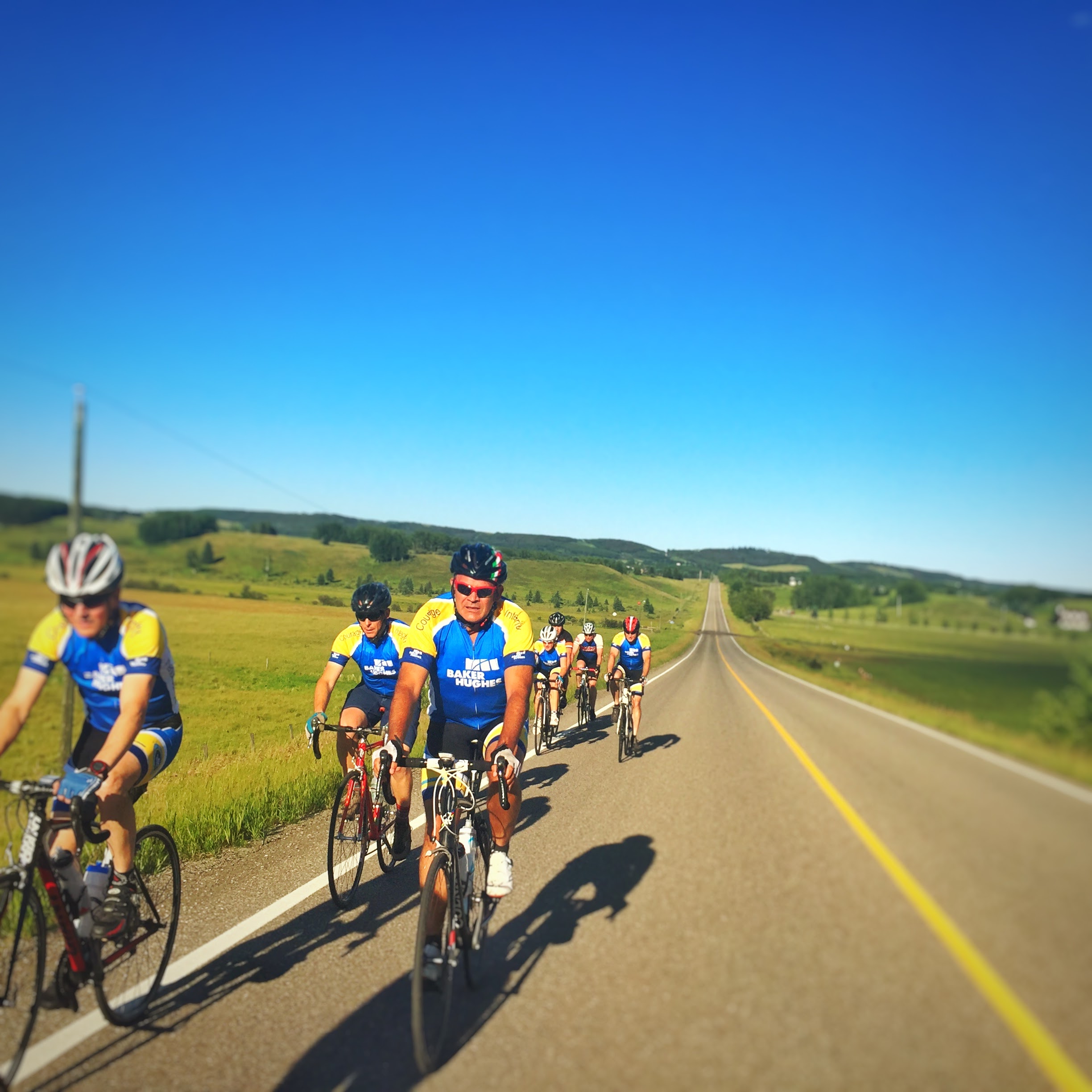 ---
Volunteer Positions
Volunteer opportunities abound! All volunteers will receive a limited edition 2017 BHGE Gran Fondo T-shirt and complimentary lunch and refreshments.
If you plan on riding on September 17th, there's quite a few volunteer positions available leading up to the day of the Fondo...
Sept. 12th, 2017
Jersey, Goodie Bag and "Swag Kit" stuffing (2-3)
Sept. 15th, 2017
Packet Pick up at TRC Sportslab and Late Registration Volunteer (2)

Shopping for Food/Rest Station Supplies (2)
Sept. 17th, 2017
Morning of event starting 6am at Banaded Peak School

Course/ Route set up (2-3)

Rest stop food preparation (2-3)
Volunteering on the day of the event...
Sept. 17th, 2017 – Day of Event
Check-in and packet pick-up (2)

Logistics (1)

Greeter – morning of event (2)

Parking assistant (1)

Compression Technician - literally you get to pump tires! (2)

Start/Finish line area & Set-up (3)

Rest Stop volunteers (4–6)

Photographer (1-2)

Breakfast Volunteers (5)

SAG Vehicles – Must have at least one Baker Hughes Employee per SAG Team (2-4)

Course Clean up and signage and arrow removal (2)

Social Media/Events (1)

First Aid (1-2)

Massage (1 – 2 TBC)
Please click on the REGISTER button above to sign up and choose your position.
You are welcome to join us as a "walk-up" volunteer on event day. Simply show up at Banded Peak School, 230257 Highway 22 South. We'll see you there!
For more information, please contact: Wendy Coates, 2017 Baker Hughes Gran Fondo Committee Chair wendy.coates@BHGE.com or call 403.651.9402.
---
More About the Event...
The 2017 Baker Hughes, a GE company Gran Fondo will cruise through some of the most beautiful landscape in Alberta. Starting and finishing at in Bragg Creek, only 30 minutes west of Calgary and rolling thru the towns of Bragg Creek, Priddis and Millarville. Depending on the distance you choose you will enjoy gentle to moderate terrain, with rolling short steep hills and a few moderate, sustained climbs. This completely supported event offers well stocked rest stations, SAG support and a ride to suit all cyclist's ability level.
Riders Can Choose Their Distance...
Picollo - 35 km (1 Rest Stop)
Medio - 75 km (Two Rest Stops)
Gran - 125 km (Three Rest Stops)

Registration Includes...
Custom 2017 event jersey and goodie bag with swag, guarenteed to all registrants if registered by Sept. 1st.
Mechanical support, parking and more
Fully stocked aid stations and SAG support to keep you going
Pre ride breakfast and post ride lunch and beer for a fun recovery
Great prizes include a Garmin Edge 520, a custom bike fit, VO2 and Altitude package from TCR Sport Lab
Access to coached weekly training rides every Thursday night with Baker Hughes Riders Cycling Team
If you would like to register as a cyclist in the 2017 Baker Hughes, a GE company Gran Fondo please click on the following link for more information: https://www.eventbrite.com/e/2017-bhge-gran-fondo-presented-by-baker-hughes-a-ge-company-registration-36419743433?ref=ebtn
---
Schedule for Event Day - TBC
Sunday, Sept. 17th, 2017
Location - Banded Peak School, 230257 Highway 22 South - Bragg Creek, Alberta – Times TBC
7:30 Volunteers meet with Volunteer Coordinator and get their T-Shirt & Duties

8:30 Package Pickup and Late Registration

8:30 – 9:15 Breakfast

9:25 am Address & Rules of the Road

9:30 am Gran Fondo 125km+ Ride Starts

9:40 am Medio & Piccolo Ride Starts

11:00 am First Riders Expected Back

11:30 am Lunch Starts

2:30 pm Last Riders Expected

3:00 pm Lunch Closes
---
Feedback to share? Questions or Concerns?
Contact us at wendy.coates@BHGE.com