Description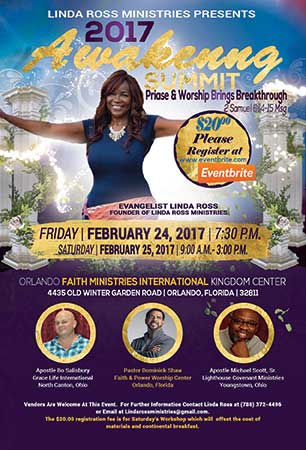 2 Samuel 6:14-15 "David ceremonially dressed in priest's linen, danced with great abandon before God. The whole country was with him as he accompanied the Chest of God with shouts and trumpet blasts." Messenger Bible
There is a sound that is being summoned from God provoking God's people to invoke His Presence through Praise & Worship which in turn will bring forth a clarion call, meaning there's a loud, clear distinctive sound, that is difficult to ignore. This sound will bring forth the Prophetic Mantle that will instruct as well as compel the people into turning their heart's back to God. The 2016 Awakening Summit "Reconciling The Church Back To God" was held in Miami, Florida in February where the Move of God was evident as people were Restored and Reconciled Back to Him. I believe that the 2017 Awakening Summit will usher us into the Presence of God.
The 2017 Awakening Summit "Praise & Worship Brings Breakthrough" will be held in the City Beautiful, Orlando, Florida February 24th & 25th at my home church Orlando Faith Ministries International where Dr. Willie & Pastor Denise Johnson are the Shepards. Our City is in need of healing and I believe we will be the catalyst for that change which will assist in restoring the wounded and brokenhearted as we ceremoniously Praise & Worship Our Great God with Great Expectation for a Breakthrough.
Apostle Bo Salisbury of Grace Life International from North Canton, Ohio is an Apostle, Anointed Musician, Composer, and Author his newly released book Accessing Supernatural Grace is a Must Read. Bo will open the Summit on Friday Evening and you will not want to miss this Powerful Man of God as he brings you a fresh anointed Word. Bo has traveled to 22 nations and 24 states since 1993 ministering in churches, leadership conferences, evangelistic crusades, prisons, prophetic training seminars, Bible Schools, etc. Bo's message brings enlightenment to that which hinders forward progress as well as strategy to overcome every hindrance of the enemy to fulfilling divine purpose.
Apostle Michael Scott, Sr. of Youngstown, Ohio has been ministering since 1987, he along with his lovely wife Pastor Wilena Scott are the Founders of Lighthouse Covenant Ministries also in Youngstown, is a Non Denominational Kingdom minded church. He is a man of integrity, wisdom, and insight which has led to him being received by many both internationally as well as within the Continental United States. Michael's ministry is centered on bringing understanding to the people of God in their true identity as sons and daughters and the authority that's within them representing the Father in a lifestyle that impacts and changes their surroundings, as they walk in their inheritance of a Now Kingdom ushered into this realm by our Lord Jesus Christ. Michael is the Author of Collection of Insights and Inspirations you do not want to miss hearing this Mighty Man of God.
Psalmist, Pastor Dominick Shaw is an Orlando based worship leader and Christian Recording Artist. Dominick is known nationally and internally as a passionate worship leader and song writer and has partnered with a broad range of nationally and internally acclaimed worship leaders, such as Ron Kenoly, Ricardo Sanchez, Martha Munizzi, LaRue Howard and many others. Through an array of life experiences, Dominick possesses a personality, charisma and anointing that transcends cultures, races, and generations. His passion and purpose is to use every gift that God has given him to magnify the Lord and to create an atmosphere for God's presence to save, deliver, restore and heal while empowering others to do the same. "Shine: Domiick Live", is his latest recording project, you do not want to miss this anointed Worship Pastor as he ushers Us into The Presence of God.
Please Mark Your Calendars for Friday & Saturday February 24th and 25th, 2017 for this Life Changing Awakening Summit that will catapult you to your next level in God as Your Praise & Worship usher's you into your Breakthrough.
The $20.00 registration is to offset materials for the Saturday Workshop and Continental Breakfast, Vendors are also welcomed and may contact Linda Ross at 786-372-4496 or Lindarossministries@gmail.com
Date and Time
Location
Orlando Faith Ministries International Kingdom Center
4435 Old Winter Garden Road
Orlando, FL 32811