2017 A.S.C.E.N.D Youth Summit & Community Forum
Description
Calling All Baltimore County High School Students!
---
We are excited to announce the 2017 A.S.C.E.N.D. Youth Summit and Community Forum. Come and join us for a conversation dedicated to changing our community . The day will consist of great dialogue, interactive workshops and engaging speakers and a panel of Baltimore County community stakeholders! Come be a part of this awesome conversation! Refreshments will be served!
Some of the Featured Speakers:
- Michelle J. Millben, Esq. - Former Special Assistant to President Barack Obama, Civil Rights Advocate & Minister
- Dr. Natasha C. Pratt-Harris, Associate Professor in the Department of Sociology and Anthropology at Morgan State University

- Speaker Pro Tem, Maryland House of Delegates, Delegate Adrienne A. Jones (D-10)
- Ryan Turner, Founder and Executive Director of The AKOBEN Foundation, Incorporated, Minister at New Psalmist Baptist Church, & Radio Personality at WEAA 88.9 Gospel Grace
-Captain Orlando Lilly, Baltimore County Police Department, Precinct 12(Dundalk)
- Rashad D. Staton, Community Activist & Educator in Baltimore City Public Schools
- Pastor Justin Brown, City of Hope Church West Virginia & AP Government Educator
-William "Tipper" Thomas, III, Founder of The T.I.P.P.E.R. Foundation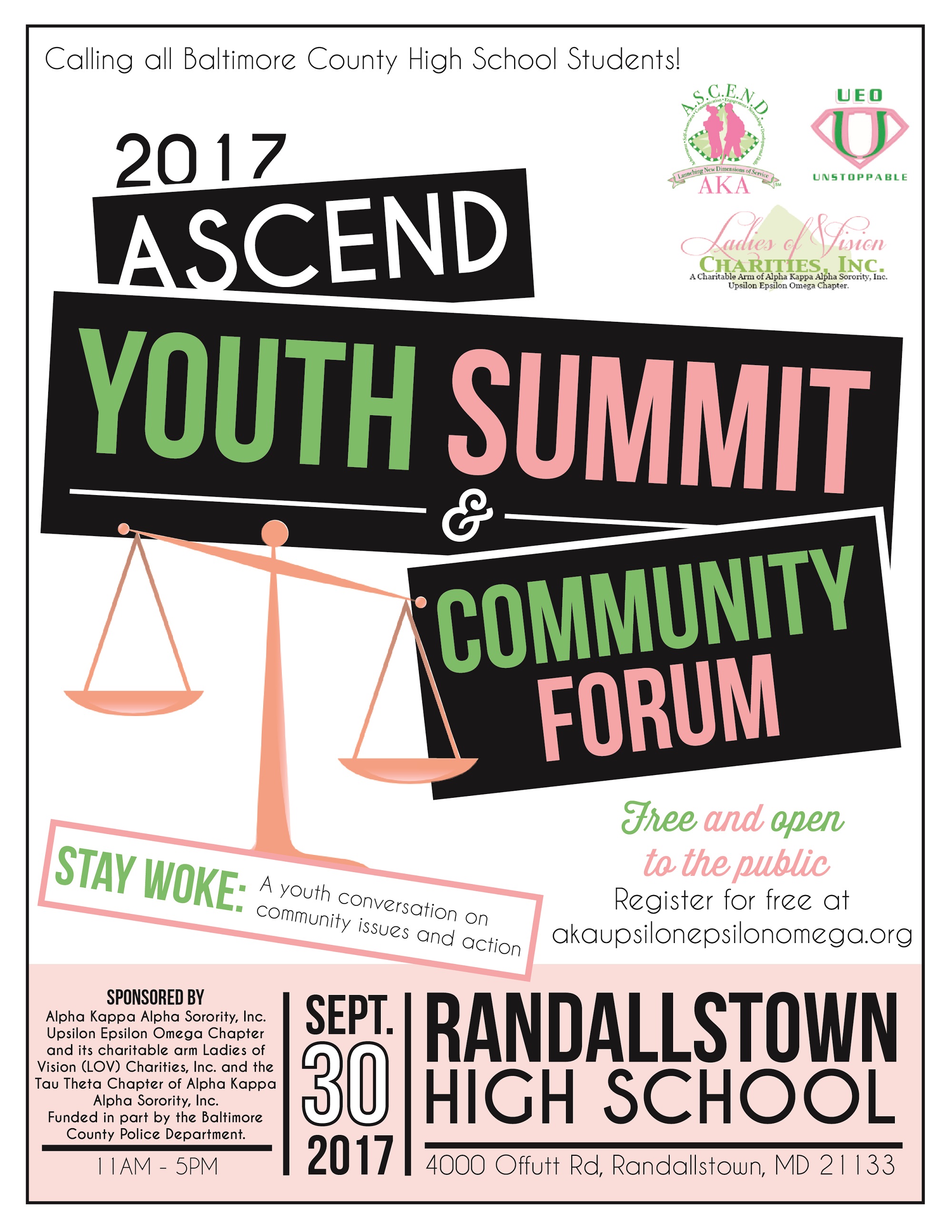 MEDIA RELEASE
By Registering for the 2017 ASCEND Youth Summit and Community Forum, participants authorize Alpha Kappa Alpha Sorority, Inc, Upsilon Epsilon Omega and Tau Theta Chapters to take photographs, motion pictures/video footage, and/or make electronic sound recordings of me. I understand that my image may be identifiable in the use of any photographic or electronic reproductions for any purpose, including, but not limited to educational and other public media as deemed appropriate by the aforementioned groups.