Event Information
Refund Policy
Refunds up to 30 days before event
Description
Cosmos LIVE! Presents
2017 Arcadia Taiwan - Invasion
Nov. 11: Don Diablo, DVBBS, Paul van Dyk, Cosmic Gate
Nov. 12: Hardwell, R3hab, GTA, Kris Kross Amsterdam …And Many More…
Special Event: Lords of Lightning (Actual Person High Voltage Show)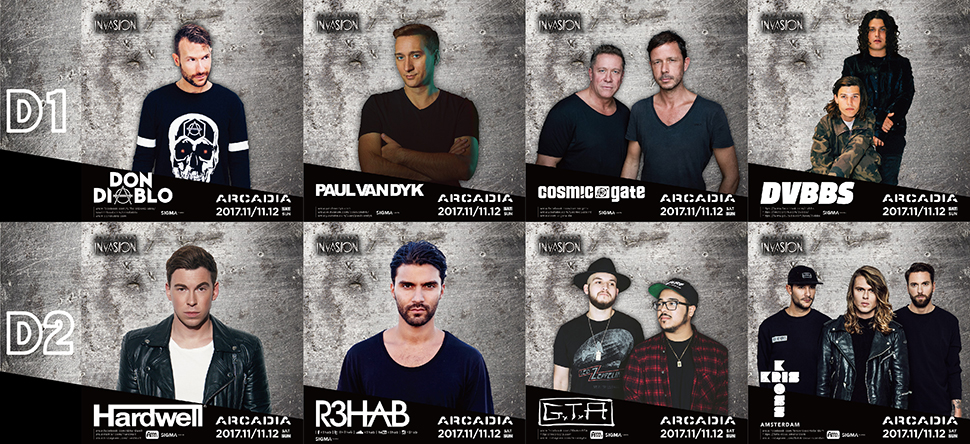 イギリスからやってきた巨大蜘蛛Arcadia SPIDERが再び台湾へ侵入!!! (前回イベントリンク) 連続二日間豪華な百大トップDJ "Hardwell, DVBBS, R3hab, Don Diablo, Paul van Dyk, Cosmic Gate, GTA, Kris Kross Amsterdam" 演出、世界唯一の360度巨大ステージ、および南国台湾RAVERの熱意を一気に体感できる!この最高のチャンスを見逃せるのか!! 2017年11月11~12日、Arcadia SPIDERは世界を破滅する勢いであなたの官能を震撼する! 早速チケットをゲットしないと!!!
The Spider is Arcadia's largest and most radical structure. It is a 360-degree, immersive environment built from recycled materials. With the performance shows woven into its architecture. The spider is fully rigged with a vast array of effects from moveable limbs firing dry ice, to heavyweight pyrotechnics, to piercing lasers to cutting edge lighting.
This year, Arcadia added "Lords of Lightning" Actual person high voltage performance with Tesla Coil each generated 4,000,000 volts of high voltage with actual special effects creating sci-fi wonderland. The "Lords of Lightning" will overlord of the universe, direct showdown!
2017 "Arcadia Taiwan - Invasion" will see Arcadia lands in the lush surroundings of Taipei Da Jia Riverside Park. With the city's futuristic skyline glittering in the background, a wave of multi sensory mayhem is set to ignite as thousands of Taiwanese make the Arcadia landscape their own.
------------------------------------------
【Event Info】
Event Date |November 11th-12th ,2017
Doors Open|14:00– All entry time will be available after 14:00
Event Time |15:00-22:00
Event Place|Taipei Da Jia Riverside Park
(R14 Yuanshan Station Watergate No. 10)
【2017 Arcadia Taiwan - Invasion / Event Info】
1. Event time: November 11th-12th ,2017
2. Doors open: 14:00 – All entry time will be available after 14:00
Under the age of law (18) are NOT allowed to entry this venue even with ticket. Please bring valid identification to verify your age. (National ID Card, Driver license, or Passport)
3. GA ticket: ONE person ONE ticket. Wristband collected at the venue entrance. Also, wristband will be used as identification. There is NO Re-Entry.
4. Please note that there will be a security checkpoint in which bodies, bags, and belongings will be thoroughly checked before entering the venue.
【2017 Arcadia Taiwan – Invasion / Prohibited Items】
1. NO opened packs of cigarettes, E-cigarettes, and lighters are allowed in the venue.
NO outside food, beverages including alcohol and water are allowed in the venue.
DSLRs or any other professional recording equipment and whistles are strictly prohibited inside the venue.
2. Due to the safety of both audience and crew, fireworks, drone, balloon, lasers, glasses, edged weapon, guns, noisemakers and other dangerous items are prohibited at the venue.
3. Any usage, transaction or procession of drugs will be reported immediately.
【2017 Arcadia Taiwan - Invasion / Notice】
1. Except for the specific area, payments in cash will not be acceptable inside the venue. The way of purchasing in this venue will be notify with letter before the event.
2. No lockers will be provided on the show day. Please take care of your personal belongings.
3. Due to your safety, do not wear slippers or sandals.
4. No smoking in the venue. Please move your steps to the assigned smoking area.
5. Please be respectful of those around you and do not cause a disturbance. Those who are caught disrupting and become a hazard will be asked to leave. (re-entry will not be allowed.)
6. Keep trash off the ground. Please do garbage sorting.
7. Damaged or lost tickets cannot be reissued.
8. Please do not purchase unauthorized tickets. If got caught as holding forged tickets at the entrance, we have the right to reject your entrance.
9. People don't purchase tickets or hold forged PR tickets will not be acceptable. If got caught at the entrance,you will have to pay double price.
10.If you cancel 30 days before the show day, it will be non-refundable.
11.The organizer has the right to alter the details without notification.
All the info mainly according to: https://www.facebook.com/cosmosLIVE/

Host By| Cosmos Innovation Co.,Ltd.、Cosmos LIVE!
Date and Time
Location
Dajia Riverside Park
Zhongshan District, Taipei City 10491
Taiwan, Province of China
Refund Policy
Refunds up to 30 days before event