Description
The alumni golf trophy is open to alumni as well as friends of AMS. So if you are an alumnus, don't hesitate to invite a friend to join you in the 18-hole Greensomes tournament, the golf initiation or just the dinner.
The alumni golf trophy will take place on June 2nd, 2017 at Ternesse Golf club.
We look forward to offering you the following activities:
18-hole Greensomes tournament (teams of 2)
You sign up with a golfing partner. The competition we're playing is Greensomes. Each team has two players. Both player takes an initial shot at every hole, following which the team decides which ball will be used to finish the hole. After this, the players alternately take shots.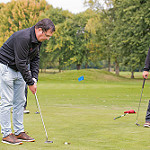 Golf Initiation
The golf initiation is your chance to see if golf is the sport for you. A golf professor will teach in a small group the basics of golf during a 2 hour session. Are you hesitating whether you want to start golfing or not? Well, this is your chance to get a good first taste. So don't delay, sign up today.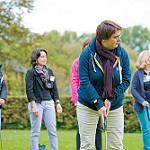 Prize Ceremony & Dinner
We will start the evening by rewarding the winner with great prizes offered by our sponsors. then take the chance to socialize, enjoy great food and relax in the company of alumni and friends of Antwerp Management School. As always, our great deserts are sponsored by our loyal partner Hugo Ceusters.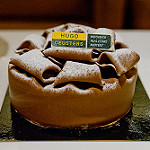 Practical information:
Date: 02 June 2017
Location: Ternesse Golf and Country Club, Uilenbaan 15, 2160 Wommelgem
Program: more detailed info at:
12:00 - 14:00: 18-holes golf tournament - Greensomes (teams of 2)
(your start time will be confirmed by igolf)
16:00 - 18:00: Golf initiation
19:00 - 20:00: Prize ceremony & aperitief
20:00 - 22:00: Dinner

Fees per person: Prices (incl. VAT)
Dinner ONLY: 55 EUR
Golf initiation and dinner: 75 EUR
18-hole golf (Ternesse member) & dinner: 75 EUR
18 holes (non- member) & dinner: 100 EUR
18 holes ONLY (Ternesse member): 20 EUR
18 holes ONLY (non-Ternesse member): 60 EUR