Description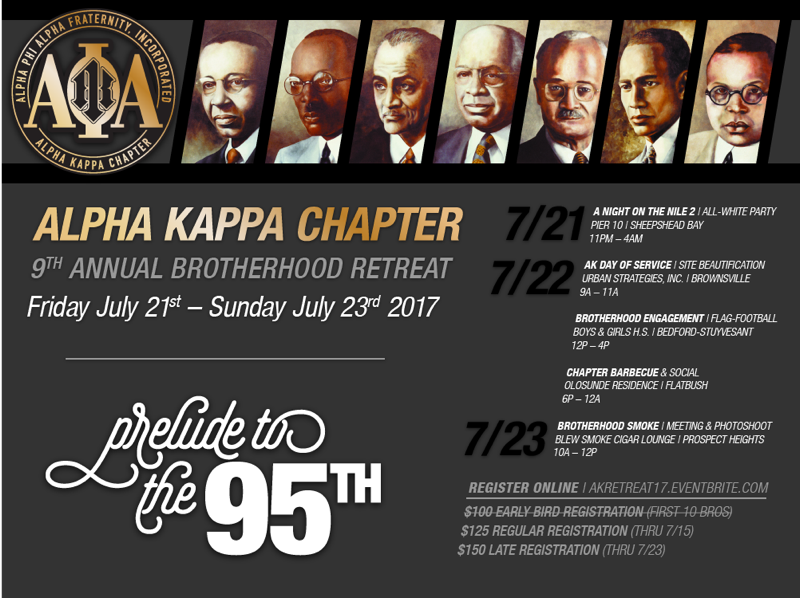 Welcome to the 2017 AK Retreat- The 95th Prelude!
The line-up is as followed:
Friday July 21, 2017
---
A Night on the Nile Midnight Cruise- An All White Affair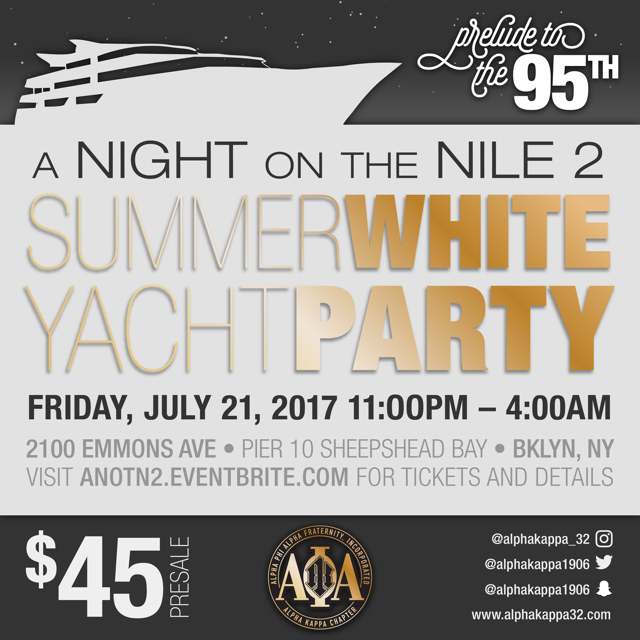 Time: 12:00-4:00Am
Location: Amberjack V
2100 Emmons Avenue
Brooklyn, NY 11235
Description: Join us as we enjoy our 2nd Annual Yacht Party. The years theme is all white and it will be a midnight cruise, starting at 12 and ending at 4am. More details on purchasing bottles and the link to purchase additional tickets will be made public soon!!
Saturday July 22, 2017
---
Community Service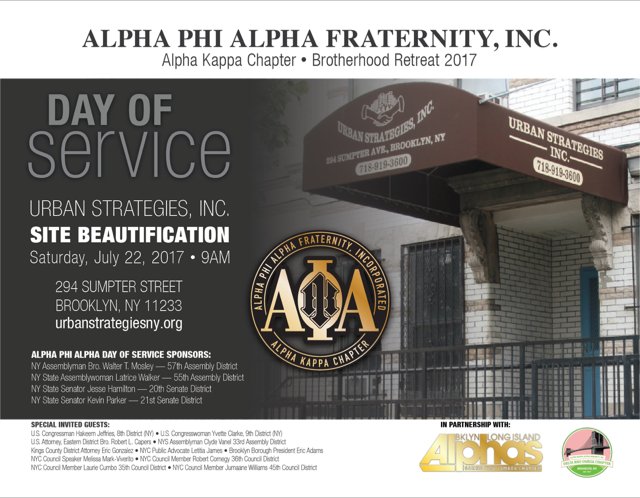 Time: 9:00-11:00AM
Location: Urban Strategies Inc.
294 Sumpter Street
Brooklyn, NY 11233
Description: We will be providing assistance with landscaping and painting and additional tasks as needed
Brotherhood Engagement- Flag Football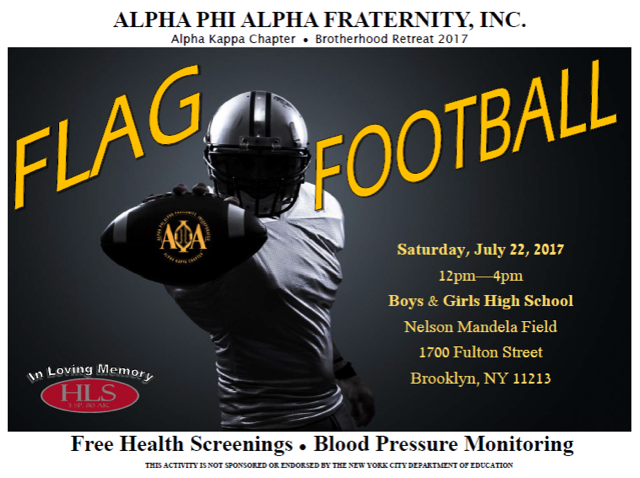 Time: 12:00-4:00PM
Location: Nelson Mandela Field
1700 Fulton Street
Brooklyn, NY 11213
Description: There will be four(4) flag football teams competing on teams headed by captains- Cory Mickens, Darren Smith, Cameron Cox and Tyrone Mans.
AK BBQ(More details to come)
Late Night Activities(More details to come)
Sunday July 23, 2017
---
Chapter Meeting/ Chapter Photoshoot
Time: 10:00AM until we finish...
Location: Blew Smoke Cigar Lounge
593 Washington Ave
Brooklyn, NY 11238
Description: We will gather as a chapter at the cigar lounge and observe and contribute to the current chapters meeting. After the meeting is done we will participate in a photoshoot conducted by Brother Jason Thomas(Spring 92, Celebrating 25 years!)
---
LODGING
We have secured a block of rooms for a discounted rate at The Holiday Inn Express Brooklyn
To book your room either call the hotel at 718-797-1133 and mention the code "AKC" or go here: https://www.ihg.com/holidayinnexpress/hotels/us/en/reservation/book?qAdlt=1&qBrs=6c.hi.ex.rs.ic.cp.in.sb.cw.cv.ul.vn.ki.sp.nd.ct&qChld=0&qCiD=21&qCiMy=062017&qCoD=23&qCoMy=062017&qDest=625+Union+Street+Brooklyn+New+York+United+States&qFRA=1&qGRM=0&qGrpCd=AKC&qHtlC=bxyln&qPSt=0&qRRSrt=rt&qRef=df&qRms=1&qRpn=1&qRpp=20&qRtP=6CBARC&qSHp=1&qSlH=bxyln&qSmP=3&qSrt=sBR&qWch=0&srb_u=1&method=redirect&icdv=99801505&icdv=99801505#roomratestitle
Please book before June 21, 2017 as the rooms will no longer be reserved after that date.