Description
On October 12, AAMA will host its fourth Healthcare Conference at Google Launchpad in San Francisco. An ecosystem of experts from life sciences, healthcare and digital technology sectors will build conversations and ideas around the rapidly changing roles of science and healthcare in a delivery-driven mobile age.
Trailblazers in healthcare from Samsung, Sutter, UCSF, and others will lead the conference in four compelling panels:
Disruptive Trends: How Digital Health, Mobility, Sensors, AI/Machine Learning Are Changing Healthcare
Innovations and Changes Brought On by Molecular Data/Life Sciences
Investment Trends: U.S. and APAC & Cross-Border M&A
Revolution for Healthcare from the Providers' Perspective
What factors are likely to shape the life sciences and health care industry in the coming year and beyond? AAMA will bring together game-changing entrepreneurs, investors, medical providers, top healthcare executives and innovation leaders as they discuss the newest trends that are revolutionizing healthcare and the opportunities that lie ahead.

SPEAKERS (to date):
Ken Drazan (Keynote Speaker)
President
GRAIL
Closed Over $900MM to Cure Cancer
David C. Rhew, M.D. (Keynote Speaker)
Chief Medical Officer
Head of Healthcare and Fitness
Samsung Electronics America
Ralph Gonzales
Chief Innovation Officer
Associate Dean for Clinical Innovation
UCSF Health
Dr. Yan Chow
Medical Director, Digital Health
Amgen
Jing-Shan "Jennifer" Hu, Ph.D.
Venture Partner, US Healthcare Fund
Qiming Venture Partners
Walter "Buzz" Stewart, Ph.D., MPH
VP, Chief Research Officer
Sutter Health
Divya Shah
Head of Product, Digital Health
Samsung Strategy and Innovation Center
Dr. Abraham Heifets, PhD
CEO
Atomwise
John Mattison
Assistant Medical Director & Chief Health Information Officer
Kaiser Permanente
Morgan, Lewis & Bockius LLP
Anoo Nathan
Founder & CEO
Smart Monitor
Jennifer Friel Goldstein
Managing Director, Life Sciences
Silicon Valley Bank
Morgan, Lewis & Bockius LLP
CliniOps
Courtney McCormick, PhD
Staff Scientist, Illumina Accelerator
Illumina, Inc.
Nick Pliam, M.D., Ph.D.
Principal
Decheng Capital
Ash Damle
Founder and CEO
Lumiata
May Wang
Co-Founder & CTO
ZingBox
TPTF Ventures
Geoffrey Clapp
Executive in Residence
GE Ventures
Lindsey Semple
VP of Product
Evidation Health
Thomas Yang, PhD
Principal | Strategy
Deloitte Consulting LLP
Charlene Yu Vaughn
CEO
The Algonquin Group
Agenda:
12:00pm - Registration and Networking
12:30pm - Welcome and Introductions
12:35pm - Opening Keynote Presentation
Reinventing Healthcare
1:00pm - Panel 1
Disruptive Trends - Digital Health
1:50pm - Networking Break
2:00pm - Panel 2
Breakthrough Innovations in Life Sciences
3:00pm - Panel 3:
Investment Trends: U.S. and APAC & Cross-Border M&A
4:05pm - Keynote Fireside Chat and Q&A
Raising $1B to Cure Cancer
4:20pm - Panel 4
Revolution for Healthcare from the Providers' Perspective
5:20pm - Closing Remarks
5:30pm - 6:30pm - Cocktail Reception
Proudly Sponsored By:











.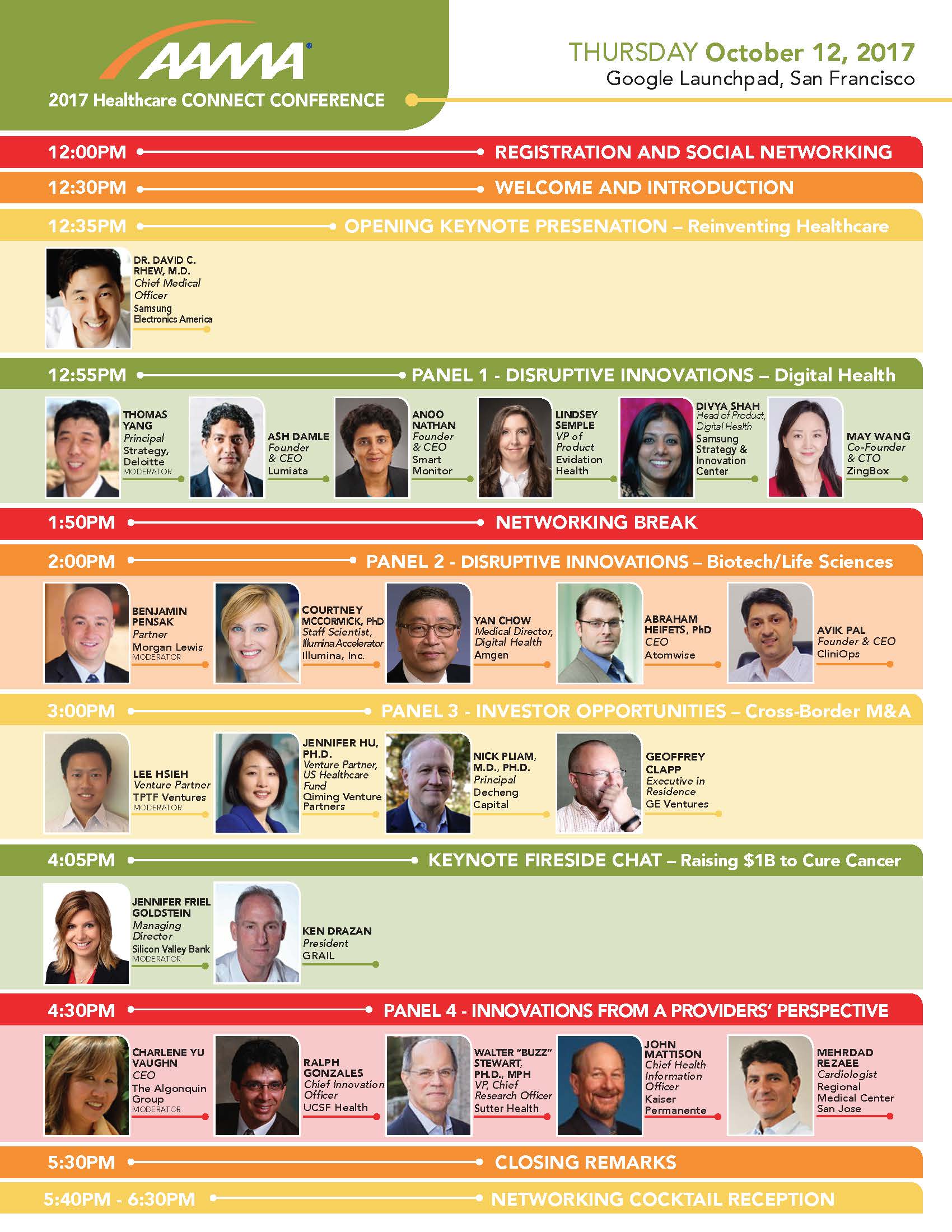 We look forward to seeing you there!
For sponsorships and volunteer opportunities, please email to hello@aamasv.com
www.aamasv.com