Description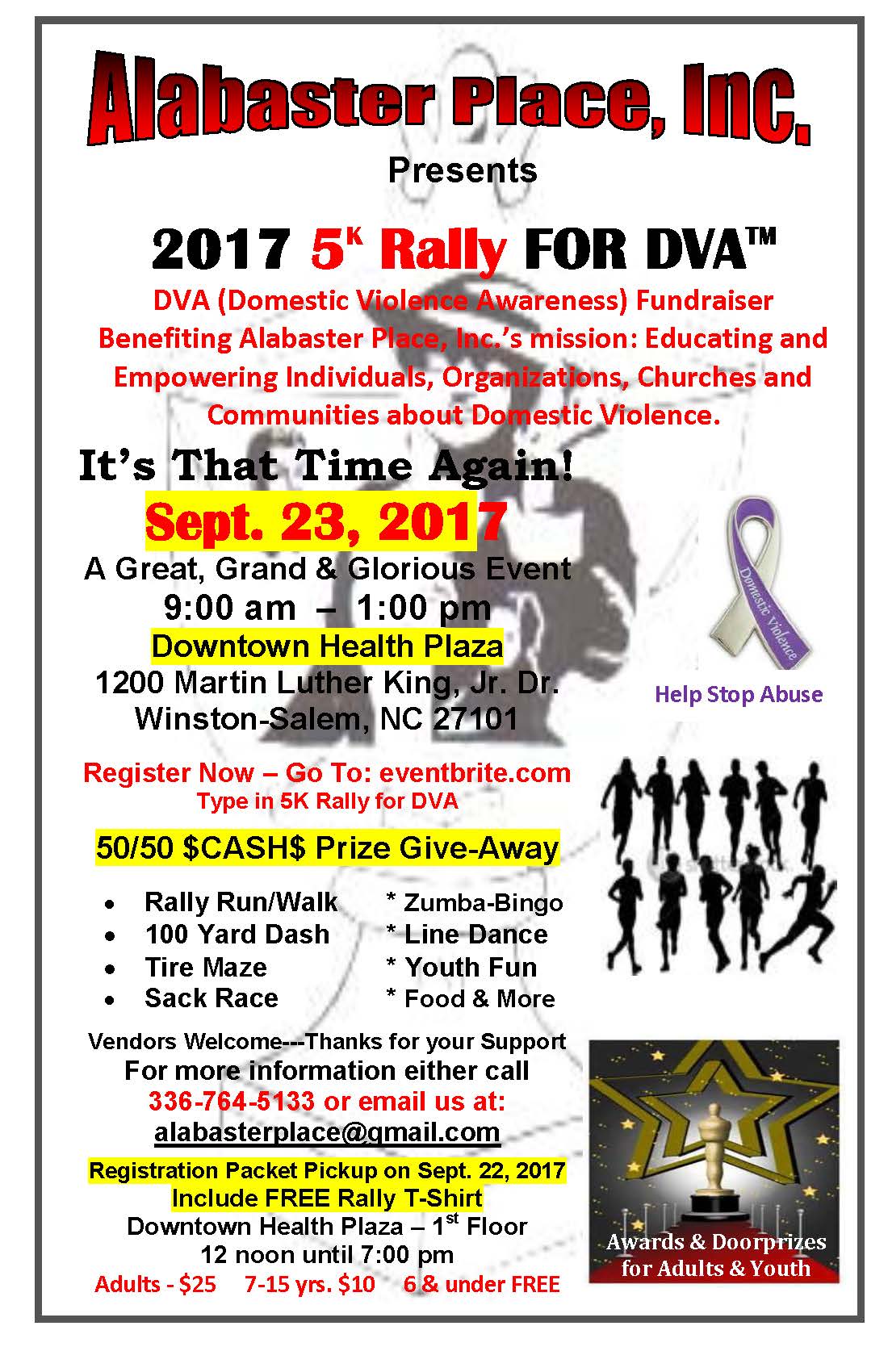 We are doing it different! The 5K Walk/Run is very popular today; therefore, we are making this a fun day for family and friends with added events. This day will be great, grand and glorious. Not only will we have the run/walk, but there will activities where the whole family can participate. Activities such as:

Rally Run/Walk ------------------ 100 Yard Dash

Tire Maze ------------------------ Sack Race

Zumba & Line Dance ----------- Bingo and Youth Fun

Mime & Dance ------------------ Food, Fun and Fellowship

Medical Aid ---------------------- Door Prizes Galore

Grill and CASH Raffle ----------- Food Court

Vendors for shopping ----------- Exhibitors---WOW!
REGISTER NOW WHILE THE T-SHIRTS LAST! In order to guarantee every participant a "Rally for DVA" T-Shirt, please register by midnight on Sept. 19, 2017.
For all registered 5K participants, the Registration Packet Pick-up is scheduled for Friday, Sept. 22, 2017 from 12 noon until 7:00 pm at the Downtown Health Plaza - 1200 Martin Luther, Jr. Dr. Winston-Salem, NC 27101. Registrations are non-refundable. If you registered via eventbrite, be sure to bring a copy of your eventbrite confirmation ID order number with you when picking up your packet. No packets will be released without your ID number.
If you registered for our 5K event on last year, we are honoring your 2016 5K registration. Remember, we had inclement weather during the 2016 5K. We have your registration information on file; however, please email or call us to confirm that you plan to attend this year's 2017 event. Once we received your confirmation, you will be added as a 2017 5K Rally for DVA registered participant.
Remember: This domestic violence awareness fundraiser event is purposed to benefit the mission of Alabaster Place, Inc. which is to educate, empower and serve individuals who have been effected by domestic diolence.
Parking is availabe @ the Downtown Health Plaza in the front main entrance parking lot of the building. Follow the directional signs on the morning of the event.
IN CASE OF RAIN, ALL EVENTS WILL RESUME AT THE YMCA - 901 WATER WORKS ROAD, WINSTON-SALEM, NC 27101
Vendors are welcome! Please register on our eventbrite page or call 336-764-5133 or email us at alabasterplace@gmail.com..
5K On-Site Registration for 5K "Rally for DVA" Sept. 23, 2017 at 8:00 am
All 5K pre-registrants are to report at 8:15 am at the 5K site location to receive final instructions.
5K "Rally for DVA" AGENDA
8:30 am – Kick Off - Guest Speaker
8:40 am – 5K participants' Warm-Up
9:00 am – 5K Competition Runners Begin
9:05 am – 5K Recreational Walkers Begin
10:00 am – Fun Day Begins
Door Prizes throughout the day!

100 Yard Dash ------------------ Youth Fun

Tire Maze ----------------------- Sack Race

Zumba & Line Dance ----------- Bingo with Prizes

Mime & Dance ------------------ Food, Fun and Fellowship

Medical Aid ---------------------- Door Prizes Galore

Grill and CASH Raffle ----------- Food Court

Vendors for shopping ----------- Exhibitors
12:00 noon– Award Presentations
12:30 pm – Closing Remarks
1:00 pm - Grand Finale - Adjourn