Description
ABOUT URBAN LEAGUE OF THE UPSTATE (ULUS)
With over 105 years of service to communities nationwide and 44 years of service in the Upstate, South Carolina community, ULUS couldn't be more proud to provide and hand-up to clients and neighbors!

As another year ends, we look forward to continuing in the service of empowering lives in the Upstate thrrough partnerships with members just like you!
The value of your membership is critical as it helps us serve the needs of thousands of our Upstate neighbors.
From our workforce, housing and employment programs to our education and youth services, your membership is the hearbeat that keeps us growing!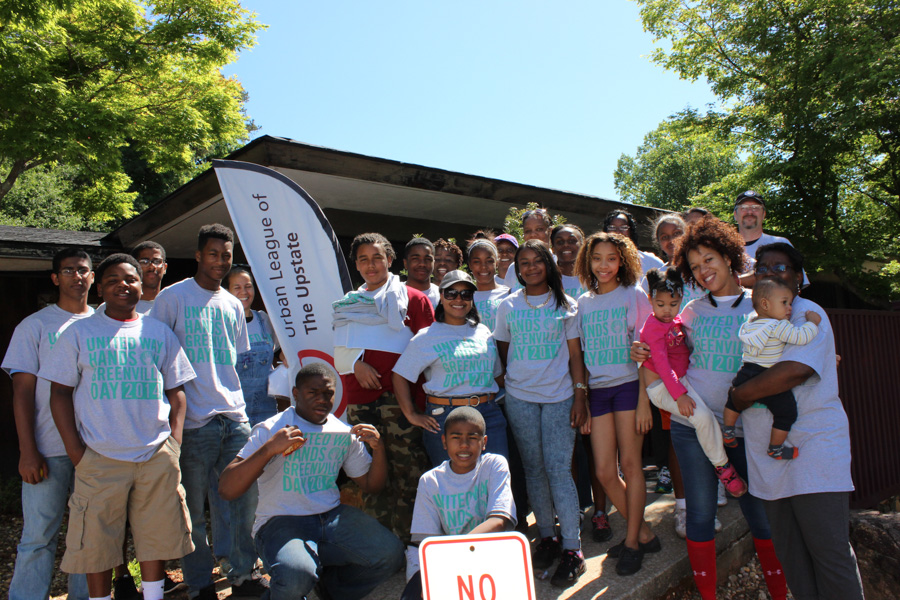 Whether you're a new member or a renewing, we welcome and appreciate all that you do to support our work here in the Upstate!
Find the member-level that best fits then join, renew or donate today!
For additional information we welcome calls, emails or visits to our office locations in Greenville and Spartanburg! Visit our website for the details & contact information: www.urbanleagueupstate.org

MEMBERSHIP LEVELS
Chairman's Club $1000+
President's Club $500+
Heritage Club/Partners in Faith $125+
Family $75
Upstate Network: Young Professionals $60
Individual $25
Senior/Student $15
---
MEMBERSHIP DESCRIPTIONS
Chairman's Club ($1,000+)
Membership Card

National Urban League "Equal Opportunity" pin

ULUS Annual Report

Recognition in our Annual Report and e-newsletter, a listing on our website, and a mention during special events

Invitations to ULUS events and activities

Invitation to the National Urban League Conference

Membership Appreciation event

Subscription to our e-newsletter "Urban Updates"

General information and events via email

Chairman's Club Advisory Meeting

2 Complimentary copies of The State of Black America, a National Urban League Publication (upon request)
President's Club ($500+)
Membership Card

National Urban League "Equal Opportunity" pin

Membership Gift Set

ULUS Annual Report

Recognition in our Annual Report and e-newsletter, a listing on our website, and a mention during special events

Invitations to ULUS events and activities

Invitation to the National Urban League Conference

Membership Appreciation event

Subscription to our e- newsletter "Urban Updates"

General information and events via email

President's Club Advisory Meeting

Complimentary copy of The State of Black America, a National Urban League Publication (upon request)
Heritage Club/Partners in Faith ($125)
Membership Card

National Urban League "Equal Opportunity" pin

Membership Gift Set

ULUS Annual Report

Recognition in our annual report and Newsletter, a listing on our website, and a mention during special events

Invitations to ULUS events and activities

Invitation to the National Urban League Conference

Membership Appreciation event

Subscription to our newsletter "Urban Updates"

General information and events via email

50% off The State of Black America, a National Urban League Publication (upon request)
Family ($75)
2 Membership Cards

2 National Urban League "Equal Opportunity" pins

2 Membership Gifts

ULUS Annual Report

Recognition in our annual report and e-Newsletter, a listing on our website

Invitations to ULUS events and activities

Invitation to the National Urban League Conference

Membership Appreciation event

Subscription to our newsletter "Urban Updates"

General information and events via email

25% off The State of Black America, a National Urban League Publication (upon request)
Upstate Network (Young Professionals) ($60)
An auxiliary group of the Urban League

Invitation to Upstate Network events

All of the

Individual

benefits and more
Individual ($25)
Membership Card

National Urban League "Equal Opportunity" pin

Membership Gift

Copy of the ULUS Annual Report

Recognition in our annual report and e-Newsletter, a listing on our website, and a mention during special events

Invitations to ULUS events and activities

Invitation to the National Urban League Conference

Membership Appreciation event

Subscription to our e-newsletter "Urban Updates"

General information and events via email

25% off The State of Black America, a National Urban League Publication (upon request)
Senior / Student* ($15)
Membership Card

ULUS Annual Report

Recognition in our annual report and e-Newsletter, a listing on our website

Invitations to ULUS events and activities

Invitation to the National Urban League Conference

Membership Appreciation event

Subscription to our newsletter "Urban Updates"

General information and events via email
* must be 55 or older; or a full time student with ID