Multiple Dates
2017-2018 Saturday Seminar Series: Converging and Emerging
Description
2017-2018 Saturday Seminar Series
Converging and Emerging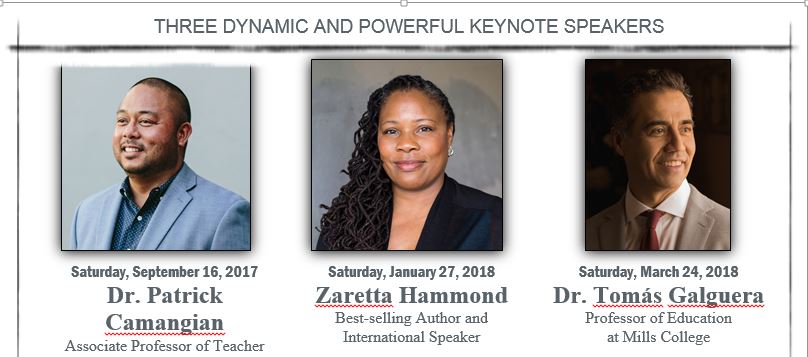 Saturday March 24, 2018:

Tomás Galguera teaches language development methods and research methods courses in the Mills College School of Education in Oakland, California, where he has taught since 1996.His most recent research focuses on the development of pedagogical language knowledge among beginning teachers. Before Mills College, Professor Galguera was a Spanish bilingual teacher in Oakland.
Successful use of language in academic settings requires that students make decisions about what they say or write, how they do this, and for what purposes. This requires that teachers understand discourse-level features of language, which are not always apparent. It is necessary to design pedagogy and curricula that teach and reinforce successful uses or language. Participant Structures offer a potentially powerful approach. This presentation will consider Participant Structures from the perspective of science instruction and provide an opportunity to collaborate in brainstorming possible structures for multiple settings.
In solidarity with March for Our Lives and teachers and students all over the country who are concerned about gun violence in schools, and to honor the commitments we have made to you and our keynote speaker, we have decided to adjust our Saturday Seminar agenda. The Saturday Seminar event will still begin at 8:45 am and we will hear from keynote speaker, Tomás Galguera. We will then adjourn at 10:30 am to ensure those teachers wishing to participate in the Oakland or San Francisco marches will have have an opportunity to do so.
Information on the marches can be found on their websites.
San Francisco March for our Lives

---
The Bay Area Writing, Science, and Mathematics Projects are creating the next generation professional growth experiences converging on the use of writing as a sense-making tool in the content areas.
We are emerging from our silos with a renewed commitment to help students understand the genres of language of math and science. To that end, we are generating new synergies to provide the teachers we serve with hands-on experiences to strengthen their capacity to support students communicating their conceptual understanding and reasoning.
Register for our re-designed set of Saturday Seminars for the 2017-18 school year. They will inspire and move you to advocate for your students' full access to content and language.