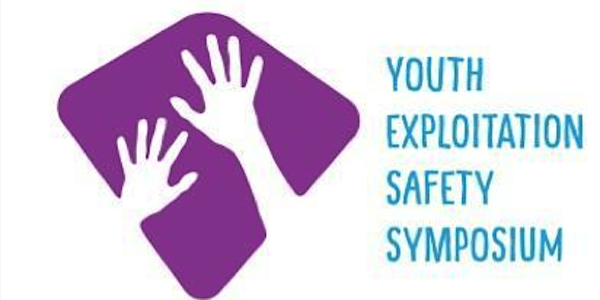 2016 Youth Exploitation Safety Symposium (YESS)
When and where
Location
Long Beach City College 4901 Carson Street Long Beach, CA 90808 United States
Description
Please join us for the 2nd annual Youth Exploitation Safety Symposium. This years theme is "Healthy Relationships, the Best Prevention". This free one day symposium will include specially designed separate adult and student tracks, panel discussion, resource fair, entertainment and call to action.
Our efforts are designed to educate our children and families about the dangers of exploitation and the need for health relationships to ensure a safe and full life. The goals are to prevent further exploitation and trafficking of young people and adults; to provide young people with a sense of value and purpose in being a part of the effort to end human trafficking; and provide a safe environment to study, live and grow.
---
Mission: To provide a variety of resources, targeted presentations and professional training to middle and high school students, as well as parents and educators, on safety issues facing young people today.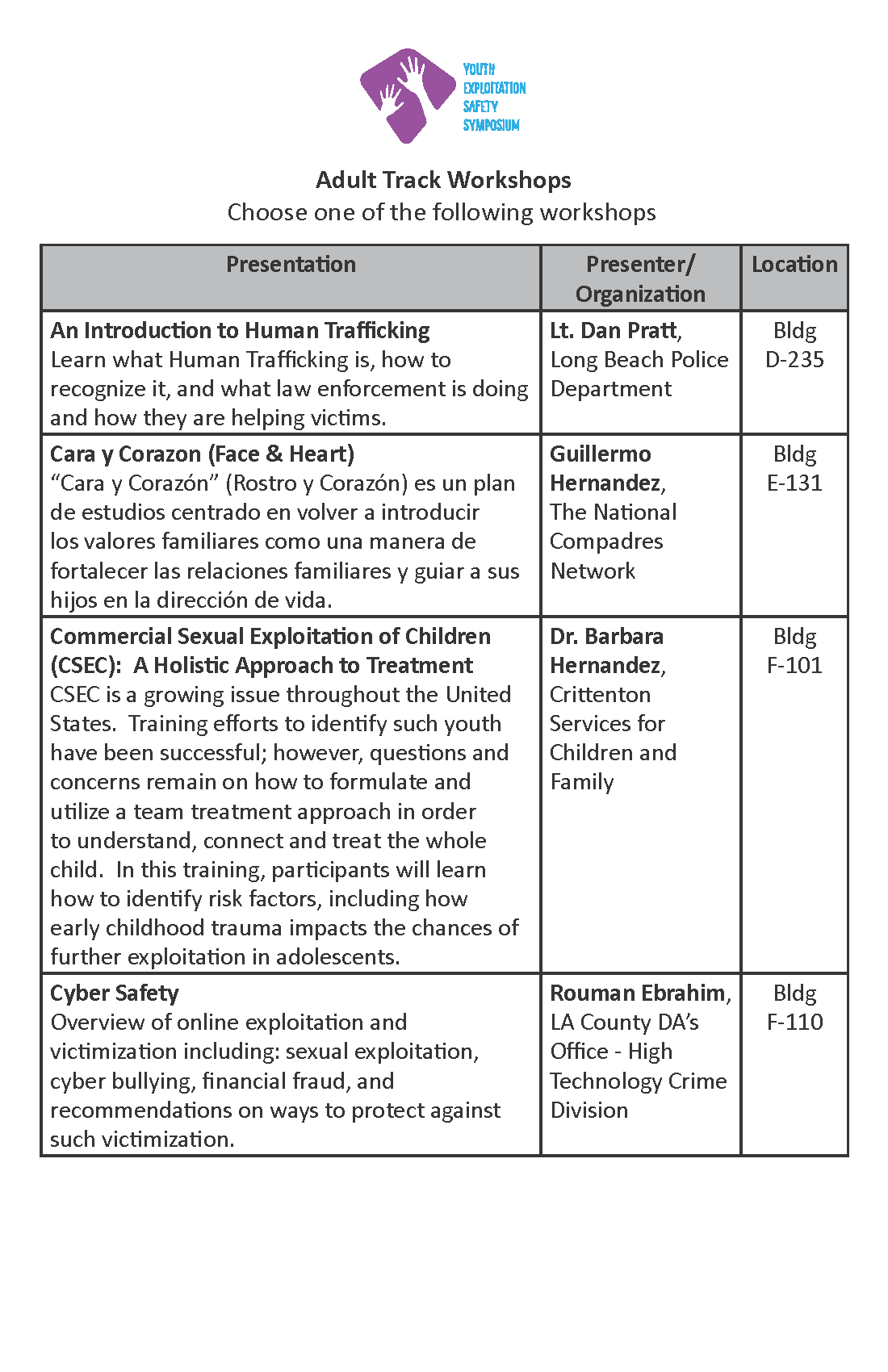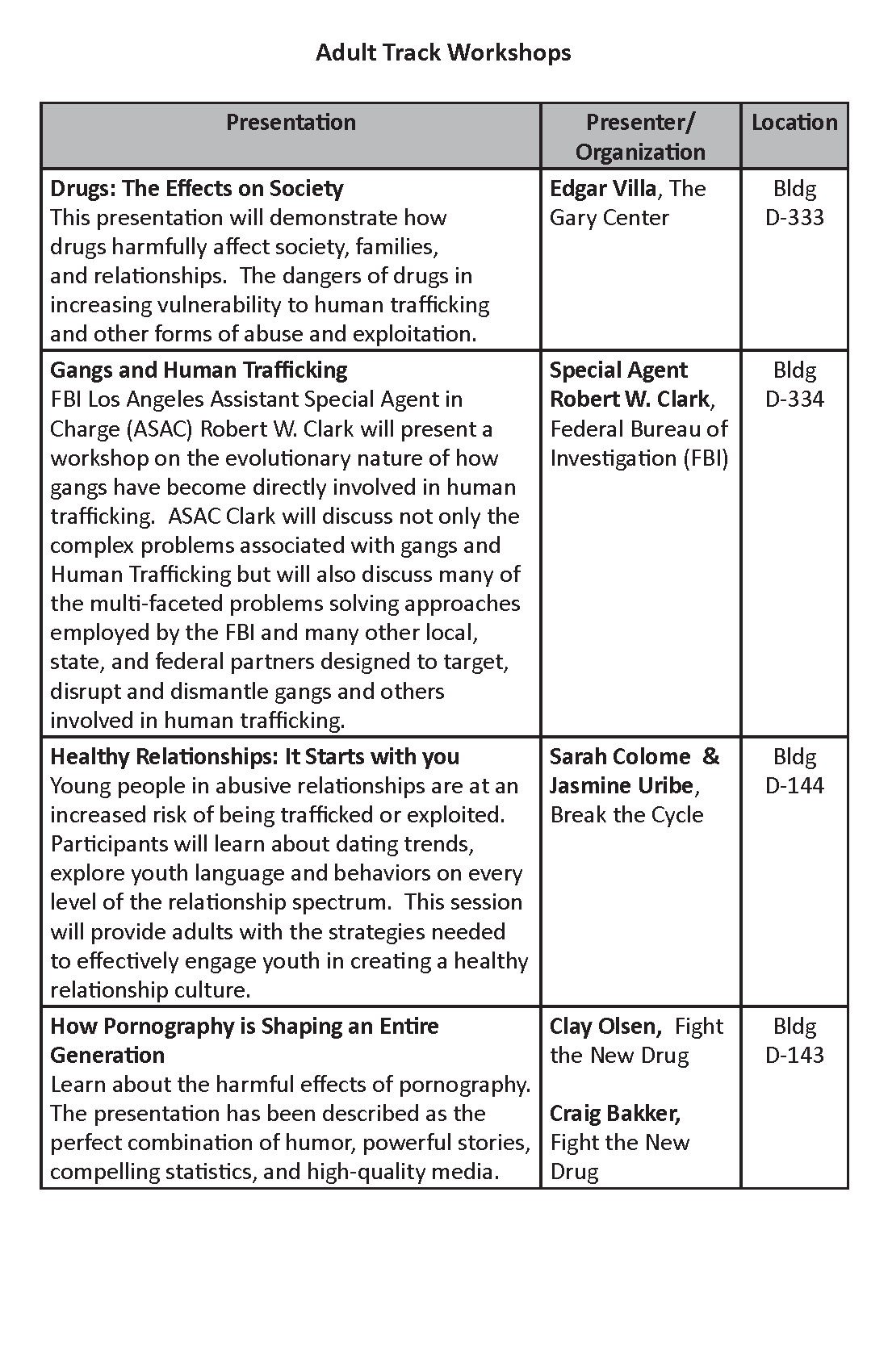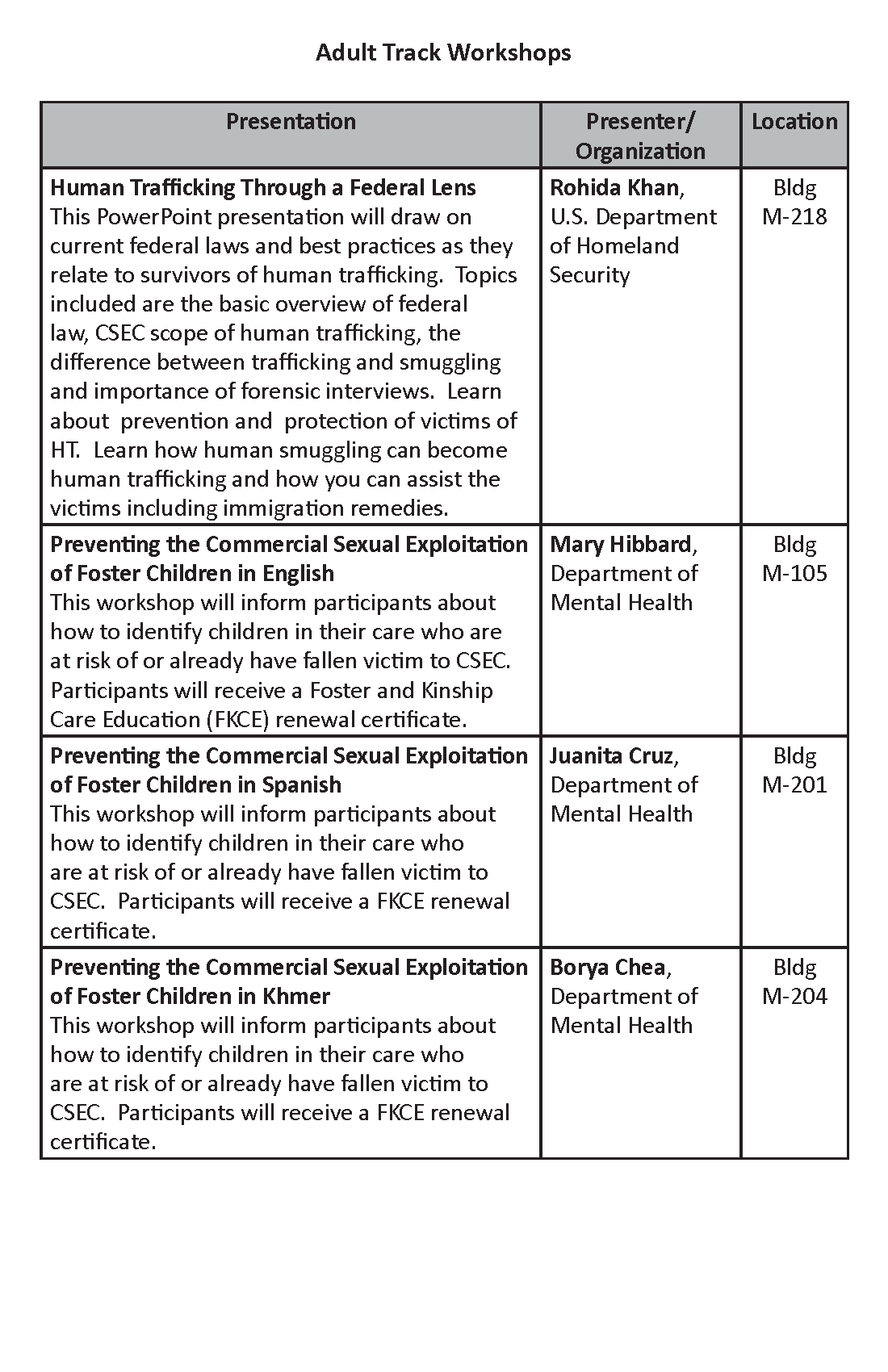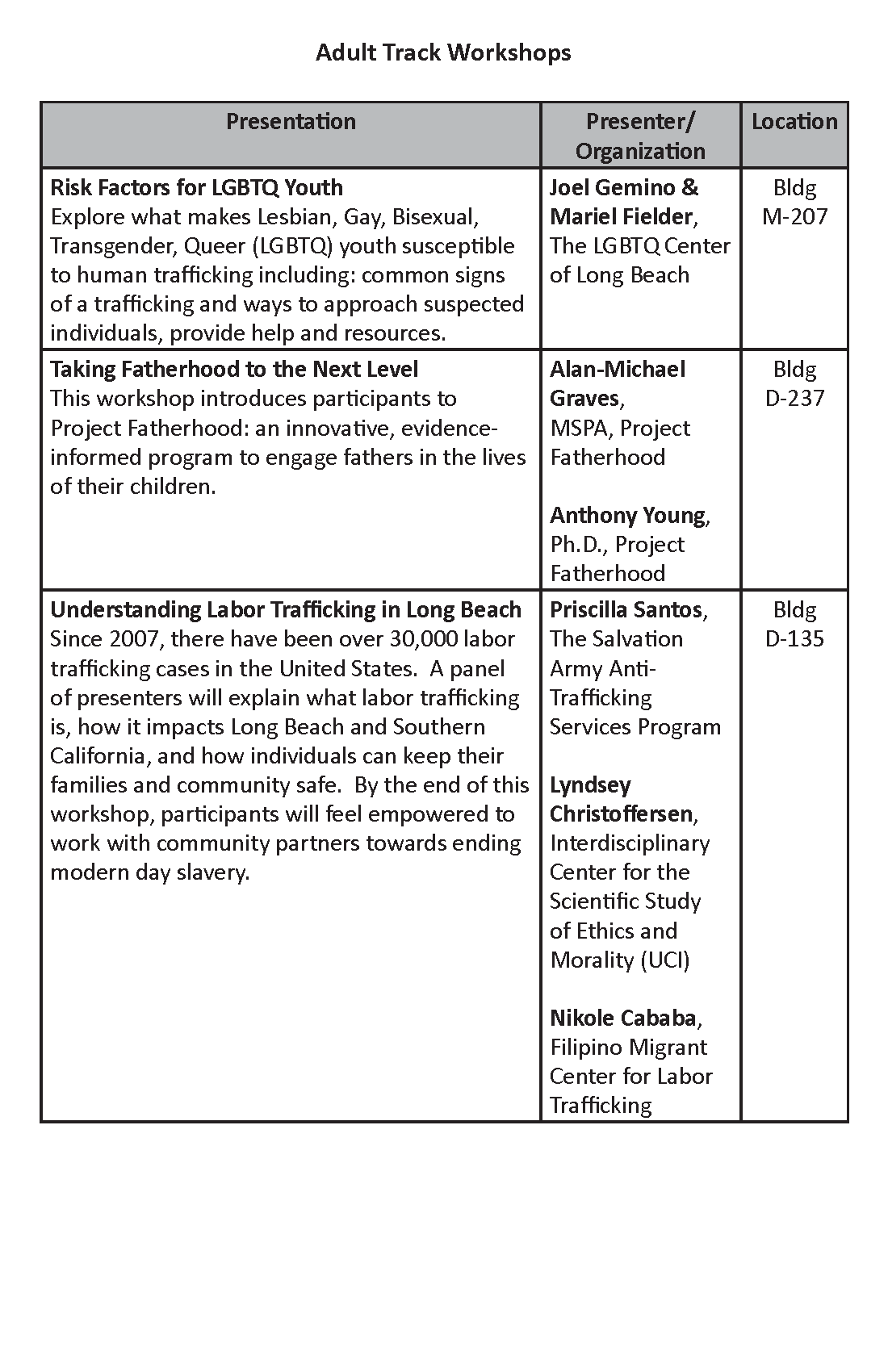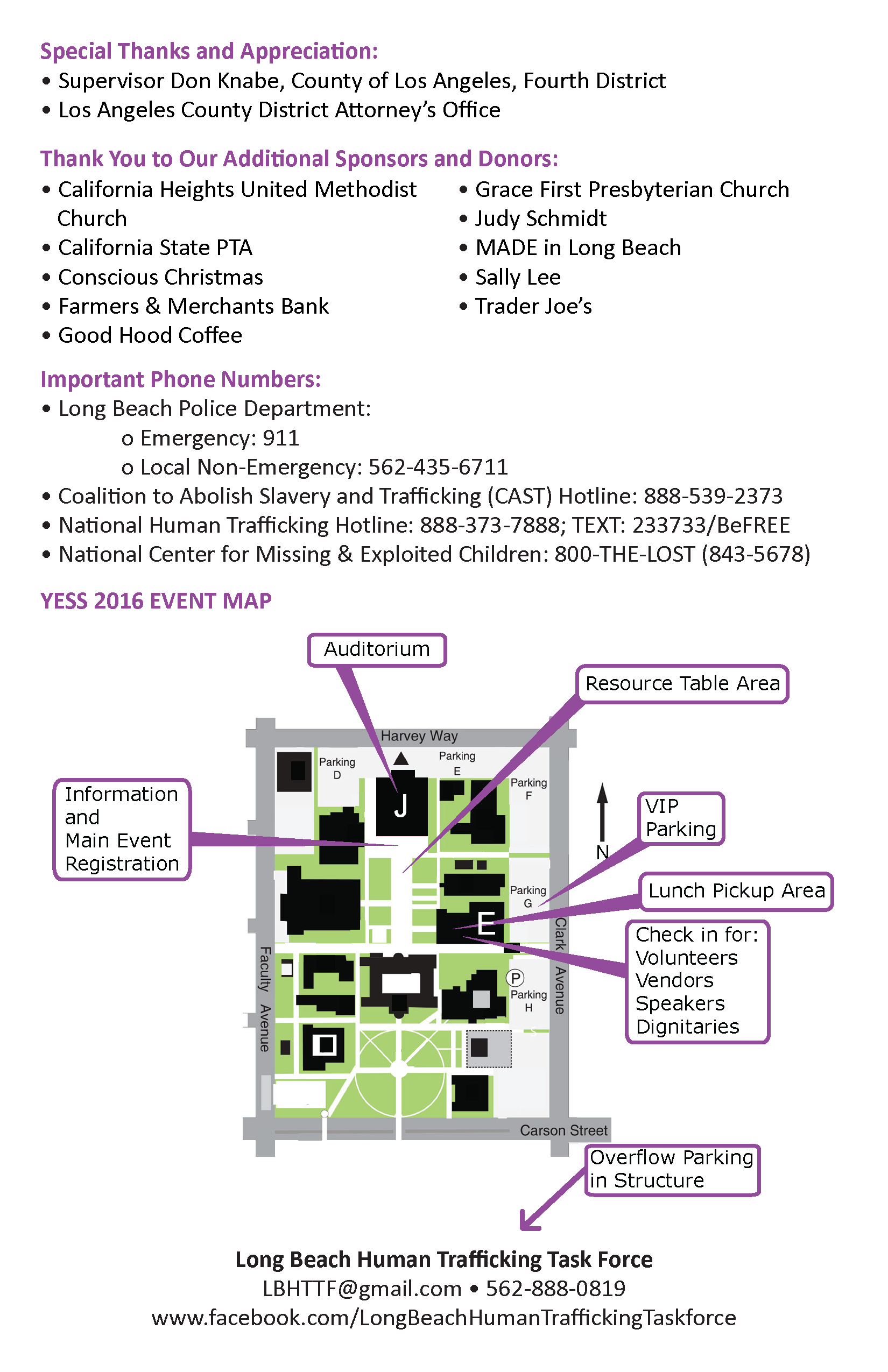 Youth Track: Youth exploitation of minors is an alarming reality in the United States, and it comes in many forms: Bullying has evolved into an issue with often severe consequences. One in four girls and one in six boys will be sexually abused by age eighteen.* And the commercial sexual exploitation of children in the U.S. is part of a thirty-two billion dollar criminal industry. These youth often have no idea what is really happening to them until it is too late. The purpose of the Youth Track Presentation, therefore, is to educate middle school and high school aged students about the very real threat of exploitation so that they can manage their own strategy to stay safe.
At the heart of our curriculum is the concept of empathy. Empathy (understanding and actively engaging another's suffering) is the solution to issues of exploitation, from forms as familiar as bullying in a school's hallways to more extreme acts like human trafficking. By inspiring students to develop empathy for those around them, this Youth Track is providing character education with far- reaching transformative potential for students.
Media presented from iEmpathize Empower Youth Program (www.empower.iempathize.org)
Youth Presenters as follows:
Oree Freeman
PJ
Rohida Khan

Department of Homeland Security

Victim Assistant Specialist

Sarah Colome

Break the Cycle

Training & Technical Assistance Program Manager

Robert Clark

FBI

Assistant Special Agent in Charge

Clay Olsen

Fight the New Drug




Priscilla Santos

Salvation Army's Anti-Trafficking Services Program (TSA-ATS)

Program Coordinator

Susan Patterson

How you can Fight Human Trafficking

Author

Micah

Spoken Word Poet




PJ

Poet and Rapper




Lyndsey Christoffersen, Ph.D.

UCI Interdisciplinary Center for the Scientific Study of Ethics & Morality

Tobis Fellow,

Rouman Ebrahim

Los Angeles County District Attorney High Technology Crime Division




Mariel Fielder

The LGBTQ Center of Long Beach




Oree Freeman




Advocate

Joel Gemino

The LGBTQ Center of Long Beach




Dr. Barbara Hernandez

Crittenton Services for Children and Families

Vice President of Community Services

Lt. Dan Pratt

Long Beach Police Department




Opal Singleton

Million Kids

CEO