Description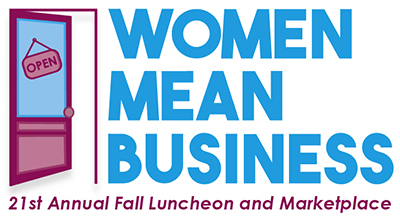 On October 14th, join WomenVenture and over 1,000 business professionals, community leaders, and other individuals for an afternoon of investing in the economic success of women. Hear the inspiring stories of our Nothing Ventured, Nothing Gained award winners, enjoy the energy and enthusiasm of emcee, Jearlyn Steele, and learn how keynote speaker, Lara Merriken, is fueling the entrepreneurial spirit every day as founder of LÄRABAR. Come prepared to shop in our Marketplace, which features the products and services of 50 WomenVenture client businesses.


Ticket Information*:
Full-Price Table (10 seats): $1,500

Full-Price Half-Table (5 seats): $775

Full-Price Individual Tickets: $160

Full-Price Individual Ticket + emPOWER Social Hour Ticket: $200
*Super early bird and early bird discounts are available to those who purchase before August 1st and September 12th respectively.


Sponsorship Information
Sponsorships start at $5,000 and include special benefits, such as: premier table seating, admission to the VIP reception, name / logo recognition on event collateral, etc. For a full list of sponsorship levels and benefits, visit: www.womenventure.org/2016WMB


Guest List
For those who have purchased a table, please submit your guest list at the links below no later than September 30th.


Interested in being in our Marketplace?
Click here for more information and to register to be a vendor in our Marketplace.


emPOWER Social Hour
Join us for the emPOWER Social Hour after the Women Mean Business Luncheon and Marketplace. The goal of this smaller, more intimate event is to gather emerging leaders in the Twin Cities community for a short program, shopping in the marketplace, and networking--all in support of women's entrepreneurship. Click here for more information and to register.


Can't attend?
Not able to attend this year? Show your support to women entrepreneurs in the Twin Cities by making a donation to WomenVenture. Simply click the register button at the top of the page, and select "Donate."