2016 Urban Ski Weekend

Friday, February 5, 2016 at 1:00 PM

-

Monday, February 8, 2016 at 11:00 AM (EST)
Event Details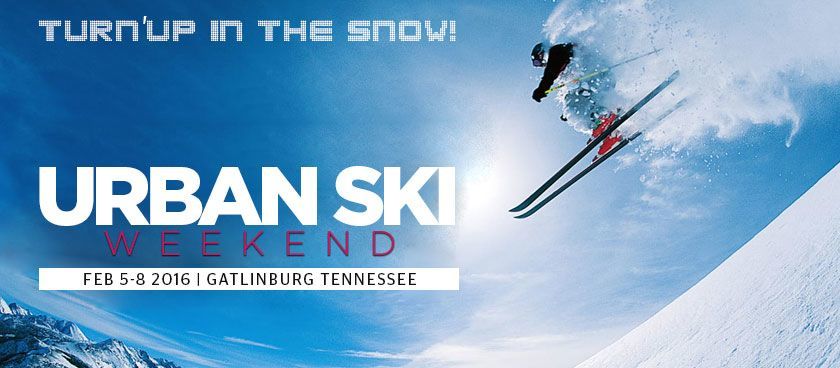 HAVE YOU EVER ATTENDED A SKI TRIP BEFORE? 
EITHER WAY LET US BE THE FIRST TO CLEAR THE AIR!  
THE MOTTO IS:
TO SKI IS OPTIONAL .. BUT TO PARTY IS MANDATORY  
That means if you want to TRAVEL & Meet up with other
URBAN PROFESSIONALS - SOCIALITES & TRENDSETTERS from 
DIFFERENT CITIES
WHO LIKE TO PARTY & HAVE A GOOD TIME, 
 
JUST LIKE YOU!
THEN THIS IS YOUR MUST ATTEND EVENT! 
DO SOMETHING DIFFERENT! 
Price
4 People   $325
3 People   $385
2 People   $425
1 Person   $500
 
** $75 Per Person For Deposits.
* Prices listed are per person and are based on (1) room per group.
* 4 Days / 3 Nights Hotel Accommodations
* Party Bus Access
* 33 HOURS OF BRAND NAME OPEN BAR! <---You Can't Out Drink Us!!
* The RIP The Run Way Fashion Show
* Free Breakfast Daily (Even Monday Before We Leave)
* 4th Annual Winter White Affair
* 4th Annual "LOL" Comedy Show

* The Rep Your City Super Bowl Party

* Toga PaJama Party

* Ab Work Out Classes By Dashaun Johnson

 (LHHA)
* Flirty Fitness Classes

* Wine Tasting

* Happy Hours

* The One Mic Poetry Set
* The "Mid-Night Mountain" (Indoor heated) Pool Party
* The Caribbean Happy Hour Lounge (Best In Reggae & Soca)
* The 80's & 90's Old School Lounge (For Mature Grown & Sexy Crowd)

**Beginners Ski Lesson, Ski Equipment NOT Included. (Additonal Cost Email Us For Pricing)
Payment Schedule |

1st.   Oct. 15th 
2nd. Nov. 15th
3rd.  Dec. 15th
4th   Jan.  15th  Balance Due In Full
*Deposits/Payments Must Be Made Per Person In Group To Secure Your Room.
Important Package Information | Our refund policies are located on the main FAQs below. Hotel images are used for descriptive purposes only. Hotel room types are not guaranteed and may vary due to availability. Package prices do not include: registration, taxes, service or late fees. For event specific questions, please view the FAQs tab.


Disclaimer
 | The term Urban Ski, Urban Ski Weekend, as well as all associated graphics and/or logos, are registered trademarks of their respective owners and are used herein for factual description purposes only. The use of any logos, words, trademarks, or photos have been used for Descriptive Purposes only and not to show endorsement or permission to use, to promote the sale of any tickets. We are not affiliated with, nor do we have any licenses or strategic alliances with, nor are we authorized by any box office, promoter, venue, theatre, stadium, hotel, sporting team or sporting association. All and any copyrights, trademarks, trade names used within this web site are for descriptive purposes only. We are not acting on the authority of or by the permission of any of the above mentioned entities. We are able to provide access to tickets for events through our contacts and various sources.
As used herein, "Confidential Information" shall mean any and all technical and non-technical information related to the business provided by either party to the other, including but not limited to (a) patent(s) and patent applications, (b) trade secret, and (c) copyrighted information (d) proprietary information-- ideas, techniques, sketches, drawings, works of authorship, models, inventions, know-how, processes, apparatuses, equipment, algorithms, software programs, software source documents, and formulae related to the current, future, and proposed products and services of each of the parties, and including, without limitation, their respective information concerning research, experimental work, development, design details and specifications, engineering, financial information, procurement requirements, purchasing, manufacturing, customer lists, investors, employees, business and contractual relationships, business forecasts, sales and merchandising, marketing plans and information the disclosing party provides regarding third parties.
25AndOlder Staff
www.25AndOlder.com
FAQs 
What is the refund policy? 
All cancellations have to be submitted in writing to us via email at 25AndOlderAtl@gmail.com.
60 days or more before event, payment is non-refundable, but client will receive an in-house credit for fifty percent of payments made that can be used within one year on a future travel package.

first scheduled payment is non-refundable and non-transferable

Cancellations less than 60 days prior to departure are non-refundable/non-transferable.
When & Where

Music Road Resort
303 Henderson Chapel Rd
Pigeon Forge, TN 37868


Friday, February 5, 2016 at 1:00 PM

-

Monday, February 8, 2016 at 11:00 AM (EST)
Add to my calendar
Organizer
Sexy Upscale Entertainment