2016 Trill Comedy Festival

Thursday, October 20, 2016 at 7:00 PM

-

Sunday, October 23, 2016 at 11:59 PM (CDT)
Event Details
2016 TRILL COMEDY FESTIVAL - TrillComedy.com
Presented by Station Theater
Houston's only comprehensive comedy festival features TEN shows with more than 130 comedians performing improv, sketch comedy, stand-up comedy, music, performance art, variety shows and more. 

The best way to see the Trill Comedy Festival is the PASS TO THE UNIVERSE OF EVERYTHING! This pass includes every show at the 2016 Trill Comedy Festival  - 10 shows, 20+ hours of comedy! It's a honkin' $145 value - only $60! Individual show tickets are also available for $12  ($25 for the Friday show featuring Michelle Wolf). Nightly passes are also available. 
---
Headlining the 2016 Trill Comedy Festival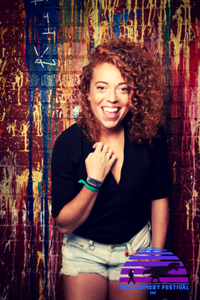 Michelle Wolf: Saturday, 11:00pm
$25 advance purchase admission / $30 at the door
Michelle Wolf is a NY-based writer, actor and standup comedian and one of the fastest rising comedic talents in the city.  She currently works as an on-air contributor and writer for Comedy Central'sThe Daily Show with Trevor Noah. Prior to joining The Daily Show, Michelle was a writing supervisor and performer on Late Night with Seth Meyers, where she also made her late night television debut as a comic in July 2014.  Michelle appears regularly on the show in various bits and as the popular reoccurring character she created, "Grown-Up Annie." She has also made a number of appearances on Comedy Central's hit late night gameshow @Midnight and appeared on Louis CK's Horace and Pete.
Most recently, Michelle created and starred in two new digital series, Now Hiring and Used People for Comedy Central.  Used People is currently being developed as a half-hour television series for the network. Michelle also wrote for the 88th Academy Awards hosted by Chris Rock.  She was named to Vulture's list of "50 Comedians You Should Know in 2015" and one of "The Top 10 Funniest Women in NYC" by TimeOut New York. Michelle was also named one of Complex Magazine's 50 Funniest Comedians on Twitter (@michelleisawolf) and selected as one of the "New Faces of Comedy" for the 2014 Just For Laughs Festival in Montreal.
Michelle headlines comedy clubs and colleges all over the United States and has performed at a number of festivals including the Riot LA Comedy Festival, San Francisco Sketchfest, Moontower, Bonnaroo and the Dublin Comedy Festival.  She just completed an incredibly successful first appearance at the Edinburgh Fringe Festival with a sold out run of her debut hour-long stand-up show Michelle Wolf: So Brave.  The critically acclaimed show, which earned her a nomination for the Best Newcomer Prize from the Edinburgh Comedy Awards, garnered numerous four star reviews from top publications such as the Guardian, Herald and Scotsman.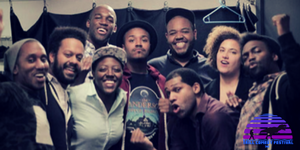 3Peat: Saturday, 9:00pm
$12 advance purchase admission; $15 at the door
3Peat  is comprised of improv/sketch/standup performers and teachers that met whilst performing at The Second City and iO Theater in Chicago, IL. The cast travels coast to coast sharing stories and performing high energy improvised shows.
The show begins with a suggestion or personal question from the audience. A cast member will perform a monologue inspired by that suggestion. Then the rest of the cast then uses that monologue to do fast paced and hilarious long form improv piece. Cast: Allison Ringhand, Chris Redd, Dewayne Perkins, John Thibodeaux, Nnamdi Ngwe, and Patrick Rowland
 Click here for the complete 2016 Trill Comedy Festival Line-Up
---
All Tickets are General Admission | All shows BYOB
Station Theater | 1230 Houston Avenue, Houston, TX 77007

Street parking is available on Dart Street or at the neighboring Montalbano Tire & Auto Service after 7pm. Please be mindful when parking in front of area homes as some driveways are difficult to see.
Trill Comedy Festival  is sponsored in part by Saint Arnold Brewing Company

Organizer
Station Theater
With a full lineup of intelligent yet irreverent stand-up, sketch and improv, Station Theater is Houston's home for independent comedy. Station's ever-growing pool of improv and sketch comedy troupes delight audiences every Thursday through Saturday.
Station's comedy conservatory offers workshops and classes in long form improv, sketch comedy, stand-up comedy as well as other areas of performance art.
Station is available for corporate training programs and private events.
SIGNATURE SHOWS
STRUCTURE: THURSDAYS – 8:30PM
Structure features seasoned comedians working together to create an improvised interwoven comedic performance that explores human nature and the absurdity of life—all based on an audience suggestion. This weekly powerhouse show is Station's nod to great traditional forms of improv.
SUPERNOVA FEATURING LOTERÍA: FRIDAYS – 8:30PM
Starting off the night is the Lotería, Station's Show left to chance. Seasoned performers, beginning improvisers, and audience volunteers are randomly selected and placed into groups to perform together for the first time ever. The Lotería is never predictable and always entertaining.
Then, the Supernova cast, Station's premier house team, performs improv based on a volunteer's stories. Whether they are a prominent icon of the Houston arts scene, a special guest from around the country, or an audience volunteer, the Supernova cast takes an astronomically funny look at the catastrophic events of life.
DARK MATTER: FRIDAYS – 10:00PM
Late-Night Improv Comedy. Unhindered Imagination.
SYZYGY: SATURDAYS – 8:30PM
Get ready to blast off with Syzygy, Station's Saturday show that will take you to the moon and back. During Syzygy, three different back-to-back hilarious comedic groups will put on a one-of-a-kind show that we know you'll enjoy.
SINGULARITY: SATURDAYS - 10:00PM
Each month during Singularity, a comedic act headlines the show preceded by talented comedic opening acts of their choice. 
________________________________________________
TICKET REFUND/EXCHANGE POLICY
If you have pre-purchased tickets online, please arrive 15 min before showtime to guarantee the best seating. If you have not arrived 5 minutes prior to the start of the show, your tickets may be released to accomodate patrons on the waitlist. 
Ticket policies: http://www.stationtheater.com/shows/ticket-policies-information 
Tickets are non-refundable, though we are happy to transfer tickets to a different show when possible. If you have questions, please email info@stationtheater.com. 
2016 Trill Comedy Festival