| | |
| --- | --- |
| 2016 The Hidden Wounds of War Conference | |
Event Details
Thank you to our Sponsors! 

---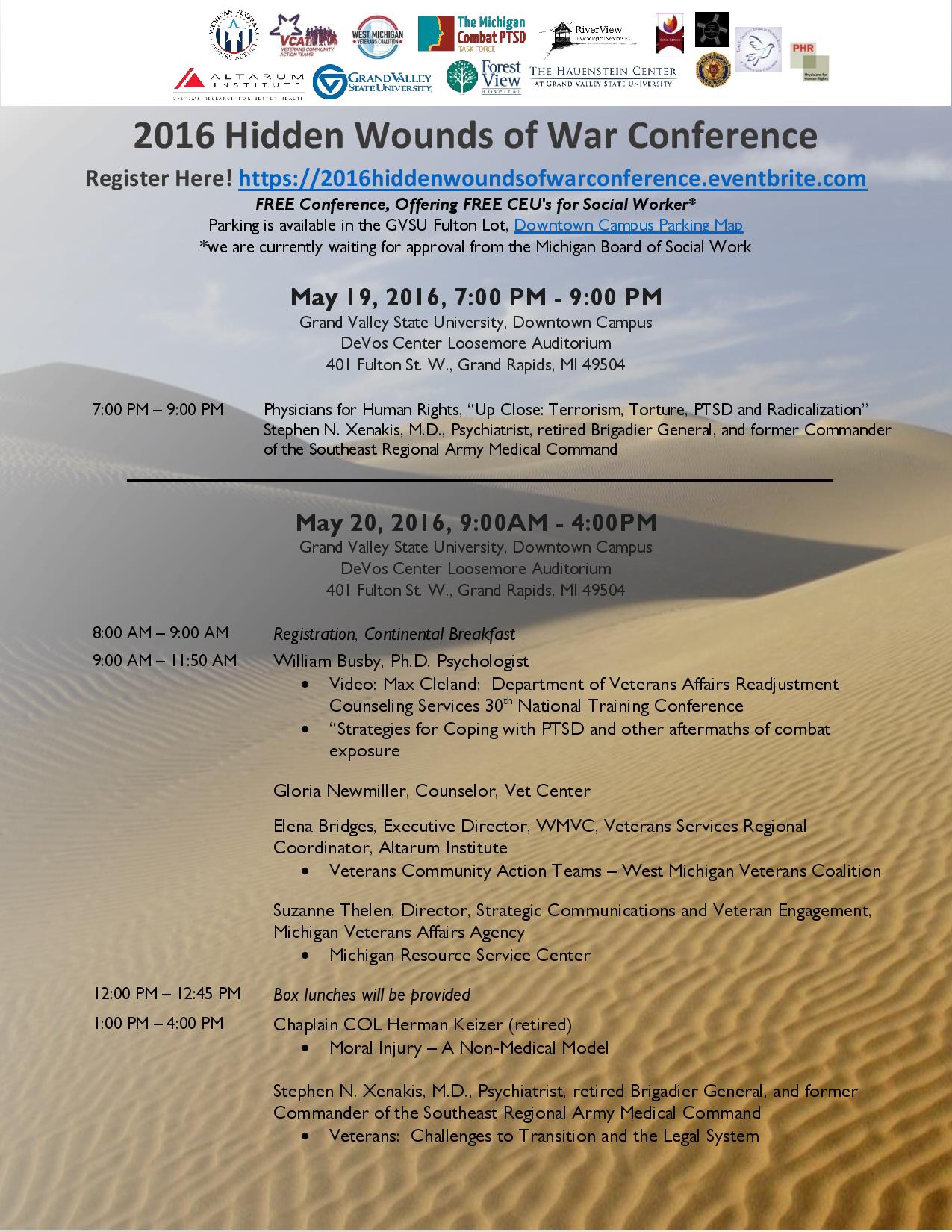 When & Where

Grand Valley State University: Downtown Campus DeVos Center Loosemore Auditorium
401 Fulton Street West
Grand Rapids, MI 49504


Organizer
West Michigan Veterans Coalition - R4VCAT
Mission
To improve the lives of all those who served in the Armed Forces and their families by connecting them with the opportunities, services and resources throughout West Michigan.

About
The West Michigan Veterans Coalition (WMVC) is a community integrated system offering support services, resources, and programs to veterans and their families. Our role is to offer a comprehensive network of service providers, empowered with knowledge, information, and tools to effectively connect veterans to the appropriate resources to help facilitate assistance in education, employment, healthcare, and quality of life.

In 2013, the West Michigan Veterans Coalition was selected by the Michigan Veterans Affairs Agency to implement Altarum Institute's no-wrong-door collaborative Veteran Community Action Team (VCAT). The model is designed to enhance the delivery of services from public, private, and nonprofit organizations to veterans and their family members. The VCAT aims to institute a community-based veterans' system of care through the establishment of broad-based collaborations of veterans' service organizations, health and community service providers, veterans and their family members, and other stakeholders.

Services

- Inform and connect veterans and service providers in the community.

- Implement the "no-wrong-door" VCAT service model

- Provide information, tools, and advocacy to help facilitate assistance. 

- Create awareness of veteran needs and services.
Hidden Wounds of War Conference
Since the beginning of time veterans and their families have struggled with the silent epidemic of Post-Traumatic Stress and Traumatic Brain Injuries sustained during combat. The Hidden Wounds of War Conference brings awareness and education to the community about treatments and resources.
The purpose of this conference is:

- Promote the understanding of Traumatic Brain Injury, Post-traumatic Stress Injury/Disorder and Moral Injury.

- Clarify the roles of physicians, social workers, psychologists and clergy in helping returning veterans.

- Identify community resources.

- Establish a solid Community Referral Network to specifically treat combat related TBI, PTSD and Moral Injury.

- Begin a dialogue to identify practical and effective strategies for treating our wounded veterans

- The Hidden Wounds of War Conference is offering FREE CEUs for Social Workers. Register early only seats are limited.
2016 The Hidden Wounds of War Conference