Description
Summer Film Series: Our tantalizing Summer Film Series will inspire and challenge ideas about what we eat, how it got to Brookline and who's behind it! Join Bountiful Brookline for one or all three screenings and taste some fresh, local snacks as we delve into food in our community and beyond. For additional information about Bountiful Brookline and the Summer Film Series visit www.bountifulbrookline.org!
The Harvest/ La Cosecha: This compelling film profiles three American children who labor as migrant farm workers, sacrificing their own childhoods to help their families survive. This film follows Zulema, Perla and Victor as they journey across America to follow the harvest. A discussion and tasty locally sourced snacks will follow the film. View the trailer @ www.bountifulbrookline.org!
Questions about the venue? Contact BIG at (617)-731-8566. See you in the Screening Room!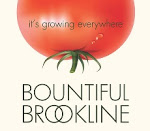 Bountiful Brookline is a sponsored project of Brookline Community Foundation