Actions and Detail Panel
2016 St. Robert Alumni Basketball Tournament
Fri, December 23, 2016, 12:00 PM – 8:00 PM CST
Description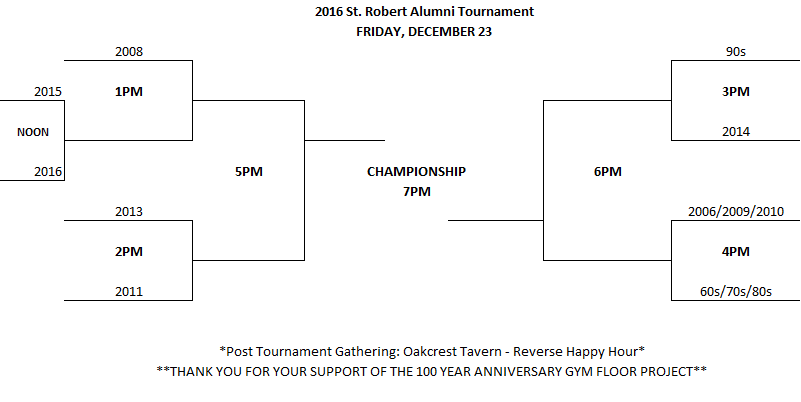 ---
The 6th Annual St. Robert Athletic Association Alumni Basketball Tournament is coming this winter! If you have not registered, do so today! Spread the word to your family, friends, and neighbors too! This year's single elimination tournament will be held on Friday, December 23rd at the St. Robert Gym.
Tournament brackets will be emailed to participants on Monday, December 19 and posted to the eventbrite page. A post-tournament party will be hosted at Oakcrest Tavern in Shorewood.
Get in touch with your old classmates and register your teams today. Registration deadline is December 15.
Games will begin Friday at noon. Events of the day will lead up to the 2016 Championship game at 7:00pm. The winning team will be engraved as the 6th entry on our Alumni Tournament Plaque of Champions. Each interested class should have a minimum of 5 players registered to enter a team; teams consisting of multiple graduation years will be created by the tournament committee if shortage makes it necessary. Everyone wishing to play should sign up and show up, we will find a team for everyone!
In the Christmas spirit, the tournament is a fun, casual way to see old friends and reconnect while watching some great basketball. There is a $10 entry fee per player to be paid at the door, not during online registration. Alumni Basketball t-shirts will be provided for each participant.
Spectators are welcome!! Admission for fans is FREE, so please bring family members and friends to watch the fun. Please assist the tournament directors in spreading the word (email, Mass bulletin, Facebook group, text message, word of mouth). We anticipate the tournament's popularity to increase with your help.
Frequently Asked Questions
Q: Is there an entry fee and how is that paid?
A: Yes. To cover gym and referee costs each participant is asked to contribute $10. This fee is paid at the door during team check-in, not during registration online.
Q: Is there a cost for spectator admission?
A: NO! Spectators are admitted free and strongly encouraged to cheer on classmates, relatives, and friends throughout the day. Championship at 8:00pm!
Q: What should I wear?
A: Participants should wear athletic apparel. Bobcat spirit wear is encouraged! Each participant will be provided an Alumni Basketball t-shirt complete with logos and numbers.
Q: What is the tournament format?
A: The tournament is a single elimination style. Brackets will be posted online prior to the tournment and in the entry way to the gym for team members to reference their game times.
Q: How do we know our game time?
A: Brackets will be posted on the eventbrite page following the registration deadline of Dec. 15th. Also, each participant will be emailed a link to the final brackets by Dec. 20. Brackets will also be updated throughout the day in the gym lobby for quick reference on gameday.