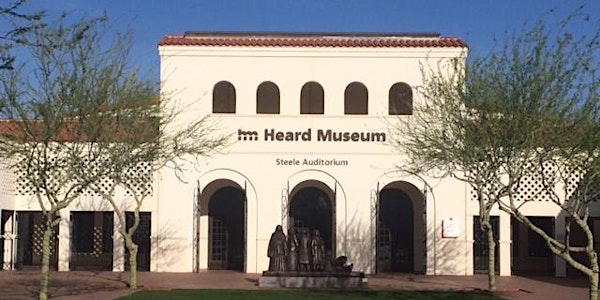 2016 SPJ Western Regional Conference
Location
Heard Museum
2301 North Central Avenue
Phoenix, AZ 85004
Description
WE'RE SOLD OUT! Sorry, but as of Wednesday night, April 27, there are no more seats available for the April 29-30 conference, which turned out to be more popular than we imagined. Again, we are sorry, but no more tickets are available, no more admittees are possible.

"A Thirst for News" is the theme of the Society for Professional Journalists Western Regional Conference, April 29-30 at the Heard Museum, Phoenix. We're SPJ's Region 11: Arizona, California, Nevada and Hawaii. The conference hashtag is #spjwest.

Hear Las Vegas Review-Journal deputy editor Jim Wright talk about what journalists can learn from the recent purchase of the newspaper, be there for a one-on-one interview with Maricopa County Sheriff Joe Arpaio, gain insight on covering drought and other vital water issues as well as what you'll need to cover race issues in your community -- and get tips on how to rebrand yourself as a relevant 21st century journalist. Get some new, sharp tools in your efforts to obtain public information in an FOI session led by the director of the University of Arizona School of Journalism that's supported by the First Amendment Coalition of Arizona. Plus a whole lot more for professionals and journalism students, including the annual regional Mark of Excellence Awards luncheon honoring the best in our region's collegiate journalism.
We'll enjoy fine Mexican food at an opening night reception Friday evening at one of Phoenix's oldest restaurants, Macayo's, 4001 N. Central, and we'll gather Saturday night for a post-conference networking and libations session on the Sky Deck of the Clarendon Hotel & Spa, 401 W. Clarendon.This is the hotel where 40 years ago, June 2, 1976, Arizona Republic reporter Don Bolles was assassinated in a car bomb explosion in the parking lot.

REGISTRATION FEES: We have sold out.

QUESTIONS? Send email to phoenixspj@cox.net.
CONFERENCE HIGHLIGHTS -- The conference hashtag is #spjwest.

Read over a tentative conference schedule.

Opening night reception with declicious Mexican food at Macayo's, one of the Valley of the Sun's oldest and most popular restaurants, owned and operated by the same family since 1946

Our keynote: A one-on-one interview with Maricopa County Sheriff Joe Arpaio with Arizona Republic columnist E.J. Montini

Ethics checkup: With news media under unprecedented scrutiny and criticism, learn from two veteran investigative reporters, award-winning journalists Craig Harris and Dennis Wagner of The Arizona Republic what you need to know to have your work pass the ethics test

FOI power tools: Virtual hammers and saws for acquiring and using government data, with FOI specialist and former national SPJ president Dave Cuillier of the University of Arizona School of Journalism

Kick up your storytelling: National SPJ board member and creator of the Journalist's Toolbox, Mike Reilley of Arizona State University's Cronkite News Service will share cool apps and tools to help you create 360-degree photo bubbles, audio slideshow, build multi-layer graphics and create data visualizations


Mark of Excellence Awards Luncheon: Enjoy lunch with colleagues and journalism students as SPJ honors the best of the region's college journalism in 2015 with the presentation of the regional Mark of Excellence Awards. Those winning first place have their entries go on to be considered against those from SPJ's other 11 regions for national honors in fall 2016


Silent auction: Gift cards/certificates worth between $50 and $100 at several Arizona restaurants; a gift basket of fresh-baked gluten-free goodies from Jewel's Bakery & Cafe to be picked up Saturday morning, April 30; a coffee table photo book of the Grand Canyon from Arizona Highways magazine; a hostess pack of four gourmet peanut butters from Peanut Butter Americano; an Italian gift basket with a $25 gift card good at Maggiano's Little Italy (locations in Los Angeles and Las Vegas) with pasta, sauce, etc.; and two tickets to Arizona Theatre Company's production of "The Gospel According to Thomas Jefferson, Charles Dickens and Leo Tolstoy: Discord," May 5-29 at the Herberger Center in downtown Phoenix. Bring your money with you! Cash or checks preferred!

College students: A resume review and mock interviews with guest journalists from print/online and broadcast news, including top newsroom executives from The Associated Press, Phoenix Business Journal, TV stations in Phoenix and Tucson, plus a veteran professional resume writer. Students attending the conference: Submit your resumes to phoenixspj@cox.net by Friday, April 22, to give our mentors time to evaluate them before meeting you!

Special panels focusing on covering racial issues and doing stories on the future of the West in the wake of a years-long drought

Learn how to brand yourself -- or rebrand yourself -- as a trained, qualified, marketable, ready-for-duty 21st century journalist, with Robin Phillips, formerly of the ASU Cronkite School, now senior content producer with Costelazo Content

The big finish: The No. 2 newsroom executive at the embattled Las Vegas Review Journal, deputy editor Jim Wright, offers the latest from Nevada's largest daily newspaper and the fallout of the controversy involving its ownership and journalistic independence in a conversation with current national SPJ president-elect and investigative journalist Lynn Walsh of San Diego's KNSD-TV


And we'll gather for a post-conference social on the Sky Deck of the nearby historic Clarendon Hotel and Spa to enjoy the view of midtown Phoenix's office towers. Chat with Bob Richardson, Phoenix-based field producer for NBC News, who has spent more than five decades in journalism.

Read over a tentative conference schedule.
QUESTIONS? Send email to phoenixspj@cox.net.

ACCOMMODATIONS
Need a room for Friday and/or Saturday nights? Our recommended hotel is Hotel 502 on Camelback, 502 W. Camelback (also on the Light Rail line), 602-264-9290 or email frontdesk@hotel502.com. Mention the Society of Professional Journalists regional conference for a $85 nightly rate. We also recommend the Hilton Garden Inn Phoenix Midtown, 4000 N. Central, across from Macayo's (also on the light rail line), 602-279-9811.

PARKING
Free parking is available at the Heard Museum, Macayo's, the Clarendon Hotel and Spa and Hotel 502.
REFUND POLICY
Refund requests made to phoenixspj@cox.net on or before 5 p.m. Friday, April 15 will receive a 100 percent refund, minus a $10 processing fee. Refund requests made to phoenixspj@cox.net between 5 p.m. April 15, and 5 p.m. April 26 will receive a 75 percent refund, minus a $10 processing fee. No refund requests received after 5 p.m. Tuesday, April 26, will be honored.
A HEARTFELT THANK YOU TO OUR CONFERENCE SPONSORS:

Special thanks to our conference host, the Heard Museum.
Champions of the First Amendment: The Arizona Republic, KPNX-TV (Channel 12-NBC)
Benefactor: Times Media Group, First Amendment Coalition of Arizona Inc.
Donor: Arizona Press Club, Jolon Indian Publishing, Arizona Capitol Times

The conference hashtag is #spjwest.