Description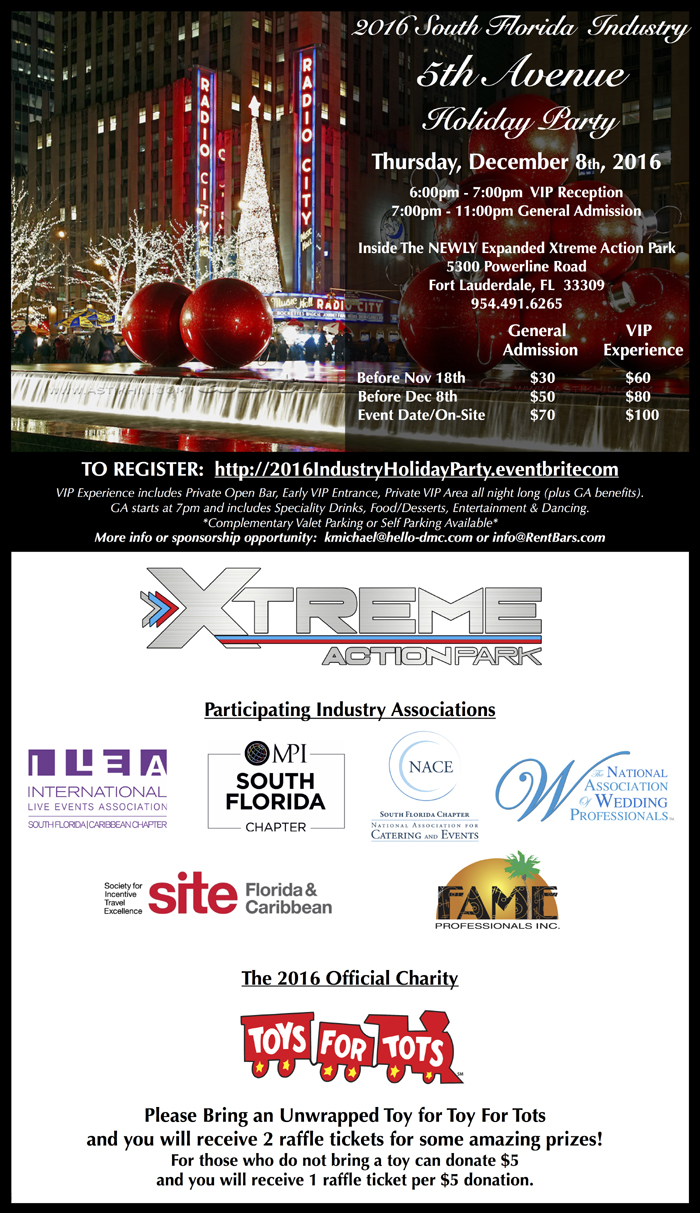 Please join us for the 2016 South Florida Industry Holiday Party on December 8th @ The NEWLY Expanded Xtreme Action Park. This year's event is being planned by ILEA, MPI, NACE, NAWP, SITE & FAME but all Industry Associations as well as all Special Event & Hospitality professionals and their guests are welcomed to join us in celebrating the holidays and the end of the 2016 season for a night of 5th Avenue Holiday FUN! This is the LARGEST industry networking event of the year and a great way to network with over 500 event professionals under one roof! Be one of the firsts to see the NEWLY Expanded Xtreme Action Park and their amazing new event spaces!!!
*This Year's Charity is Toys For Tots. Please bring an unwrapped toy and you will receive 2 raffle tickets for a chance to win some amazing prizes! Anyone that donates $5 will receive 1 raffle ticket per $5 donation. All raffle ticket sales will also be donated to Toys For Tots!*
Event Info:
6:00p-7:00p VIP Reception (VIP will also have Open Bar in Private VIP Area from 7:30p-11p)
7:00p-11:00p General Admission (Specialty Drink, Food, Desserts, Entertainment & Dancing)
Come for the best networking of the year while enjoying the Hottest Live Bands, Interactive Entertainment, Dancing, DJ's, Sound, Lighting, Decor, Food & Beverages and much, much more!
*Complimentary Valet & Self Parking*
Inside The NEWLY Expanded Xtreme Action Park
5300 Powerline Road
Fort Lauderdale, FL 33309
Phone Number: 954.491.6265
For more info or sponsorship opportunity please email: kmichael@hello-dmc.com or info@RentBars.com
*Contact information including email addresses will given to associations and sponsors for marketing purposes.