Description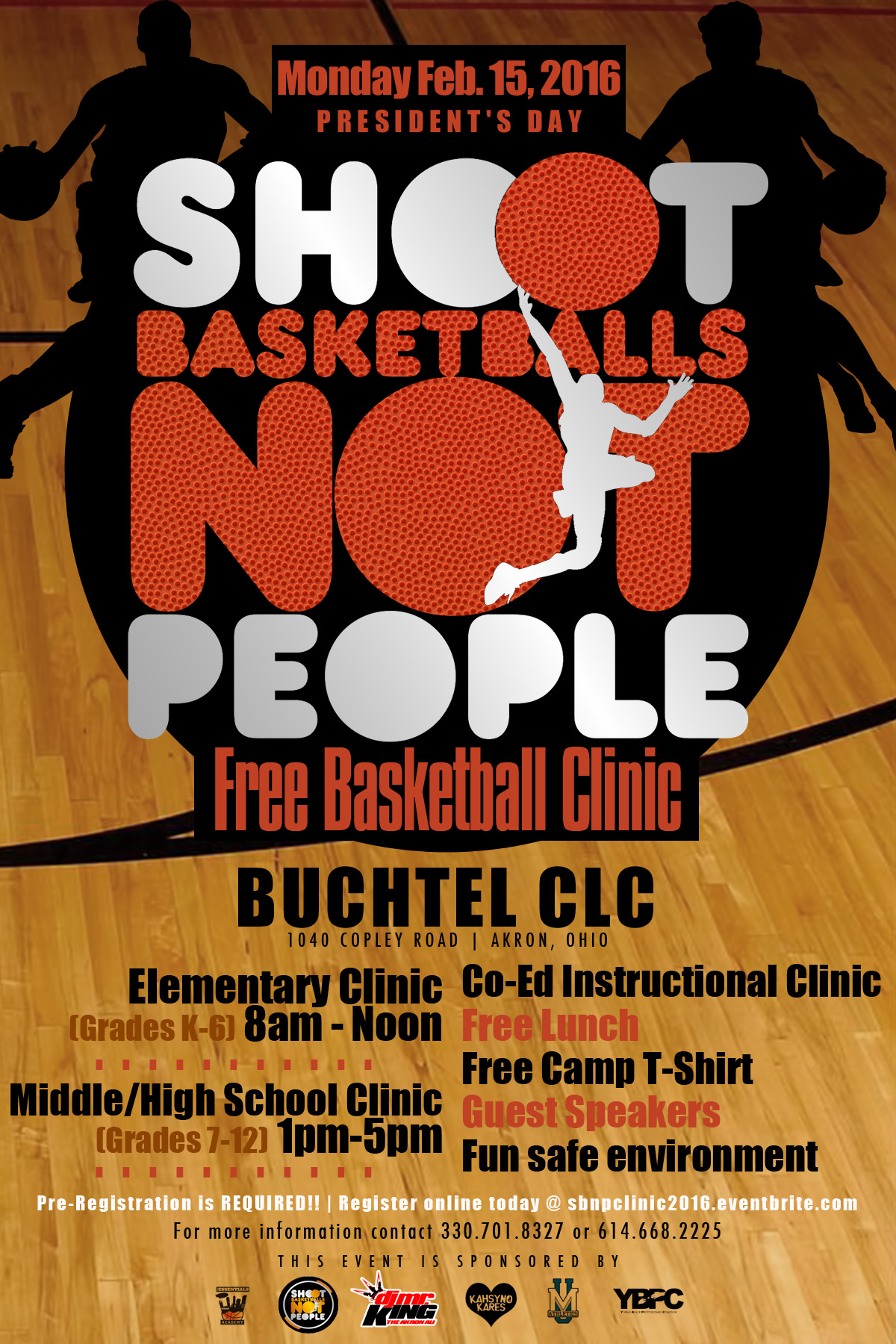 The rate of senseless crime in the City of Akron and various communities across the country is steadily increasing at an alarming rate. Not only is it affecting the families of victims, but consequently our communities and the children who live there. With cuts in educational programming and other extracurricular activities, our children have less access to opportunities that promote sense of community, active engagement and social responsibility.
The Shoot Basketball Not People campaign in collaboration with the DJ Mr. King, Essentials Basketball Academy, MKU Athletics and the Young Black Professionals Coalition (YBPC) will be hosting its 4th Annual Free Basketball Clinic Monday February 15, 2016 from 8am-5pm at the Buchtel Community Learning Center.
The goal through the Shoot Basketball Not People Free Basketball Clinic is to provide more than 200 school age youth with an opportunity to explore basketball in a positive manner while educating them on the dangers of violence in their community. In addition to athletics, students will have the opportunity to interact with peers and community mentors in a positive environment. The event will include a variety of instructional sessions, motivational speakers (former athletes and community leaders from Akron), lunch and t-shirts.
Please note that there are a variety of camps with different times. In order to effectively assure you child has the ultimate experience, we ask that you sign your child up for his/her proper grade level. Registration will fill up swiftly, so please register your child as soon as possible.
Doors open @ 7:30 am on camp day.
Pre-K / ELEMENTARY CLINIC (8am-Noon)
Pre-K: Ages 3-6 yrs old
Grades 1-5: Ages 8-11 years old
MIDDLE & HIGH SCHOOL CLINIC (1pm-5pm)
Grades 6-8: Ages 12-15 yrs old
Grades 9-12: Ages 15-18 years old
**Some participants my be presented with an opprotunity to compete with an older group if their skill set qualifies.