Sales Have Ended
Registrations are closed
Registration is no longer available for this event. Please contact Samantha with any questions at 518-622-3620 x104 or samantha@gcswcd.com. Thank you!
Sales Have Ended
Registrations are closed
Registration is no longer available for this event. Please contact Samantha with any questions at 518-622-3620 x104 or samantha@gcswcd.com. Thank you!
Description
The Catskill/Delaware watershed, which includes the Schoharie basin, is the largest unfiltered water supply in the United States. Maintaining this remarkable water supply involves understanding the current threats to water quality, how those threats impact watershed communities and the importance behind watershed programming to address these concerns.
This year's program includes: reflecting on the Stream Management Program, which originated in the Schoharie basin, understanding the NYC Filtration Avoidance Determination (FAD) as the driving force behind watershed management, learning about two current invasive pests threatening our forests and waters, and continuing the tradition of providing a forum for discussion about water quality.
This program is for all water resource stakeholders, including municipal officials, planners, engineers, watershed managers, regulators, and property owners. Afternoon workshops count towards municipal credits for planning and zoning board members. The summit is a forum to bring diverse interests together to learn from one another and to network as we seek to understand each others' roles in this living watershed.
Morning refreshments and lunch will be provided. Registration for the summit is free.
Please plan to arrive early to for networking and morning refreshments. Registrations opens at 8:00am and the presentations will begin promptly at 9:00am.

Keynote Address:
"Then & Now: Vision of the Schoharie Watershed"
Rene VanSchaack, Executive Director, Greene IDA; former Executive Director, GCSWCD
Michelle Yost, Watershed Assistance Program Coordinator, GCSWCD
Featured Presentations:

"Filtration Avoidance Determination:
The Driving Force Behind NYC's West-of-Hudson Watershed Management"
Paul Rush, Deputy Commissioner, NYC Department of Environmental Protection (NYCDEP)
Two Current Threats to Water Quality: Hemlock Woolly Adelgid and Emerald Ash Borer
Mark Whitmore, Forest Entomologist, Cornell University
Afternoon Session Workshops:

Forest Management "Ask the Experts" Panel Discussion
Columbia-Greene Cornell Cooperative Extension, Watershed Agricultural Council, New York State Department of Environmental Conservation (NYSDEC), The Nature Conservancy, Catskill Regional Invasive Species Partnership (CRISP), Cornell University
This panel discussion will give the audience a chance to ask questions about forest management with a focus on invasive species and potential long-range impacts to water quality. Strategies for landowners, municipalities, and/or loggers will be discussed.

Understanding Stormwater Regulations, Why SWPPPs Matter
Joe Damrath
Stormwater Program Supervisor, NYCDEP

The presentation will consist of an overview of the Watershed Regulations pertaining to SWPPP's and non-point source impacts from construction activities. Emphasis will be made on avoidance of pitfalls in the planning process.

Maps Made Easy: Web Map Training for All Audiences
Gretchen Stevens
Director of the Biodiversity Resources Center, Hudsonia Ltd.
Readily accessible online maps for Greene County provide lots of information about land and water resources that can help with land-use planning for conservation and development at parcel, town-wide, or county scales. This session will provide a guided hands-on exploration of the Greene County Interactive Web Map, and an introduction to the Greene County Natural Resources Map. The training will be especially helpful for conservation organizations, municipal planning and zoning boards, conservation commissions, and watershed organizations.
How to Use Your Stream Management Plan
GCSWCD & NYCDEP

This session will include a broad overview of the information contained in a Stream Management Plan, and how to use the plan to identify issues and review recommendations for specific reaches of stream. The session will also include examples where recommendations in the Management Plan were used to prioritize and secure funding for implementation projects to enhance stream stability of those stream reaches.
Registration Deadline: Friday, March 25, 2016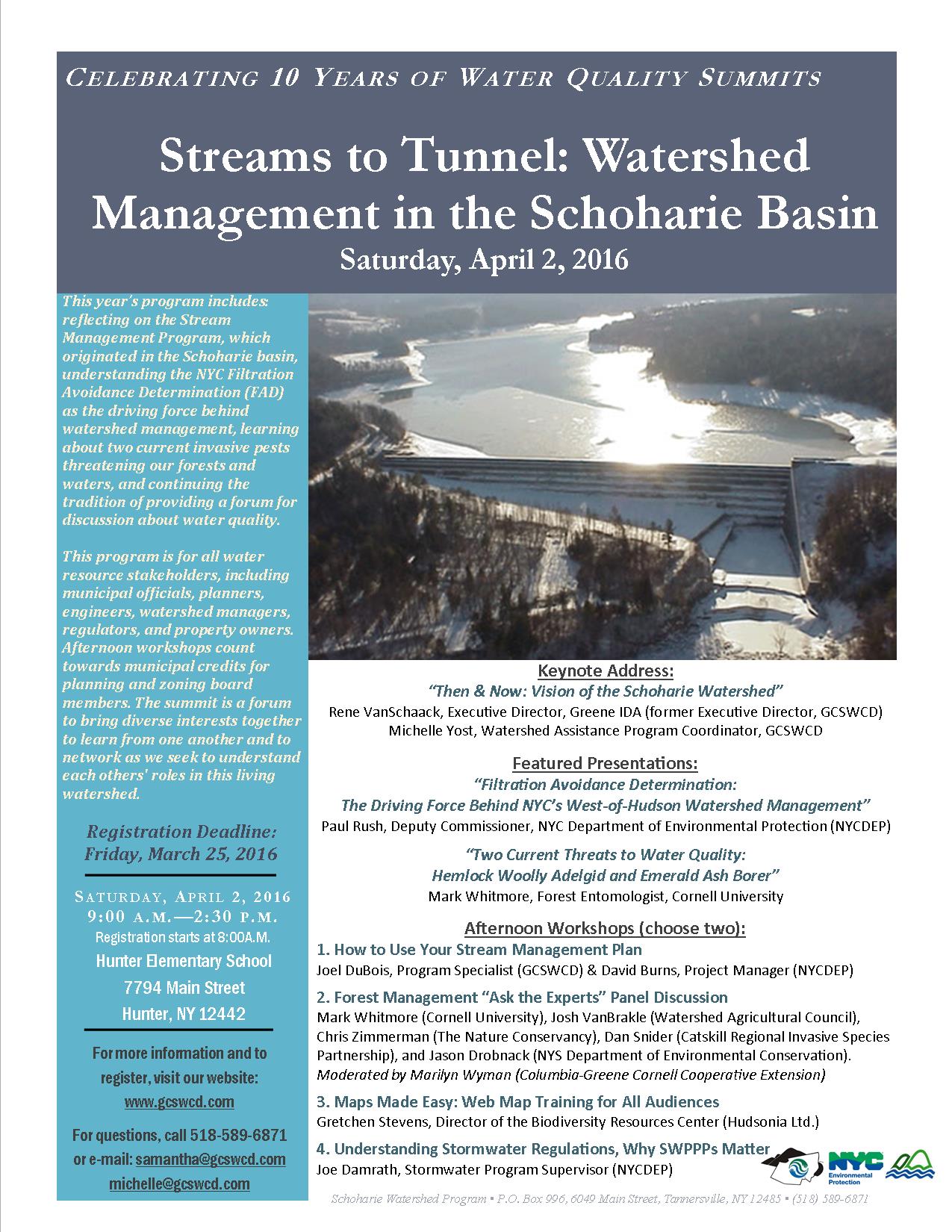 This event made possible by Greene County Soil & Water Conservation District's Schoharie Watershed Program and NYC Department of Environmental Protection (NYCDEP).
Schoharie Watershed Program
P.O. Box 996, 6049 Main Street
Tannersville, NY 12485
518-589-6871
FAQs
Do I have to register for the event?
Yes, registrations are required in advance due to space limitations. Registrations will be accepted first come, first served, so be sure to register early.

Where can I contact the organizer with any questions?
For questions, call 518-589-6871 or e-mail Samantha@gcswcd.com or Michelle@gcswcd.com.

Do I have to bring my printed ticket to the event?
No, we will have a guest list and you will be able to sign in at the registration table.

Will municpal credits be available for planning and zoning board members?
Yes, the afternoon workshops will count towards municipal credits for planning and zoning board members.