Description
West Sacramento Parks & Recreation in partnership with IGDA Sacramento presents:
The 3rd Annual Sacramento Indie Arcade Expo!!!

Are you ready for your nerd & geek fires to be lit, California?!
Sure you are. ;-)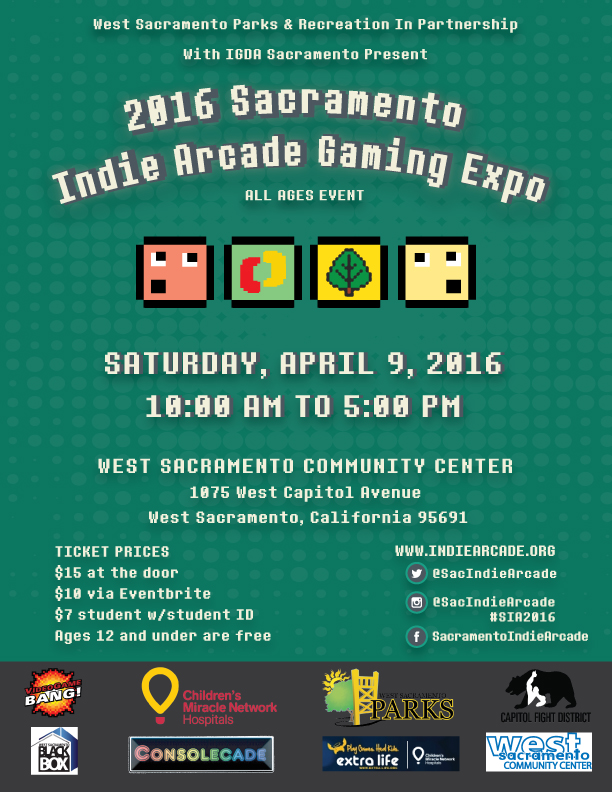 For our 3rd annual event, we have 1-upped once again! This time, we head to the City of West Sacramento at their awesome West Sacramento Community Center! This venue will be our biggest yet! And that means, the amount of Gaming & Speaker events, plus Tournaments & other Retro gaming events will be fitting that bill! We're also psyched to be working with some nerd & geek collaborators to bring it all together!
We will be providing frequent updates on the list of Game Developers, Speakers/Panels, Tournaments, Performances, Vendors, & other special events, as we lead into this day of supporting & celebrating the Local Indie Developer community & respecting the Pew-Pews!
For the most current info, RSVP on Facebook.
---
Indie Game Developers & Games (MORE TO BE ADDED SOON!)
• Project Settlement by Chicken & Bits
• Vektor Prix by David Joslin
• Bank Foreclosure Millionaire by Terry Bontemps
• Idle Outbreak, Mow & Go Racing by TableStar Games
• Labyrinth of Bamboo by Ninja Panda Studios
• Rocket Squad, Barricado & Barricado Revolutions by Black Straw Games
• Armored ACORNs by Nexcra Software
• Clothesline Carnage by Derrick Wierzbicki
• Raging Snakes by David Newel
• Crumple: Episode 1 & Kinship by Nascent Games, LLC
• Rogue Continuum by Rocktastic Games
• Red Cobra by Adversary Games
• Ill-Fated by One-Up Games
• Venture Forth by ArcLight Worlds
• Zomburbs by Illumin8
---
Speakers & Panelists
Cat Wendt (IGDA Women in Gaming)
William Tan (Rocktastic Games)
Michelle Hiil (IGDA Scholar/2K Games)
Thomas Espinoza (Black Shell Media)
Ian Pollock (CSU East Bay)
Clare & Jateen Bhakta (Ninja Pandas)
Video Game Bang (Online Video Game Podcast/Nerd Reactor)
---
Tournaments
Street Fighter V (PS4) by Capitol Fight District
Mario Kart 8 (Wii U)
Super Smash Bros (Wii U)
Retro Game Challenges by Consolecade
---
Performances
---
Special Guests
Atari Party
Extra Life
Consolecade
IGX (Intergalactic Expo)
Rockage (San Jose)
Sac Geeks
---
Ticket prices for this event:
Adults (Early Bird): $10
Adults (at the door): $15
Students (Must show valid school ID at the door): $7
Kids 12 yrs old & under: Free!
---
Thank you to our 2016 Sponsors:
Black Shell Media LLC
Cafe Colonial
Consolecade
Escape Sacramento
Video Game Bang



Share this event on Facebook and Twitter

We hope you can make it!

Cheers,
IGDA Sacramento Chapter
Date and Time
Location
West Sacramento Community Center
1075 West Capitol Avenue
West Sacramento, CA 95691