2016 Push Up Challenge - Trifecta

Friday, April 29, 2016 from 6:00 PM to 7:00 PM (MDT)
Event Details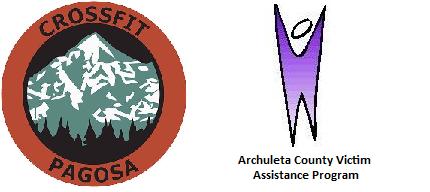 CrossFit Pagosa and the Archuleta County Victim Assistance Program
are teaming up this year for the 2016
Push Up Challenge - Trifecta
A fun, friendly competition to push-up victims of
domestic violence and sexual assault in
Archuleta County.
Are YOU up for the challenge?
THE CHALLENGE
the New Trifecta!
         5 min Plank
         5 min Wall-sit
        20 mins to complete as many push-ups as you can. 
Knee push-ups and full push-ups are permitted. 
We have had a woman in her 70's challenge herself and she rocked it! From the young to the young at heart - anyone can do this! 

DIVISIONS
Women – Individual, 3-member team, or 6-member team

Men – Individual, 3-member team, or 6-member team

Coed 6-member team (3 women, 3 men)
COST
Each participant seeks pledges based on their push-up goal. Getting pledges is easy – ask friends and family to support you. They love to see you strong and healthy! You are challenged to raise $250.  You can do this! Minimum pledge to participate is $20.
PRIZES
All participants get an official event t-shirt.  Special prizes for division winners and pledge leaders.

PLEDGE SHEET and LIABILITY WAIVER
THE RULES
Planks: All planks will be on your forearms and toes. Participants complete a plank for as long as they can, up to 5 minutes, counting 1 point for every second. Once your legs, knees, chest or abdomen touch the mat, your time is up.

Wall Sit: All participants will 'sit' at a 90◦ angle against the wall (no wall leaning here folks!). Again, this is a 5-minute challenge, with 1 point for every second you complete. Once you move up or down from your 'sit', your time is up.

Push-ups: Full and knee push-ups are both permitted, 1 point for every knee push –up, 2 points for every full push-up. Only one team member at a time is allowed to be doing push-ups. Once one is done, another can start. Do as many as you and your team can in 20 minutes.
When & Where

CrossFit Pagosa
81 Greenbriar Drive
#B
Pagosa Springs, CO 81147


Friday, April 29, 2016 from 6:00 PM to 7:00 PM (MDT)
Add to my calendar
Organizer
Rise Above Violence (Formerly: Archuleta County Victim Assistance Program) is a non-profit organization serving victims of domestic violence, sexual assault and other violent crime.  ACVAP promotes the belief that all people have the right to live free from violence by providing extensive, 24-hour compassionate support and advocacy services to victims, their children and concerned family and friends, as well as violence prevention education and awareness projects for youth and the community.