2016 Media Done Responsibly Awards

Thursday, June 2, 2016 from 6:30 PM to 9:30 PM (PDT)
Event Details
GRAMMY nominated recording artist Shanice, star of OWN's docu-series "Flex and Shanice," is among 4 stellar entertainers being honored at the 2016 Media Done Responsibly Awards. Honorees include writer/director/comedian Rick Najera ("In Living Color," "MAD TV," CBS Diversity Showcase), actor/youth advocate McCarrie McCausland ("The Originals," NBC's "Game of Silence"), and writer/actress/educator Fanshen Cox DiGiovanni ("One Drop of Love," co-produced by Ben Affleck & Matt Damon). These media Exemplars are committed to bringing diversity to Hollywood- both in front of and behind the camera, defying outmoded stereotypes, and representing the humanity of diverse individuals through their artistry and championing of social causes. Join us for cocktails on the beach at sunset while being entertained by comedian/beat box sensation Joshua Silverstein and spoken word artists the GetLit Players as we celebrate these Exemplars of Humanity-Centered Media & Community Engagement. 
*Doors at 6:30pm, Event Start Time at 7:00pm
---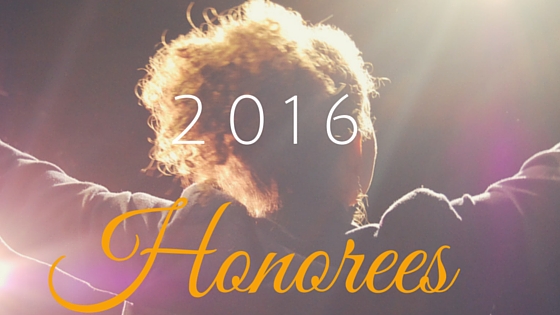 Photo: Fanshen Cox DiGiovanni, Photo Credit: Evan Tamayo
---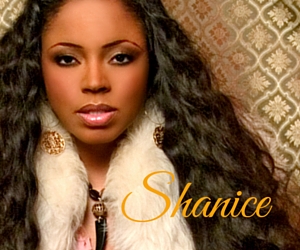 It's always been about the voice for Shanice. Boasting a five-octave range, which she handles with beauty and ease, Shanice began her career scatting with the late great legendary Ella Fitzgerald for Kentucky Fried Chicken at the tender age of 8 years old. At age of eleven, she would be discovered by John McClain, of A&M records as she performed in the musical "Get Happy", the music of Harold Arlen, at the Westwood Playhouse. She went on to become the grand champion of Star Search that same year. It was her worldwide smash, I Love Your Smile, a number one pop hit in twenty two countries, which would bring her a Grammy nomination, Germany's Golden Lion Award and international stardom at the age of eighteen!
 Shanice has won the admiration of many of the music industry's most respected names. She has collaborated with the likes of Kenny Loggins on his "Live in the Redwoods" Album, Kenny Babyface Edmunds on his MTV unplugged project as well as performing the duet, "If I Never Knew You" in English and Spanish with Latin pop star John Secada, on the multi-platinum "Pochahontas" soundtrack. On her closing night, opening for the infamous pop group N' Sync she graced the stage with pop icon Justin Timberlake at Atlanta's Lakeview Amphitheatre, when he joined her in a duet performance of her memorable ballad "Yesterday"! Shanice has performed with pop star Josh Groban in heart melting renditions of "The Prayer" in both English and Italian live at the Belagio in Las Vegas for a fundraiser given by philanthropist Michael Milken and hotel Impresario Steve Wynn.
Adding to her list of accomplishments is her thirty year record breaking chart jump in Billboard with "When I Close My Eyes", her first single on album entitled "Shanice" which she recorded on LaFace records! Now with her hit Docu-Series on the Oprah Winfrey Network, "Flex and Shanice" was ranked as the night's #1 ad-supported cable network among African-American Women 25-54.
---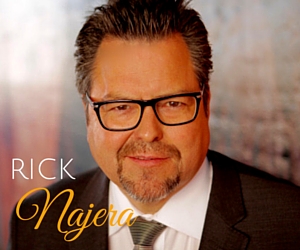 Rick Najera is a nationally acclaimed speaker and award-winning screenwriter-performer-author and comedian with credits in film, television, theatre, Broadway and new media. Rick Najera is a key media influencer with an expansive portfolio of talent. Currently he is a writer and guest star on the popular hit show on Hulu, East Los High. 
Najera also developed and hosts the new Latino Thought Makers Series for Oxnard College Performing Arts Center, interviewing top entertainment professionals in the industry such as Edward James Olmos, Esai Morales, the cast of Hulu's East Los High. Rick Najera currently directs for CBS and has directed the CBS Diversity Sketch Comedy Showcase for the last 11 consecutive years. Najera's fourth book, Almost White: Forced Confessions of a Latino in Hollywood, has garnered national attention and critical acclaim. In his memoir, Najera explores what it means to be Latino within the ever-changing backdrop of life as a Hollywood creative and offers an insider's view through an ironic yet comedic lens, from in front of the camera to behind. Almost White was awarded Most Inspirational Non-Fiction Book.
A screenwriter by trade, Najera co-wrote the feature film Nothing Like the Holidays starring Debra Messing, Alfred Molina, John Leguizamo and Luis Guzman, which won him a prestigious ALMA Award.  His writing/acting credits also include the nationally acclaimed stage play, LATINOLOGUES™ on Broadway, and was one of only three Latinos to ever write and star in their own play on Broadway. Najera has been nominated for two WGA awards for Best Writing for a Comedy/Variety Television Series for his writing on Fox's MAD TV.
---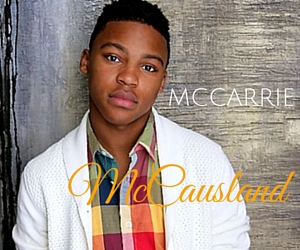 Born August 19, 2000, actor McCarrie McCausland began his television career in 2011, playing the role of 'David Burton' on ABC/Lifetime's hit drama 'Army Wives' and was nominated for a Young Artist Award for that role. A native of Orlando, FL, he relocated to Los Angeles with his mother and went on to star in several independent films, landing the recurring role of 'Young Marcel' on "The Originals' (CW Network). In 2015 he began filming NBC's "Game of Silence", playing the role of 'Young Shawn.'   The showed air on April 12th with an impressive audience of 10.7 million viewers.
Offscreen McCarrie has a passion for fashion and has developed and launched his own clothing line "Indefinite." Although acting demands most of his time and attention, he is also an anti-bullying activist and participates in various organizations and activities that embrace and support youth suicide prevention.  He hopes to help other youth overcome the daily struggles they face to feel accepted and speaks from the heart when he says  "If we change who we are to fit in, we sacrifice the greatest part of ourselves, which is our individuality. You are unique. I am unique. We don't have to fit into any labeled box."
---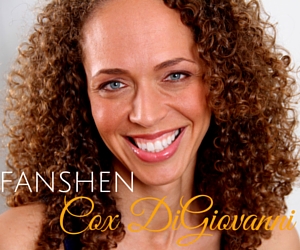 An award winning actor, producer and educator, Fanshen Cox DiGiovanni is currently touring the one woman show she wrote and performs in:One Drop of Love. One Drop travels near and far, in the past and present to explore the intersections of race, class and gender in pursuit of justice and love. The show is produced by Ben Affleck, Matt Damon and Cox DiGiovanni.
Fanshen has been featured in the New York Times and on NPR as a spokesperson on using the arts to explore racial identity. She served as a Peace Corps Volunteer in Cape Verde, West Africa, and has designed curricula for and taught English as a Second Language to students from all over the world. She has been honored with the Peace Corps' Franklin H. Williams Award, and with Peace Corps Fellows and Hollywood Foreign Press Association scholarships.
She holds a BA in Spanish and Education, an MA in TESOL, and an MFA in Acting and Performance in Film, TV and Theater. Fanshen also serves on the Board of the nonprofit MixedRootsStories.org. 
---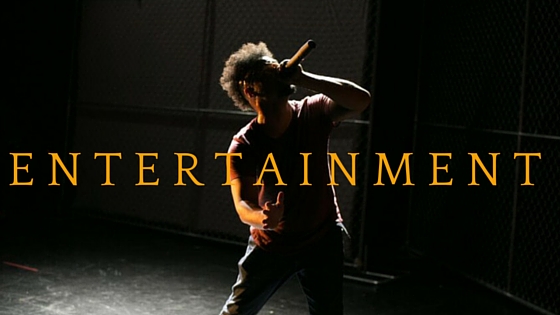 Photo: Joshua Silverstein, Photo Credit: Stephanie Fishbein 
---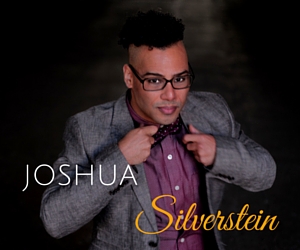 JOSHUA REUBEN SILVERSTEIN IS AN AWARD WINNING ACTOR, COMEDIC WRITER, BEATBOXER AND EDUCATOR. HIS VARIOUS PERFORMANCES AND PRODUCTIONS THROUGHOUT THE COUNTRY HAVE RECEIVED ADMIRATION FROM, NORMAN LEAR, LEVAR BURTON, JOHN LANDGRAF, STAN LATHAN, WAYNE BRADY, ANJELICA HUSTON, CRAIG ROBINSON, QUEEN LATIFAH AND PRINCE.
BEATBOXING SINCE THE AGE OF 5, JOSHUA HAS BECOME THE WEST COAST'S MOST SOUGHT AFTER BEATBOXER. HIS VARIOUS COLLABORATIONS WITH ARTISTS SUCH AS SLASH FROM GUNS AND ROSES AND POETIC ICONS JERRY QUICKLEY, AND URSULA RUCKER HAVE EARNED HIM THE TITLE OF "THE HARDEST-WORKING PERFORMER IN L.A.".
HIS TWO-PERSON SHOW, "SO FRESH AND SO CLEAN," WITH ACTOR/POET, JOE HERNANDEZ-KOLSKI HAS BEEN RECEIVING RAVE REVIEWS SINCE ITS DEBUT AT THE BANG COMEDY THEATER IN LOS ANGELES IN 2008. IT WAS ADDITIONALLY PRESENTED AT THE COMEDY CENTRAL STAGE AND ARS NOVA IN NEW YORK CITY.
JOSHUA HAS GONE ON TO PROVIDE AND FACILITATE UNCOUNTABLE THEATER, IMPROVISATION AND SPOKEN WORD WORKSHOPS / IN-SCHOOL RESIDENCIES, ALL DESIGNED TO CREATE A SAFE AND OPEN SPACE WHERE YOUTH INDULGE IN THE FREEDOM OF CREATIVE EXPRESSION. YOU CAN CURRENTLY CATCH JOSHUA DURING THE SCHOOL YEAR AS THE CO-HOST AND CO PRODUCER OF EMMY WINNING, DOWNBEAT 720; A HIGH SCHOOL OPEN-MIC THAT HAS BEEN A STAPLE OF SANTA MONICA FOR THE LAST 14 YEARS. JOSHUA ALSO PERFORMS WITH ELIZA SKINNER FOR TURNT UP; A MONTHLY COMEDIAN EMCEE BATTLE THAT TAKES PLACE ONCE A MONTH AT UPRIGHT CITIZENS BRIGADE IN LA.
---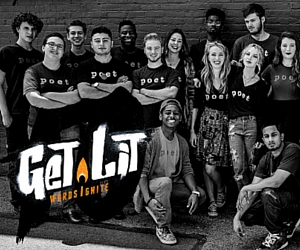 Get Lit - Words Ignite is a nationally recognized organization founded to stem dropout rates and spark dramatically increased literacy among youth in Los Angeles. Through an innovative curriculum that fuses classic, iconic poetry with students' original spoken word responses, Get Lit places the greatest poets of our time in dialogue with over 20,000 teens each year who transform their lives and communities through art and social consciousness. "Claim your poem, claim your life." 
The Get Lit Players are a troupe of young poets who have burst to repute by spitting their own raw, fearless truth. These teens reach over 25,000 fellow students each year who find their voices through classic and spoken word poetry. They have performed at the White House, the Kennedy Center, the Hollywood Bowl, and even traveled to London. They were recently commissioned to introduce the United Nations' Global Goals with their manifesto, "Project Everyone." They are teaching Los Angeles, America, and the world that the voices of youth matter.
---
When & Where

Annenberg Community Beach House
415 Pacific Coast Highway
Santa Monica, CA 90402


Thursday, June 2, 2016 from 6:30 PM to 9:30 PM (PDT)
Add to my calendar
Organizer
Media Done Responsibly (MDR) is a mentor and leadership development 501c3 nonprofit organization that trains student innovators to be conscious consumers, creators and advocates of media that reflects their full humanity across race, socio-economic background, gender, religion or sexual orientation.  MDR provides youth with support systems, exposure to higher education, a community of supportive peer advocates, and a network of industry professionals. It uses a peer train-the-trainer model that develops media leaders on a path from high school to college to career.
Media Done Responsibly recently received an Impact Award from the L.A. Urban Roundtable and was honored  with a 2016 John Anson Ford Award by the Los Angeles Human Relations Commission. Founder and President Shaunelle Curry has been named an Unsung Hero of Los Angeles County by the California Community Foundation for her work with MDR.