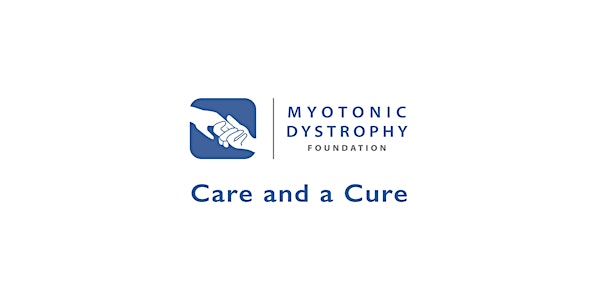 2016 MDF Annual Conference
When and where
Location
Crystal Gateway Marriott 1700 Jefferson Davis Highway Arlington, VA 22202
Refund Policy
Contact the organizer to request a refund.
Description

EVENT OVERVIEW
The Myotonic Dystrophy Foundation (MDF) is pleased to announce the 2016 MDF Annual Conference, occurring Thursday, September 15 - Saturday, September 17, 2016 at the Crystal Gateway Marriott in the Washington, DC metro area, Arlington, VA. We've added an extra day to the program to accommodate an expanded array of research, drug development, disease management and community networking programs.
This year MDF will host the the first-ever myotonic dystrophy (DM) community meeting on Patient Focused Drug Development (PFDD), an initiative launched by the Food and Drug Administration (FDA) to help it and other federal agency representatives learn about the disease issues that are most important to DM patients and families. You can watch a short video to learn more about the PFDD initiative here.
Don't miss this one-time opportunity - we need your voice!
---
REGISTRATION FEE & TICKETS
The 2016 registration fee provides entrance to all conference events, including the PFDD meeting, general and breakout sessions organized by tracks, the Friday evening social event, and other special events.
Food and beverages provided at the Friday evening reception, the Saturday breakfast and lunch, and the Saturday evening dinner and closing party are also included in the conference fee. Please note: meals on Thursday, and Friday breakfast and lunch are not included in your registration. Extra fees apply for the Capitol Hill Day and noontime congressional briefing.
Registering for the conference does not reserve your hotel room. Please contact the hotel directly to book your room. See below for more information on accommodations.
If you wish to participate in the Hill Day advocacy meetings and/or the noon congressional briefing on Capitol Hill, please select the appropriate boxes on the ticket section above to purchase separate tickets for these events in addition to your conference registration. These activities are $10 each. MDF will provide bus transportation to and from the Hill for Hill Day participants. A boxed lunch is included in the noon congressional briefing fee.
Individual meetings with Senators and their staff will take place in the morning. The MDF Congressional Briefing takes place from noon to 1:00 PM and includes a presentation to members of different legislative offices. Meetings with Representatives and their staff will take place in the afternoon.
Transportation is provided to the Hill in the morning at 9:00 AM. MDF buses will return to the hotel at 1:00 PM and again at 4:30 PM. Transport at any other time will be the responsibility of the participant.
Hill Day Agenda: Friday, September 16
8:30 – 8:55 AM: Training
9:00 – 9:20 AM: Buses to the Hill
9:30 – 12:00 PM: Congressional Meetings (Senate)
12:00 – 1:00 PM: Congressional Briefing
1:00 PM: Lunch Provided for Congressional Briefing Attendees
1:00 PM: First Buses Return to Hotel
1:30 – 3:00 PM: Congressional Meetings (House of Representatives)
4:30 PM: Final Buses Return to Hotel
---
ACCOMMODATIONS
This year's conference will take place at the Crystal Gateway Marriott. The room block is now full for certain nights. If you still need a hotel room and are arriving Wednesday or Thursday, please contact Event Manager, Michael Burns at michael@skyeventsmanagement.com. If you are arriving Friday or Saturday, please call 1 (800) 228-9290 and be sure to mention the MDF room block to get the discounted rate of $139 per night.
Conference attendees are responsible for making their own airfare and transportation arrangements to and from the hotel. MDF cannot reimburse travel, hotel accommodations, or parking expenses for conference participants.
---
PROGRAMS & TRACKS
The 2016 MDF Annual Conference is MDF's most comprehensive yet! This year's conference features five tracks, including:
The popular Physician-Led Track providing information on disease and symptom management led by professional clinicians and therapists
The Research Track, introduced in 2015 and featuring updates on DM research and drug development
A new DM2 Track targeted to people and families living with DM2
The Juvenile-Onset Adult (JOA) Track featuring programming specifically for adults and families living with juvenile-onset DM
A new Professionals Track, targeted to professional DM researchers and clinicians (this track is closed to the general public)
This year's conference will also feature additional networking opportunities, the popular advocacy Hill Day and congressional briefing, and new programs designed for first timers, including a DM101 session on Friday morning and Saturday to help first time attendees via a general disease overview, and the First Timers' Tea, introduced in 2015 and continued by community request.
An overview of the three-day conference program is below. For a complete conference overview and access to the Community and Professional agendas, click here.
---
THURSDAY
MORNING
The Professionals Track will open with a Drug Development Roundtable meeting Thursday morning (closed to the public).
Family members can engage in morning networking meetings or explore WA, DC.
AFTERNOON
Thursday at 12:15 PM interested family members, industry representatives, academic researchers and other participants will travel to the Patient Focused Drug Development Meeting (PFDD) by private coach. The PFDD meeting runs from 1-4 PM. Attendees will be bused back to the conference hotel by private coach.
EVENING
Thursday evening is free time.
---
FRIDAY
MORNING
Friday morning opens with a Welcome and plenary, followed by:
Hill Day briefing and transportation to Capitol Hill for congressional meetings and legislative briefing for attendees who have signed up
Physician-Led Track breakout sessions, including DM101 - Overview for Newly-Diagnosed Families; Live Long, Live Well: A Current Approach to Palliative Care; and DM & Intimacy: Talking to Your Doctor
Resource & Vendor Fair
Community networking meetings
Closed Professional Track meetings on Endpoint Protocol Alignment for international PTs; industry and academic poster and discussion session; and a private session for Fellows
AFTERNOON
Community networking programs
Support Group Facilitators team meeting (closed)
Hill Day meetings on Capitol Hill
First Timers' Tea
Community Advisors meeting (closed)
Myotonic Dystrophy Clinical Research Network (DMCRN) meeting (closed)
Fellows and Researchers Grantwriting Training
PT & CRC meetings (closed)
EVENING
Welcome Reception open to all conference attendees
---
SATURDAY
MORNING
BREAKFAST - open to all attendees
Physician-Led Track breakout sessions, including Occupational Therapy: Getting a Grip on Daily Activity; DM & the GI Tract: Overview & Symptom Management; DM 101 - Overview for Newly-Diagnosed Families; DM Pulmonary Considerations: Science & Management Strategies; DM & Exercise: A Panel Discussion ; DM & Intimacy - Talking with Your Partner; caregiver panels and more
Research Track featuring updates on current research initiatives
JOA Track featuring a Stump the Doctor session with Dr. Charles Thornton
DM2 Track featuring symptom overview and management discussion with Dr. John Day and a DM2 research update from Drs. Chad Heatwole, Day and others
Professionals Track including updates on key DM research programs; SAC lunch meeting; and an overview for clinicians:

Supporting Patients - DM & Sexuality (track for professionals only)
LUNCH - open to all attendees
AFTERNOON
Physician-Led Track breakout sessions, including DM & Family Planning; OT/ADL-NEED TITLE; and DM & GI Health
Research Track including a new poster session for community members featuring research study posters presented by Fellows and other researchers
JOA Track sessions
General Sessions on DM & the Brain - Symptoms & Research; a panel presentation on current developments in early stage therapy development presented by industry representatives; and an update on current clinical trials of potential DM therapies
Conference Q&A panel session
MDF Community Awards presentation and short film screening: MDF Heroes
EVENING
DINNER & CLOSING PARTY - open to all attendees
---
CHILDCARE
Childcare is not provided at the conference. Please make all necessary arrangements prior to arrival so that you are able to take advantage of all that the conference has to offer. Visit www.care.com to find experienced caregivers that fit within your personal budget and specific needs. MDF members traveling with young children are also encouraged to visit the MDF Facebook page to solicit interest in shared childcare opportunities with other conference attendees.
---
REGISTRATION CANCELLATION & REFUND POLICY
We understand that circumstances can change. MDF contracts for conference presenter, travel and hotel services 6-9 months in advance and adjusts those contracts based on registrations. We are therefore unfortunately unable to process registration cancellations after Friday, August 12, 2016. If you are unable to attend, you may transfer your registration to another guest by emailing conference@myotonic.org.
---
ADDITIONAL INFORMATION
More information about the conference program and hotel are available here.
For registration questions or for assistance with registration contact Michael Burns at 888-605-8161 or email us at conference@myotonic.org.