Event Information
Location
Hampshire College, Amherst Ma
893 West Street
Amherst, MA 01002
United States
Description
SUSTAINABILITY ON CAMPUS & MAIN STREET
5th Massachusetts Sustainable Campuses Conference
6th Massachusetts Sustainable Communities Conference
April 15, 2016 Hampshire College
April 16, 2016 Northampton, MA
www.MaSustainableCommunities.com #MaSustainability

Sign up for one or two days!
Online registration ended April 8.
Walk-In Registration Available. See fees below.

CONFERENCE
The Massachusetts Sustainable Communities and Campuses Conferences connects stakeholders from government, education, business, and nonprofits and learners interested in sustainable development.

OBJECTIVES
Engage in cross-sector dialogues
Learn from leading experts
Go home with knowledge and resources for community and campus sustainability
WHO SHOULD ATTEND
Municipal and state government officials and staff

Higher education and K-12 staff, faculty, and students

Business owners, staff, representatives

Non-profit and community members and leaders

Everyone interested in sustainability
20 EXHIBITORS
Resources for campus/community sustainability

Businesses with products and services

College certificate and degree programs

Government agencies

Community organizations and non-profits
Leading experts from state and local government

College experts on campus initiatives

Business experts with products and services

Nonprofit and community leaders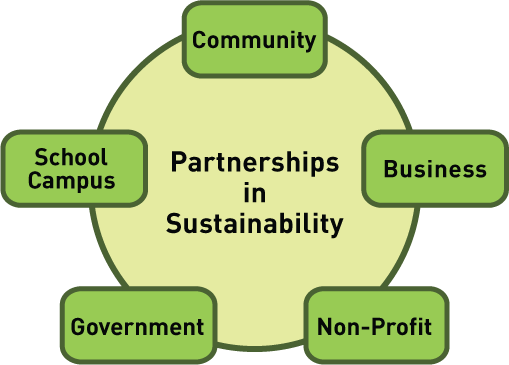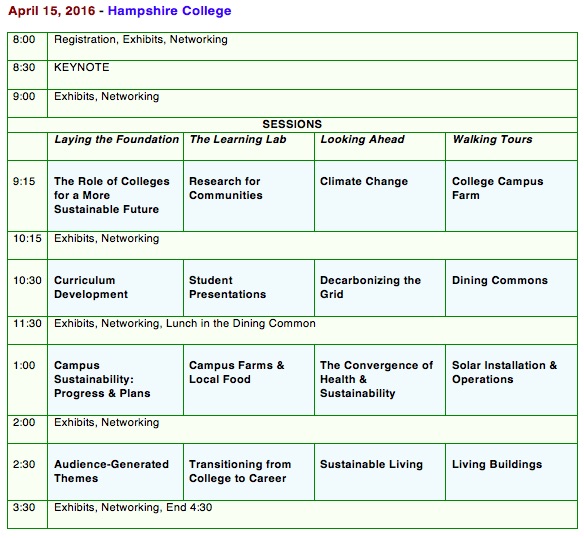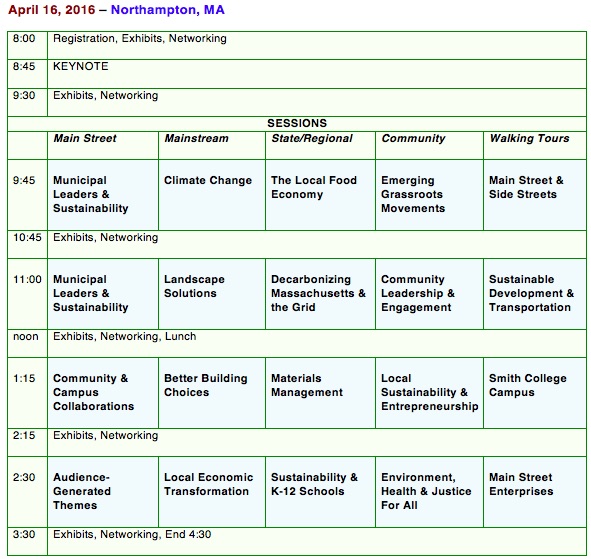 April 15 WALK-IN REGISTRATION FEE

Includes exhibits, presentations, keynote, networking, tours, lunch buffet
$75 Regular

$50 Student, Senior 65+

$50 Hampshire College staff, faculty

$25 Hampshire Colllege student

April 16 WALK-IN REGISTRATION FEE

Includes exhibits, presentations, keynote, networking, tours

Purchase lunch at a nearby restaurant/deli or BYOLunch

$50 Regular

$25 Grassroots Group, Environmental Organization Member

$25 Senior 65+

FREE College student

FREE Teacher chaperone with student group

PAYMENT: Cash or check preferred. Credit card info accepted.



GREEN EVENT FEATURES
Reduced materials

Zero waste, recycling, composting

Selected organic food & beverage items

Estimated CO2 created by this event from car travel and building offset by a donation to a local environmental organization

Public transportation info

Carpooling assistance

Detailed list of green event features posted at www.MaSustainableCommunities.com
Academy of Music Theatre and other locations on Main Street, Northampton, MA

Hampshire College, Amherst MA

Directions and Lodging info
CONFERENCE HOST
An advisory and on-site team of professionals from communities, colleges, businesses, government and non-profits support this conference hosted by Green Workforce Training.
Date and time
Location
Hampshire College, Amherst Ma
893 West Street
Amherst, MA 01002
United States