2016 Long Beach Touch-A-Truck; Sun., May 1, 9:30 a.m.

Sunday, May 1, 2016 from 9:30 AM to 1:00 PM (PDT)
Event Details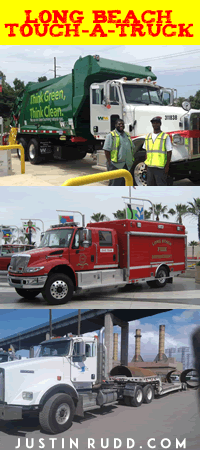 Pre-registration required: More than 100 large vehicles on display May 1 for free, 2nd annual "Long Beach Touch-A-Truck" interactive event


NOTE: Every human will need to be pre-registered, regardless of age, since a liability waiver is required for each attendee.  If under age 1, then input age as "1". Register here for free: https://2016touchatruck.eventbrite.com


We expect to have a wristband for every pre-registrant.  Avoid the Granada Ave./Ocean Blvd. traffic intersection because of heavy traffic during the event.    The beach lots will fill up very early on Sunday morning, so we suggest avoiding them.

We suggest parking along Second Street in a public parking lot and then walking three blocks south to the event.  Or, take a cab/Uber to a location about a block or two from the event.  Pre-registration is required for every kid and adult: https://2016touchatruck.eventbrite.com  We highly suggest walking or biking to the event. 

General admission is 9:30-12:30.  Pre-registrants will have their names on the list at the check-in tents next to the Granada Ave. boat launch ramp when they arrive.  They can pick up their boarding pass wristbands there.  There are no printed tickets.

Bring cash if you want a $10 event shirt, bottled waters, and food trucks purchases. 


VIP half hour: 9-9:30 a.m. only for children with disabilities and special needs.

PHOTOS OF THIS YEARS TRUCKS 


Expected vehicles, so far:

Ability Tri-Modal, Volvo big rig Ronald McDonald House trailer
18-wheel dump truck
1988 BMY 5-ton Military Cargo Truck
American Integrated Services - 120 Barrel Vacuum Truck
American Integrated Services - Emergency Response Trailer
American Integrated Services - Emergency Response Unit
American Integrated Services - Skid Steer Loader
American Red Cross: emergency response vehicle
Aquarium of the Pacific, Aquarium on Wheels
Associated Ready Mix Concrete truck
Barney Hole Digging, track drill
Best Moving & Storage, 2015 Freightliner with a 26 foot box and granny attic 
Big Red Bus
Bobby Friedman's Jeep
Boys & Girls Club, van
Brandon Martinez's 1957 Volkswagen Beetle
CalPortland, Ready-mix truck 
Car Seat Safety: vehicle
CHP PIUV vehicle, Officer Yarbrough
Claudia Torres' Harley-Davidson
COA, 2015 Chevy Boxtruck
Corner Bakery 2015 Ford Transit van, cookies and free kids meal certificates
Courtney Pettijohn & Chris' 1986 K5 Chevy Blazer
Crew, Inc., big rig and trailer 
Crew, Inc., front wheel loader
CSULB shuttle bus
David Clement's 1976 Yamaha yz125 dirt bike
David Clement's Superbike Ducati 1098
Dependable Highway Express 2017 Volvo
Dr. Paula's Mobile Veterinary Services
Drew Hayes, 1974 Dodge Winnebago
Duncan Bolt, 16' stakebed trucks
EDCO refuse truck
Fast Glass, 2014 Mercedes Benz Sprinter (the long tall version), with a glass rack and tools.
Firefighters Local 372 BBQ for hot dogs
Good Times Ice Cream Truck, 1966 IH Metro Mite truck, selling ice creams
Goodwill's 2012 International 24 ft. straight box truck
H&R Block van
Jason McGoff, 1988 Ford Ranger.  Class 1450 off-road racing
Jeff and Marsi Skinner's 1926 Ford Model T 4-door "Fordor" sedan
Jeff Grahovec's Kenworth!
Jen Disney's 1950 Ford F-1
John Molina's classic car
Jonathan Schnack's golf cart
Keesal, Young & Logan, limousine  
Lisa West's son's prerunner
Lisa's son's friend's black truck
Long Beach Animal Care Services, truck and some adoptable animals
Long Beach CVB Landscaping Truck
Long Beach Environmental Health Disaster Response vehicle 
Long Beach Fire Department: engine
Long Beach Fire Department: truck
Long Beach Fire Museum: firetruck
Long Beach fleet services: Tow Truck
Long Beach Gas & Oil: Backhoe
Long Beach Gas & Oil: Dump Truck
Long Beach Gas & Oil: Gas Crew Truck
Long Beach Lifeguard truck with swiftwater boat/trailer attached
Long Beach Police cruiser
Long Beach Police Jeep
Long Beach Police Mobile Eye
Long Beach Police Port Police Dive Van 
Long Beach Police Prowler, used at the Port
Long Beach PRM Cherry Picker/Crane
Long Beach PRM John Deere, large
Long Beach PRM John Deere, medium
Long Beach Transit, 60-foot articulated bus
Long Beach Water Dept. Crane Truck
Long Beach Water Dept. Dump Truck
Marcel Waffles
Matt's 2004 Chenowith prerunner
Mayor Logistics 2011 International Pro Star
Mayor Logistics 2016 Volvo VNL64T
Michelle Molina's classic truck
Mike and Ashley Boone, off-road race car
Millennium Environmental, Ford F550 truck with Geoprobe 6600 Direct Push Technology (DPT) 
Mitch Kron's 1972 Manx Dunebuggy
Molina Healthcare shuttle bus
Mountain Dew/ThinkMotive truck and tent, 10x30
Naked Juice truck 10x30
National Demolition, trophy race truck
Pat Thorpe's 1951 Dodge Power Wagon (military version)
Paul Murphy's "Tow Mater"
Paul Murphy's Scooby Doo Mystery Machine
Performance Detailing, 2005 GMC Savanna Pro van, w/ 200 gallon water tank, gas pressure washer and generator.
Phantom Food Truck
PIRTEK Long Beach Ford E-250 
Port of LB: Crane
Republic Waste Services recycling truck
Rice Balls of Fire food truck
Roxanne's, 1936 Ford pickup
Roxanne's, 2006 Ford F250
Roxanne's, 2009 International Prosta
Ryan's Specialized, 2015 Dodge 4500 flat bed Hot Shot / Pilot Truck 
Ryan's Specialized, 2016 Kenworth T880 Heavy Haul Truck with a 2016 Landoll 50 ton 3 axle trailer 
Sonic Excellence, 1954 Cadillac Coup de Ville
Sonic Excellence, 1964 Lincoln Continental
Sonic Excellence, 2014 Mercedes Sprinter: Audio Video Installation truck
St. Anthony High School van 
St. Nicks, 45' TEREX LT40P Boom Truck
Steve's desert car
Terrell Rayfield's 99 Chevy 3500 Dually Stake Bed
Toyota Tacoma Pre-Runner
Truck w/ boat on a trailer
Urban Espresso, food truck
Wafl Truck
Waste Management refuse truck
Woody's Grill Truck
Yellow Cab - 2011 Toyota Sienna van
YMCA vehicle


Website:  www.JustinRudd.com/truck 
FREE Tickets: https://longbeachtouchatruck.eventbrite.com 
Facebook: www.facebook.com/LongBeachTouchATruck
Contact: Justin@JustinRudd.com  
Attendee List
Sort by:

Date

|

First Name

|

Last Name
When & Where

Granada Ave. beachfront parking lot
1 Granada Ave.
Long Beach, CA 90803


Sunday, May 1, 2016 from 9:30 AM to 1:00 PM (PDT)
Add to my calendar
Organizer
Justin Rudd!
Justin's Community Action Team (CAT) promotes social well-being among the general public. As a 501c3 nonprofit corporation governed by a board of directors, contributions to CAT are tax deductible and are used to help produce quality events within our community that benefit children, animals, and the environment.

2016 Long Beach Touch-A-Truck; Sun., May 1, 9:30 a.m.