2016 KCCNY Memorial Day Weekend Slalom Clinic & Race

Saturday, May 28, 2016 at 8:00 AM

-

Sunday, May 29, 2016 at 5:00 PM (EDT)
Event Details
Paddling in slalom gates is a great way to develop your boat control skills in a relatively safe and controlled environment.  By challenging paddlers to successfully negotiate a series of roughly 3-foot wide gates hanging over a section of river, whitewater slalom artificially increases the difficuly of a given run without increasing the danger.  Failure to negotiate a gate successfully merely means hitting a hanging gate pole(s) or missing the gate completely, not crashing into a boulder.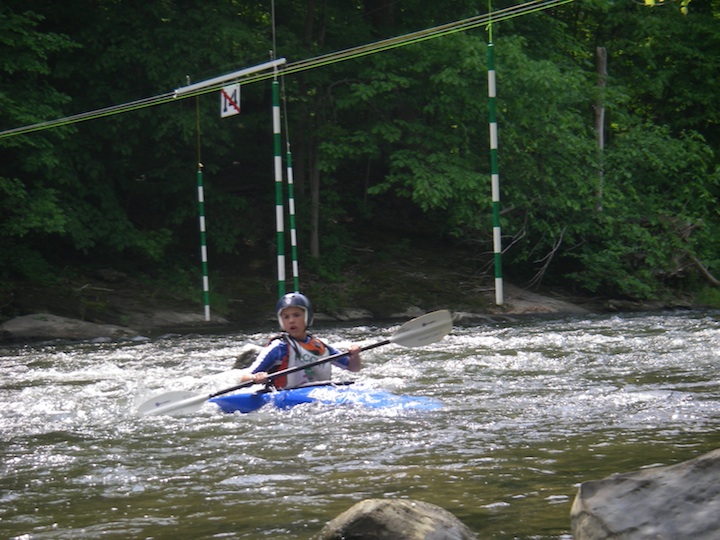 This weekend clinic, which is co-organized by KCCNY and the ACA Atlantic Division Open Canoe Slalom  Committee, is intended to introduce novice and intermediate paddlers to slalom competition as a means to enhance their whitewater skills and assumes some river paddling competence. Special emphasis is placed on youngsters and women at this event. The Slalom Clinic/Race will be held held on the Class 1 whitewater of the Ten Mile River at Webatuck Craft Village, Wingdale, NY.
The competition is divided into novice and expert divisions with the emphasis on instruction rather than competition. The race is further broken down into classes that are defined by the number of paddlers (solo or tandem), their sex, their age, and/or the type and length of their boat. The race will include classes for "recreational" (REC) whitewater boats, separate from the specialized slalom boat classes. While a limited number of open and decked slalom boats may be available for participants to try out, if you have a whitewater boat of any type, please bring it so that there will be no waiting lines for boats when the clinic is in progress.
Whitewater canoe and kayak slalom is a timed event over a prescribed course, not unlike ski slalom, but with some notable differences. The gates, which are numbered, must be run in order. Some of the gates, with green and white poles, require the paddler to paddle downstream through them, while others, with red and white poles, require upstream negotiation. The clear gate number shows the side to approach the gate and the red slashed gate number is the exit side of the gate. It is permissible to run a gate in a reverse, or stern first, attitude to make the gate easier to negotiate. In addition to time, penalties are assessed for touching or missing the gates. These penalties are added to the time in seconds to form a total score for the run. Both open and closed boats use the better of their two runs for the final ranking. 
EVENT SCHEDULE:
Saturday
08:00 AM - 9:30 AM:     Late Registration
09:30 AM -  3:30 PM:    Slalom Clinic (Course Set-up & Instruction)
3:30 PM - Dark:               Open Practice
Sunday
Dawn - 09:45 AM:          Open Practice
10:00 AM - 10:15 AM:     Competitor's Meeting
10:30 AM - Finish:           Slalom Race
Immediately after race:  Course Take Down
After course take down: Awards
DIRECTIONS:
From the the New York City Area: The race site is located at Webatuck Craft Village on Route 55 between Route 22 near Wingdale, NY, to the west, and Gaylordsville, CT, on Route 7 to the east. Use one of several routes to I-287 to the White Plains area and go north on I-684. I-684 becomes Route 22, about 23 miles north of White Plains, when it crosses I-84. Proceed north, about another 19 miles, to and through Wingdale, NY, and turn east on Route 55 and go about 2 1/2 miles to the race site.
From New England: Use Route 7, north from Exit 7 on I-84 for 18 miles, or south from Exit 2 on the Mass Turnpike, I-90, for south on Route 7 for 49 miles to Gaylordsville, CT. At Gaylordsville take Route 55 west for about 3 miles to the race site at Webatuck Craft Village.

At the Race Site: At Webatuck Craft Village, turn north on Webatuck Road (County Route 22) into the Craft Village; go across the bridge, past the furniture showroom and parking lot on the left, then turn left into the driveway. Our sign: 'Clinic Camping' will be posted. Go to the top of the hill into the Main factory parking lot and turn left and proceed to the south end of the lot for Clinic parking and camping. This area is only a short carry for your boat(s) to the river. We ask that you do NOT unload your boats in the parking areas for the Craft Village businesses as they are limited and we've agreed not to use them.
Via GPS: "16 Dog Tail Corners Road, Wingdale, NY" is the address of the Hunt Country Furniture showroom at Webatuck Craft Village.  Follow GPS to this address and then use the "At the Race Site" directions above to find the Clinic parking and camping area.    
AREA SERVICES:
The Webatuck Craft Village Association has made a portable toilet available in the parking lot adjacent to the camping area. The toilets in the Craft Village and factory buildings will not be available to clinic participants. There are several craft shops, a gift shop, and our host - Hunt Country Furniture. (NOTE:  Buttonwood Cafe,  the restaurant located across the river from the clinic HQ and the rest of the Craft  Village, has closed.  The gift shop opposite the Hunt Country Furniture showroom that subsequently sold sandwiches, pastries, snacks, and hot and cold beverages is also no longer in operation, so food and beverages must be either brought from home or purchased off site in one of the surrounding villages.)  Van and tent camping, including some picnic tables, is available  at the south end of the upper parking lot near the Hunt furniture factory on both  Friday and Saturday nights.  The nearest motel accomodations are the Dutchess Motor  Lodge in Wingdale, NY (www.dutchessmotorlodge.com - 845-823-6400 or 914-525-9276).  There are several small towns within a 5-mile radius that have additional camping,  lodging, and dining amenities.  A web search for amenities in the towns of Wingdale, NY, and Gaylordsville, CT, will show choices for the nearest towns to the west and  east, respectively, but following are a few of the closest:
Alfredo's Restaurant & Pizza, 651 Kent Rd., Gaylordsville, CT, 860-355-2448 (7 min.)
Cousin's Bakery, Deli, & Pizza, 1815 Route 22, Wingdale, NY, 845-832-6510 (3 min.)
Big W's Roadside Bar-B-Que, 1475 Route 22, Wingdale, NY, 845-832-6200 (5 min.)
Gaylordsville Diner, 11 George Washington Plaza, Gaylordsville, 860-210-1622 (7 min.)
Peking Kitchen, 4 Merchants Square, Route 22, Wingdale, NY, 845-832-9500 (2 min.)
Post 22, 3161 Route 22, Patterson, NY, 845-878-1011 (15 min.)
CLINIC:
The Clinic on Saturday begins with hands-on learning of how to set-up a slalom course.  After completion of course set-up, instruction on how to paddle a slalom course will be broken down at the discretion of the organizers into at least three groups (e.g. kayaks, solo canoes and tandem canoes) and will last about an additional two hours.  Practice on the course during the clinic will be reserved for clinic participants.
RACE CLASSES: 
Classes will be divided into Novice and Expert divisions as required. A paddler who has finished in either the top three in an NESS class of five or more boats or the top 50 percent in Slalom Nationals in either open or closed boat will be considered an expert. The race chairman reserves the right to reassign any competitor to the other division in order to maintain fair competition. Experts may enter up to three classes in the race and may be asked to help with instruction in the clinic. All others may enter two classes in the slalom race and one in the clinic.
OC-1 Short (13') for men, women, masters (40 or over*), and juniors (under 19*); OC-1 Medium (15') for men, women, masters, and juniors; OC-2 (15') for men, women, mixed, masters, cadet/senior, and juniors; C-1 for men, women, masters, juniors, and cadets (under 15*); C-2 for men, women, mixed, cadet/senior, masters, juniors, and cadets, and, K-1 for men, women, masters, juniors, and cadets. Separate REC classes for recreational whitewater boats of any length will be held in each class as required. (*Age as of December 31 of the calendar year of competition.)
RACE OPERATIONS:
Open boats will use the 2007 ACA OC Slalom Racing Rules, with 10 penalty seconds per gate touched and the better of the two runs count for final ranking. Closed boats will use the 2009 USACK Slalom Racing Rules, with 2 penalty seconds per gate touched and the better of the two runs for final ranking. Awards will be given to the top three boats in each class. All competitors will be expected to perform a work assignment during the race.
For additional information on this event, or to download a mail-in registration form and waiver as an alternative to on-line registration, click here. 
Have questions about 2016 KCCNY Memorial Day Weekend Slalom Clinic & Race?
Contact KCCNY
When & Where

Hunt Country Furniture - Webatuck Craft Village
16 Dog Tail Corners Road
Wingdale, NY 12594


Saturday, May 28, 2016 at 8:00 AM

-

Sunday, May 29, 2016 at 5:00 PM (EDT)
Add to my calendar
Organizer
The Kayak and Canoe Club of New York ("KCCNY") is one of the largest whitewater clubs in the East, and despite our name, serves New Jersey as well as Pennsylvania, Connecticut, and New York.
KCCNY features a whitewater paddling program with novice, intermediate, or expert trips planned for each weekend of the paddling season. We run rivers from Canada to the Carolinas, with most trips within a three-hour drive of New York City.
KCCNY offers instructional opportunities for everyone from the beginner through advanced paddlers. The winter pool sessions are an excellent time for boaters to begin learning or sharpening up their Eskimo roll and strokes, which definitely makes whitewater safer and more fun.
For more information or to join check out our website at kccny