| | |
| --- | --- |
| 2016 Italian American Film Festival | |
Event Details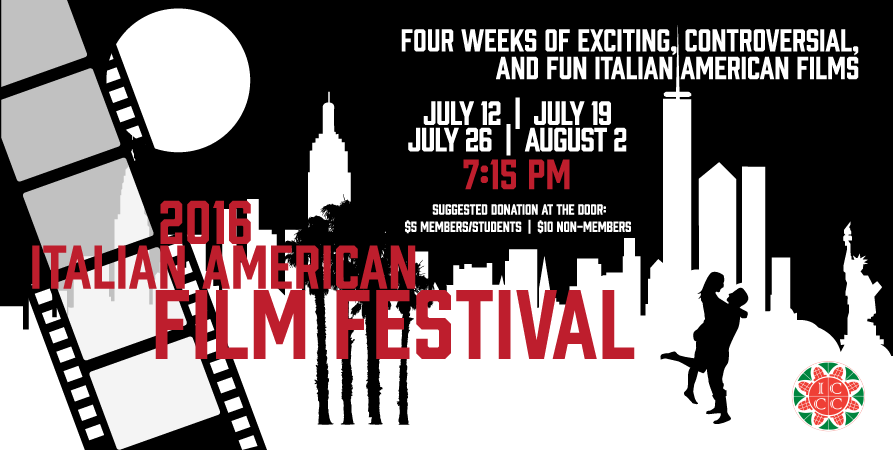 2016 Italian American Film Festival 
Tuesday, July 12, 2016  |  Tuesday, July 19, 2016
 Tuesday, July 26, 2016  |  Tuesday, August 2, 2016

Films start at 7:15 pm, doors open at 6:30pm
Suggested donation for each film (at the door):
$5 ICCC Members/Students and $10 Non-members


Join us this summer for the 2016 Italian American Film Festival. Enjoy four weeks of exciting, controversial and fun, loving Italian American films. All the films will be in English.
Moonstruck (Tuesday, July 12, 2016)
Directed by Norman Jewison, starring Cher, Nicolas Cage, and Olympia Dukakis, (1987 release, 102 minutes).
Plot: Loretta Castorini, a Brooklyn bookkeeper in her late 30s whose husband died several years earlier in a bus accident, decides it's time to get married again. So she accepts the proposal of a nice, middle-aged fellow named Johnny Cammareri. Loretta is convinced her first marriage was cursed because she and her husband had gotten married at City Hall; this time, she's determined to do things right, even as she admits to her mother, Rose, that she's not really in love with Johnny. (To which Rose replies: "Good. When you love them, they drive you crazy, 'cause they know they can." Rose speaks from rueful experience; she suspects, with good reason, that her husband, Cosmo, is cheating on her.) Loretta is convinced that marrying Johnny is the safe and sure thing to do - until she meets his estranged younger brother Ronny, who tends the ovens in a neighborhood bakery. Loretta discovers that in startling contrast to the pleasant, mild-mannered Johnny, Ronny is moody and passionate; what follow are complications worthy of a comic opera.


Mean Streets (Tuesday, July 19, 2016)
Directed by Martin Scorsese, starring Robert De Niro, Harvey Keitel, and David Prosal, (1973 release, 112 minutes).
Plot: Italian-American Charlie, who lives in the Little Italy neighborhood of New York City, leads a conflicted life. He works as a collector for his gangster uncle, Giovanni, but has empathy for those who cannot pay. Another who cannot pay is his best friend, Johnny Boy, a self destructive and somewhat unaware individual who owes money to their loan shark friend, Michael. Johnny Boy makes no effort to repay that loan or make any credible effort to stay clear of Michael while he still lavishly spends whatever money he has on having a good time. Charlie tries to keep the peace between Johnny Boy and Michael, while realizing that Johnny Boy is shirking his responsibility. Meanwhile, Charlie has been in a clandestine relationship with Johnny Boy's cousin, Teresa, an epileptic who is in love with him. Charlie, on the other hand, doesn't want to encourage Teresa in this manner in part because Giovanni doesn't approve of her as he sees her epilepsy as a major character flaw. Charlie tries to reconcile all parts of these disparate aspects of his life, on the most part unsuccessfully.

Mac (Tuesday, July 26, 2016)
Directed by John Turturro, starring John Turturro, Micheal Badalucco, and Carl Capotorto, (1992 release, 117 minutes).
Plot: Niccolo (Mac) Vitelli is the eldest of three brothers and leads their family after their beloved father dies. Their father was a builder and his sons continue in this family trade. At first, they work for Polowski, who does shoddy work and cheats on his jobs. When the brothers can no longer take being employed by such an angry vitriolic boss who takes no pride in his work, they set up their own company. Together, Vitelli Brothers Construction builds houses with pride and care. However, Mac turns out to be an overbearing workaholic, with obsessive concern about the quality of their work and incredible attention to detail. His intensity and driven ambition precludes a happy family life and eventually drives away his two happy-go-lucky brothers from his nascent construction empire.


Good Morning, Babylon (Tuesday, August 2, 2016)
Directed by Paolo Taviani and Vittorio Taviani, starring Vincent Spano, Joaquim de Almeida, and Greta Scacchi, (1987 release, 117 minutes).
Plot: After the bankruptcy of their father's stonemasonry firm, brothers Nicola and Andrea emigrate to America to restore their fortunes. After many adventures and near-disasters, they end up in Hollywood designing sets for D.W.Griffith and marry beautiful actresses, but tragedy strikes with the arrival of World War I, which finds the brothers fighting on opposite sides.

Reserve your seat today:
on Eventbrite.com
or call 713-524-4222 Ext. 7 

For more information on upcoming films and events visit us at www.ICCCHouston.com
When & Where

Italian Cultural & Community Center
1101 Milford Street
Houston, TX 77006


Organizer
Experience Italy in the heart of Houston, Texas. The Italian Cultural & Community Center's mission is to advance, celebrate and preserve Italian culture and heritage through educational, cultural and social offerings for everyone: those of Italian descent, Italian expatriates living in Houston and Italophiles, non-Italians who are interested in Italy and its culture. It is our vision to be recognized as the Houston destination for all things Italian. The Italian Cultural & Community Center of Houston is a 501(c)(3) nonprofit organization.