2016 International Trade Forum SOLD OUT!
Description

SOLD OUT!
2016 International Trade Forum: Competing in the Global Economy
Friday, December 9, 2016
Montgomery Community Media in partnership with the Maryland/DC District Export Council, the US Commercial Service, the Export-Import Bank of the United States, and the Small Business Administration present a three-hour program on the challenges and opportunities facing companies going global.
The forum will be filmed in front of a studio audience of business leaders and will be streamed live to http://www.MCMLive.org. After the livestream, it can be viewed at http://youtube.com/mymcmedia

Follow this link to learn more about the previous forum and to watch the panels online: http://www.mymcmedia.org/forum-on-international-trade/
Given that the forum will be televised/streamed, if you can't arrive at 8:15am and stay through the forum, we kindly request that you arrive/depart during one of the breaks in order to enter/exit the studio. Please see the agenda for break times.
---
Agenda
8:15 am: Registration and Light Breakfast
9-9:10 am: Introductory Remarks
David Petr, President and CEO, Montgomery County Economic Development Corporation
9:10-10:10 am Session I: Finding Business Beyond America's Borders
How companies break into new foreign markets. Specifically, how companies find opportunities, promote themselves, and make sure they are doing business with the right people.
Presenters:
Carl Livesay, Vice President, Land Sea Air Manufacturing and Member of the of the Maryland/D.C. District Export Council


Kimberly Brown, Ph.D., CEO, Amethyst Technologies, LLC

Sierra Silkman, CEO, Haemo-Sol International, LLC
Break: 10 Minutes
10:20-11:20 am Session II: Trade Finance-Finding the Resources to Go Global and Getting Paid by International Customers
Learn about the financial resources necessary to do business overseas and how companies manage the financial risks involved with exporting. Both private and public sector experts will discuss the complexities of international business transactions and will inform you of programs available to support exporters.
Presenters:
Marie Torres, International Trade Finance Manager, Ellicott Dredge Enterprises, LLC

Elizabeth Thomas, Business Development Specialist, Export-Import Bank of the United States

Eugene Sutter, International Services Division, BB&T Bank

Bill Houck, Mid-Atlantic Regional Manager, Office of International Trade, Small Business Administration
Break: 10 Minutes
11:30-12:30 pm Session III: Meet Your Local Export Resources
Understand what each resource offers and the synergies among them. You'll have an opportunity to engage with the speakers and other participating resources during the Q&A session, and at the networking session to be held right after the panel.
Presenters
B. Kyle Bayliss, Maryland SBDC Regional Director, University of Maryland College Park, University of Maryland Baltimore
Mark Rice, Founder and CEO, Maritime Applied Physics Corporation and Chairman of the Maryland/D.C. District Export Council
Julie Clowes, Deputy District Director for Washington Metropolitan Area District Office, Small Business Administration

Carla Menéndez McManus, Commercial Officer, U.S. Commercial Service, U.S. Department of Commerce
12:30-2:00pm Networking Lunch
Additional participating resources:
Barbara Ashe, Executive Vice President, Montgomery County Chamber of Commerce
David Petr, President and CEO, Montgomery County Economic Development Corporation
Martha P. Jimenez, Business Counselor and Trainer, Maryland Women's Business Center
LeAnn Young, Executive Director, Global Chamber, Baltimore
Maria Jimenez, Small Business Coach & Trainer - MD, Latino Economic Development Center
Canjor Reed, Project Director, Minority Business Development Agency
**PLEASE CONTINUE TO CHECK THE AGENDA AS IT WILL BE UPDATED AS WE PREPARE FOR THE FORUM**
Organizers: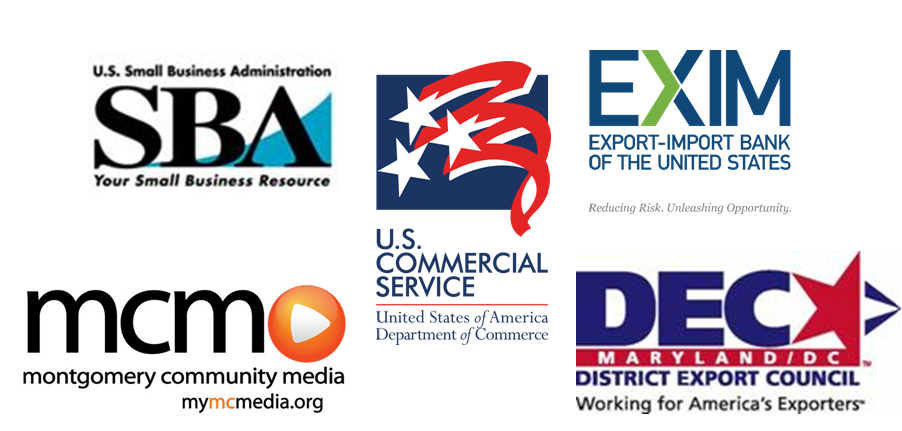 Date and Time
Location
Montgomery Community Media | Montgomery Community Television
7548 Standish Pl
Derwood, MD 20855