Event Information
Location
1240 Ala Moana Boulevard
(Formerly known as the IBM Building located across from TJ Maxx)
Honolulu, HI 96814
Description
The 6th Annual Hawai'i Chocolate Festival, the State's premier showcase of locally produced products, returns on Saturday, October 15, 2016 at Ward Village Courtyard, 1240 Ala Moana Blvd., Honolulu, Hawaii 96814. Chocolate-lovers will discover a showcase of all things chocolate!

Your admission ticket is $20* for advance purchases and $25 cash at the door and not only gets you into the festival to browse, learn about and shop for all things chocolate, but it also is your passport to 10 chocolate samples you select one each from over a dozen different exhibitors. Entrance for children 10 and younger is free. Parents can share your passports with your children. One passport per person required provides admission and sampling opportunity.

The event will be a celebration of all things chocolate featuring educational and informational displays about locally grown cacao and how it is transformed into chocolate. This is the ultimate experience for chocolate connoisseurs. Sip and savor everything from chocolate tea to chocolate bacon. There will be live entertainment, a Chocolate Inspired Spa, a Chocolate Garden, a Chocolate Tea House, and, of course, lots of chocolate tasting. A portion of the proceeds will be donated to Halau O Na Pua Kukui.

The mission of the Hawai`i Chocolate Festival is to stimulate global interest in Hawai`i's emerging chocolate industry. The festival will partner with farmers, local business, educators and government to showcase and highlight chocolate products made exclusively from Hawai`i-grown cacao beans. Hawai'i is the only state in the U.S. currently growing cacao.
Presented by Special Events Hawaii in conjunction with the Hawaii Department of Agriculture, Innovate Hawaii, Hawaii Chocolate and Cacao Association, Ward Village, Honolulu Magazine, the City and County of Honolulu, and the Hawaii Tourism Authority. To contact us directly email HawaiiChocolateFestival@gmail.com.

For festival information visit
www.HawaiiChocolateFestival.com
*Eventbrite ticket processing fee applies
Sorry for the inconvience but we do not offer any refunds.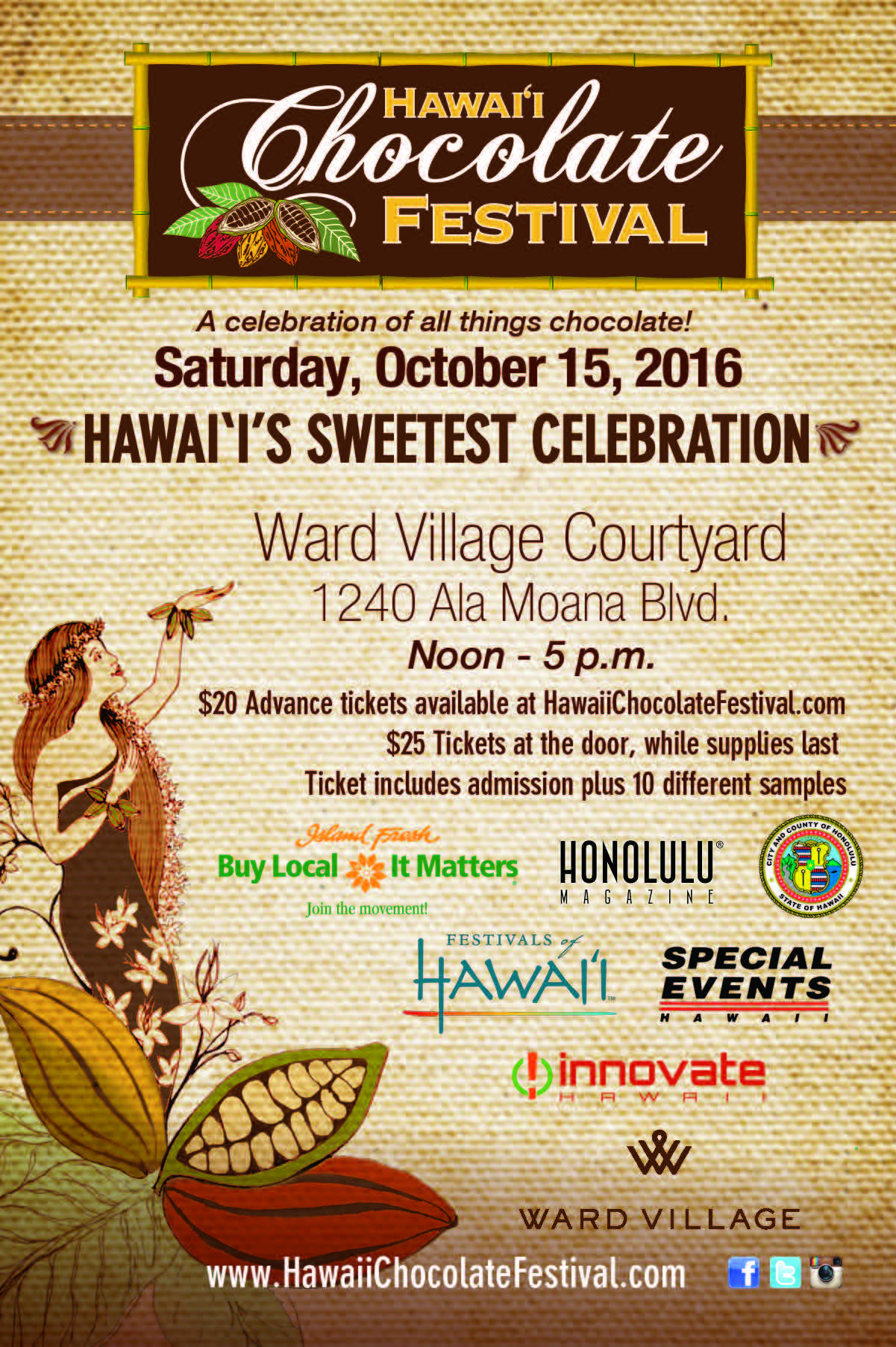 Date and time
Location
1240 Ala Moana Boulevard
(Formerly known as the IBM Building located across from TJ Maxx)
Honolulu, HI 96814