2016 Grand Island Poker Run and Car Show

Friday, September 9, 2016 at 12:00 PM

-

Saturday, September 10, 2016 at 11:30 PM (EDT)
Event Details
The Inaugural Grand Island Poker Run will take place at the historic Buffalo Launch Club, one of the oldest powerboat clubs in the country.  We are looking forward to a fun and safe run based out of an incredible venue and shielded waterways.  With your support we can make this an annual event but to do this local participation is essential along with support from regional performance boaters. 
This years charity will be Camp Good Days (https://www.campgooddays.org/) and a portion of the proceeds will be donated to them.  Please check out their website to see all the great things they are doing to help the community. 
GRAND ISLAND POKER RUN SCHEDULE
Friday, September 9th, 2016
9AM - Launch ramp shuttle starts running to and from ramp
10AM - Registration Opens
12PM-2PM - Lunch Fun Run
2PM-5PM - Pool Party
5PM - Launch ramp shuttle ends for the day
5PM-8PM - Car Show and In-Water Boat Show
6PM-7PM - Poker Run Welcome Dinner
7PM-9PM - Boat Stereo Wars and Lighting Contest
Saturday, September 10th, 2016
8AM-9AM - Launch ramp shuttle running to and from ramp
8AM-9AM - New Crew Registration
9:30AM-10AM – Drivers Safety meeting at Buffalo Launch Club
10AM - Boats start leaving Buffalo Launch Club
10:30AM - Official start outside Buffalo Launch Club. 
10:45AM-11AM - Card stop 1: Dockside, North Tonawanda 
11AM-11:15AM – Parade though Little River passing Smith Boys Marina
11:30AM – Poker Run Resumes outside Gratwick Park, North Tonawanda
12PM-12:30PM - Card stop 2 and Lunch: Templeton Landing
2PM – Poker Run Resumes outside Buffalo Harbor
2:30PM-3PM - Card stop 3: boats will collect card from floating boat outside Mickey Rats Beach Club. (Alternate weather stop will be Tonawanda Island Launch Club) 
3PM - Boats depart Mickey Rats or TILC and head back to Buffalo, NY. 
3:30PM-4PM - Card stop 4: Riverworks, Buffalo, NY
4PM – Poker Run Resumes outside Buffalo Harbor.
4:30PM-5PM – Boats return to Buffalo Launch Club
4PM-7PM - Launch ramp shuttle running to and from ramp
5PM-7PM - Turning in of cards
7PM-9PM - Awards Dinner
9PM - Awards
Sunday, September 11th, 2016
8AM-12PM - Shuttle to and from launch ramp
12PM - All boats must be out of the basin

We ask that you register early to help with the planning.  This way we can concentrate on creating an enjoyable safe weekend.  You can book your slips using this online registration.  The entire deep water basin will be ours of the weekend but to do this we will be moving 86 boats out of their slips so planning will be important.  There will be NO courtesy dock for boats to rafted up, to book this venue we have to take all 86 slips.  If you are local and plan to just run the run without buying a slip you will only be able to bring your boat in the basin for the drivers meeting.  Booking early will also allow us to plan for parking and docking and to ensure our event runs smoothly and in a timely fashion.  
This will be a US Coast Guard Approved Event and PFD's are required when on plane. Boats that do not follow the Rules and Safety Regulations will be disqualified.   NO EXCEPTIONS!  All boats participating in this event are required to carry $300,000 or greater in watercraft liability coverage maintained in full force and effect during the term of the event.  Boats without insurance will not be able to run.  We will refuse ANY boat without INSURANCE PROOF and or PROPER PAPERWORK.  This run is an insured event and NO unregistered Crew members will be accepted on boats.
Please have all paper work to us prior to run, we will not excepting same day registrations on Saturday.  You can register until 8pm Friday, Sept 2nd or when the event sells out.  Please visit our website www.elitepokerruns.com or visit us on https://www.facebook.com/elitepokerruns for updated information.  If you have any questions call or email us.
Price Includes:
All events: Friday Night Welcome Dinner, Saturday Morning Coffee, Drivers meeting, Saturday Lunch, and Saturday Night Awards Dinner are all held at the Buffalo Launch Club. All events are cash bar.  
          Drivers/Boat Cost ‐ $300.00
          Special Gift, Friday Night Welcome Dinner, T-Shirt, Run, 1 Hand, Saturday Lunch, Award Dinner.
          Crew Member Cost ‐ $125.00
          Friday Night Welcome Dinner, T-Shirt, Run, Saturday Lunch, Awards Dinner
Please note anyone riding on boat in the run is considered a crew member regardless of participation in the Cocktail Party and Award Dinner
Important Speed Information Based on your planned Top Speed
0 to 70 mph – 18 year of age and under accompanied by parent or legal guardian.
70 mph to 110 mph – Everyone over 18 years of age.
110 mph or faster – Everyone over 18 years of age, No back seat passengers
*** Alternate Coarse based on weather conditions ***
Questions
Please call Tony (716) 510-9669 or email info@eriepokerruns.com
***Please email a copy of your Insurance***
Thank You,
Anthony Scioli
Managing Member
Marina Map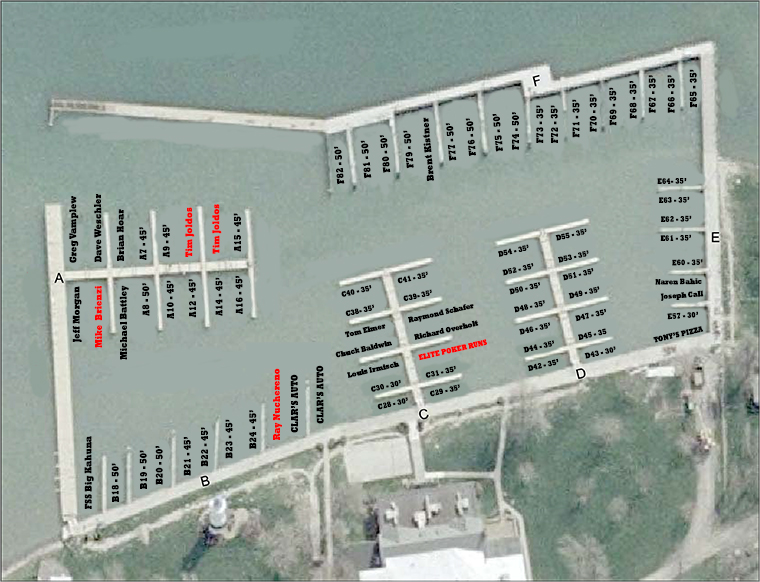 When & Where

Buffalo Launch Club
503 East River Road
Grand Island, NY 14072


Friday, September 9, 2016 at 12:00 PM

-

Saturday, September 10, 2016 at 11:30 PM (EDT)
Add to my calendar
Organizer
Elite Poker Runs LLC
Organizer of First Class Poker Runs and performance boating events.
2016 Grand Island Poker Run and Car Show